Macy's Thanksgiving Day Parade 2013: Route map and parade information
The Macy's Thanksgiving Day Parade is a hallowed New York tradition. Find out where to watch the parade with our route map and parade information.
By Time Out editors Fri Nov 15 2013
Photograph: Filip Wolak
86th Annual Macy's Thanksgiving Day Parade, November 2012

Before America collectively fashions a can holder out of its beer gut and settles in to watch some football, all eyes turn to Manhattan and the Macy's Thanksgiving Day Parade, an annual pageant of giant balloons, floats, cheerleaders, clowns, marching bands, Broadway shows and celebs that range, for the 2013 edition, from Joe Namath to Jimmy Fallon with the cast of Sesame Street. Sure, it's fun to watch in your PJs, but if you have visitors in town, take them to watch the procession in person. Use our guide to the parade route, this year's balloons and floats, and nearby restaurants, bars and festive attractions to show your guests a world-renowned New York experience.

RECOMMENDED: Thanksgiving in New York guide
Macy's Thanksgiving Day Parade route map
Where to watch the Macy's Thanksgiving Day Parade

There are three recommended stretches or spots on the route for watching the parade: the first leg along Central Park West, Time Warner Center and, finally, along Sixth Avenue between Central Park South and 38th Street. The section from 38th Street to Herald Square and Macy's department store is the telecast area and closed to the public. While there is limited space for viewing along the south side of 34th Street between Broadway and Seventh Avenue, the sight lines are seriously compromised by cameras, lights and scaffolding.

Central Park West: Viewing starts at 75th Street (two blocks down from the official start of the parade) and is only open to the public on the west side. Central Park is closed for invite-only grandstand seating. The parade runs along this stretch from 9–10:30am, so early birds who don't mind turning up at 6am to snag a prime spot should flock here.

Time Warner Center: The Shops at Columbus Circle open at 9am on Thanksgiving Day. From the second and third floors of the mall, you'll enjoy an elevated view of the parade streaming down Central Park West. As an added bonus you'll also get to see the Holiday Under the Stars light display. Twofer!

Sixth Avenue: The floats and balloons reach Sixth Avenue at about 9:30am, so arrive at this 21-block portion as late as 7am and you should still find a good spot.
Macy's Thanksgiving Day Parade balloons and floats
Browse some of the iconic inflatables you'll see during the parade, from classic characters like Spider-Man to Macy's stalwarts like Harold the Fireman (who dates back to 1948). We start our gallery with four newcomers for 2013.
Photograph: Courtesy Macys
Adventure Time with Finn and Jake
The 2007 viral sensation turned award-winning Cartoon Network series is approaching its 150th episode. If that isn't a sign of having arrived, this 40-foot inflatable surely is.
---
Bars near the Macy's Thanksgiving Day Parade
---
Attractions to see after the Macy's Thanksgiving Day Parade
---
You might also like
---
Users say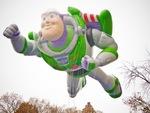 The Macy's Thanksgiving Day Parade is held on Thanksgiving morning every year. It begins at 9am and finishes three hours later at noon.
Macy's Thanksgiving Day Parade on TV
Watch the parade from your couch with a simulcast that broadcasts on NBC. If that's too early for you, the show will be repeated between 2pm and 5pm. Calling the parade for your amusement are the "Today" show's Matt Lauer, Savannah Guthrie and Al Roker.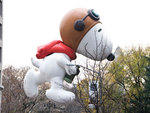 See the balloons take shape on Thanksgiving eve at this pre–Turkey Day ritual, held near the American Museum of Natural History.
Read more about the Macy's Parade Balloon Inflation
Macy's Thanksgiving Day Parade photo gallery