Martin Luther King Day events: How to mark MLK's legacy
Make the most of your time off. Mark the civil-rights leader's achievements at performances, programming and Martin Luther King Day celebrations in New York.
By Time Out editors, compiled by Jonathan Shannon Fri Jan 17 2014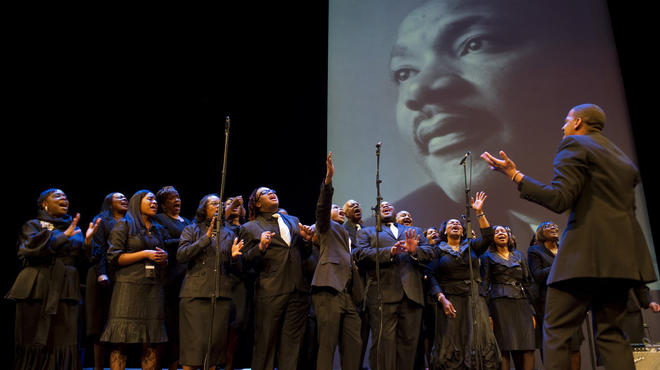 Photograph: Elena Olivo
Since it was first observed nationwide in 1986, the holiday commemorating the life of Dr. Martin Luther King Jr. has served as a reminder of his legacy—to the causes of civil rights, nonviolent opposition and community service. There are plenty of events to check out on the day itself and over the weekend, including live-music tributes, museum exhibits, readings and more. And to help round out your day, we've picked a few more things to do, too.
Martin Luther King Day events on the day
Meet at the northwest corner of 135th St and Malcolm X Blvd (Lenox Ave). Subway: 2, 3 to 135th St. Learn about New York's links to the civil-rights movement on a special edition of Big Onion's Historic Harlem Walking Tour. Notable stops along the two-hour trek include the Schomburg Center for Research in Black Culture; the NYC headquarters of the NAACP; and the Harlem Hospital Center, where the reverend was treated in 1958 after being stabbed with a letter opener in a bookstore.
The museum hosts art projects and activities that celebrate the life and mission of Martin Luther King Jr. Little ones celebrate New York City's diversity by making collages of the different people and places in their neighborhood (ages 2 to 4), while older kids learn about the civil rights leader and the difference they can make (ages 5 and up). All ages.
Price band: 1/4
Critics choice
See a slice of civil-rights history when the Moving Image screens a public-television special that first aired on Boston's WGBH station in June 1963, just two months before Martin Luther King Jr. delivered his "I Have a Dream" speech. In it, the future Nobel Peace Prize winner, Malcolm X and novelist James Baldwin discuss their (at times) opposing views on racial integration and other hot-button issues of the day.
---
Martin Luther King Day events over the weekend
Pre–MLK Day, Peabody Award–winning radio host Brian Lehrer and journalist Farai Chideya present an afternoon of panel discussions, readings and music. Arrive on time: The afternoon begins with a Hendrix-style rendition of "The Star-Spangled Banner" by Living Colour's Vernon Reid. R.S.V.P. required.
Apollo Theater 253 W 125th St, between Adam Clayton Powell Jr. Blvd (Seventh Ave) and Frederick Douglass Blvd (Eighth Ave)
Sun Jan 19
More info
Get inspired by the big ideas of historical giant Martin Luther King Jr. during a workshop that introduces budding change makers to the meaning and symbols of the civil rights movement. After brushing up on their history, kids will participate in a National Day of Service project. Ages 6 and up.
---
Martin Luther King Day events during the week
Venezuelan jazz-piano virtuosos Luis Perdomo and Benito González stage a series of afternoon gigs honoring Martin Luther King Jr. The Jan 15 show features Perdomo in duet with saxist Miguel Zenón; González plays solo on Jan 22, while Perdomo duets with saxist Mark Shim on Jan 29.
---
---
When is Martin Luther King Day?
January 20, 2014
Other things to do on MLK Day
Plan your month with our events calendar of the very best activities, including Thanksgiving activities and our picks from theater, the arts and music
Plan your month with our events calendar of the very best activities, including Christmas activities and our picks from theater, the arts and music