NYC events in January 2017
Start the new year on a high note with our list of the best NYC events in January 2017 including concerts and art shows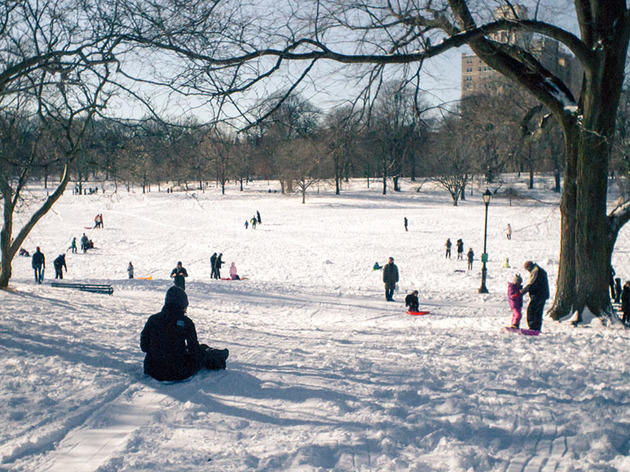 Our NYC events in January calendar is the perfect tonic for a holiday hangover. Start the year off right by checking out the best events at popular New York attractions, including the best NYC concerts in January and new theater performances. From taking a chilly dip in the ocean at the Polar Bear Club New Year's Day Swim in Coney Island to celebrating Martin Luther King Day, or freeing your legs from the tyranny of trousers at Improv Everywhere's No Pants Subway Ride, there are so many wonderful things to do in the winter here.
RECOMMENDED: Full NYC events calendar for 2017
Featured events in January 2017
Free NYC events in January 2017
Artist Grand Lindahl invites you to laugh, drink and draw at his monthly show. While comedians tell stories, audience members draw what they hear with paper and crayon. Plus, a guest artist graces each show (like New Yorker cartoonist Erik Bergstrom) to talk about their work and play a game, like an impromptu caption contest. That dreamer creative locked deep inside can live again for one sweet night. 
Read more
Watch couples showcase their love at Duffy Square on the great red steps with live surprise proposals, wedding ceremonies and vow renewals. And keep a lookout for the Heart of Hearts kaleidoscopic kissing booths!
Read more
This weekly getdown from Carolyn Busa, Julia Shiplett, Chelsea Taylor, Ben Wasserman and Emily Winter is a reliable night for solid laughs and surprise stars. Check out sets from guests like Josh Gondelman, Carmen Lynch and Corinne Fisher at this Monday night staple. 
Read more
After it was canceled because of high winds last year, the Ice Festival returns with ice-carving artists from Astoria-based Okamoto Studio, who transform 6,000 pounds of the cold stuff into replicas of statues in New York's backyard. No big deal, right? The real party starts after, though. A free silent disco (with live DJs) lets you choose between '80s, '90s and Top 40 hits so you can dance the night away.  
Read more
No St. Patrick's Day in NYC would be complete without staking out a spot at this parade, which makes another glorious march up Fifth Avenue. (The event is even older than the United States; it was started by a group of homesick Irish conscripts from the British army in 1762.) More than 2 million onlookers are expected to show up for the annual spectacle. Fifth Ave from 44th St to 79th St. 
Read more
For its first birthday party, this always-chill queer throwback party is hosting a Three Kings (and Kweens) Day Celebration. While you jam to Britney Spears and Tiffany, you can revisit classic N64 games, snag cheap drink specials and even play some sloppy beer pong, with prizes from Smirnoff Sourced. 
Read more
Halyard's brings you jokes from a bunch of very funny ladies at this free weekly show with hosts Naomi Karavani, Melissa Stokoski, Shelby Taylor and Erica Spera and live music. Plenty of brews, bar snacks and a pool table await you.
Read more
NYC's 20 year-old drag hub Lips welcomes you to enjoy a night of old-school dinner theater while master impersonator Jesse Volt buzzes on and off stage as Joan Rivers, Cher, Dolly Parton, Katy Perry and more. Try not to blink: you may miss a costume change. 
Read more
Rooftop igloos are pretty cool, but an ice castle is way cooler (pun intended). Well, guess what? There will be a frozen fortress at Bryant Park Winter Village's upcoming Winter Carnival on January 27! The the formally weekend-only festival has been extended to a nine-day, frosty celebration that is jam-packed with entertainment including free curling lessons, a silent disco, a cozy sweater pup meet-up, an outdoor winter brew house and more. There's even an "Ice Ball" where folks can don their fanciest attire and waltz (or, er, try to) on the park's ice-skating rink. Damn, winter isn't so bad after all. 
Read more
Arts events in January 2017
Looking for more things to do?
Discover the best things to do in NYC with the ultimate insider's guide to restaurants, bars, clubs, museums and more
Read more