Restaurant and bar openings and events in NYC
Peruse Time Out's list of the best food and drinking events in New York City this week.
By Time Out editors
Price band: 2/4
Critics choice
Chow down on swine-centric plates at this honky-tonk bash, featuring live bluegrass and brown-spirits seminars with master distillers. Restaurants—including Tres Carnes, Mexicue and Butcher Bar—will serve pork-y plates like char-siu tacos and bacon mac-and-cheese, alongside a whole-hog roast.
Price band: 1/4
Critics choice
Regress to childhood with skillfully concocted mugs of hot chocolate courtesy of this downtown canteen. Owner-mastermind Maury Rubin will serve a different flavor of his intoxicating cocoa every day during February. The lineup won't be announced until late January but previous year's highlights
Price band: 4/4
Critics choice
Prepare your palate for this grapecentric festival, where you can taste more than 200 wine selections under one roof. Choose a session (3–6pm or 8–11pm), collect a complimentary crystal glass and sip your way through more than 250 offerings from 12 different countries. Those who want to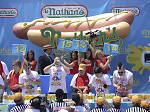 Frankfurter fanatics will again chow down against the clock at this annual Coney Island eating competition. Top speed eaters from this year's preliminaries, held in 12 cities nationwide, will battle to see who can eat the most buns and dogs in ten minutes at the ESPN-televised finals. Preshow
David Murray Cuban Ensemble at BirdlandThe ever-eclectic tenor star heads up his latest blockbuster project, a midsize group inspired by Nat King Cole's Spanish songs. Check out Andrew Friscano's rave review of the Cuban Ensemble's set at this past weekend's Winter Jazzfest. Falu at Joe's Pub at
Scotland's national poet, Robert "Rabbie" Burns, turns 253 this month, and there's no better way to celebrate the legendary bard than with an evening of whiskey, bagpipes and Scottish grub. Here are three spots that'll be rolling out the tartans in honor of Burns Night (officially tomorrow, but
Any sports fans who are rooting on their squad in enemy territory know the potential hazards of supporting the home team's opponent. On Sunday, devoted New England fans (and a few instigators in Giants paraphernalia) gathered at Professor Thom's, a slice of Beantown in the East Village. A crowd of
Get ready for some inexpensive weirdness! the Merchant's House Museum currently has an exhibition about the oddest Victorian fad we've yet come across: postmortem photography. That's photography of newly dead corpses placed in poses to appear lifelike; you know, for those times when a Banksy print
Your $30 Saturday starts in Sunset Park. Go for a ramble through the beautiful green space, making sure you check out the first-class views of the Manhattan skyline and Statue of Liberty. Also worth a gander: the September 11 Living Memorial, a grove of 45 trees planted in an oval. At 4pm head to
Your $30 Saturday starts the way we wish every day could start: with cupcakes. In particular, buttercream-icing cupcakes ($2.50) and a La Colombe coffee ($1.50) from The Cupcake Caf. Now that you're ready to face anything, bundle up in your warmest clothes and hit the Hell's Kitchen Flea Market for
See all restaurant and bar openings and events
---
You might also like
---