The 100 best restaurants in NYC
From unimpeachable classics to buzzy newcomers, these are the best restaurants in NYC you need to know about right now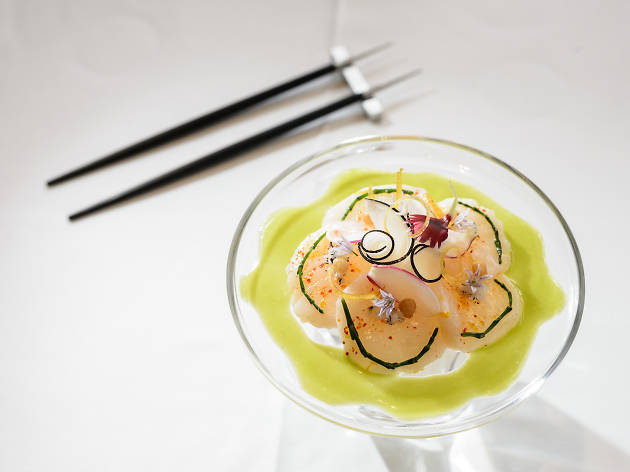 Narrowing down the 100 best restaurants in New York City is no easy feat, given the sheer number of top-rate eateries NYC has to offer, from long-time favorites to the buzzy upstarts joining the fray week in and week out. But we put in the grunt work, detailing the city's best Italian restaurants, best sushi, best Mexican spots and more. Here's the best of the best: The 100 best restaurants that Time Out New York's food editor—and New York itself—can't live without.
Sponsored listing
Ruffian Wine Bar & Chef'€™s Table
Tompkins Square gains a notable addition in Ruffian Wine Bar & Chef's Table, a tiny (19 stools in total) resto with what's sure to become an outsize presence in minds of the city's many oenophiles, thanks to a carefully curated wine list that changes almost daily and excellent sommelier service. Four industry vets—chefs Josh Ochoa and Andy Alexandre and two full time sommeliers, Alexis Percival and owner Patrick Cournot—work in conjunction behind a 3,000 pound cream-colored concrete bar, producing small shared plates that pair nicely with the long list of food-friendly wines. Ruffian has already carved out a reputation for esoteric vintages, and even offers a few cloudy orange wines by the glass in response to the ever-increasing trend toward Georgian varietals.  The food menu changes almost daily to incorporate the freshest ingredients available at green markets around the city. The constant flux of menu options amounts to what ultimately feels like a boutique experience—no two visits will be exactly the same. There is some sense of cohesion, though. The menu tends toward Eurocentric cuisine no matter the day; on a recent visit, warm vegetable dishes like roasted golden beets ($12) and a cauliflower soup ($10) were accented with Mediterranean flourishes, while the chicken liver pâté came with pickled grapes ($18). Like everything else at Ruffian, the food, while delicious, seems to exist only to complement to the superior wine selection, which leaves the most lasting impre
"Join us for happy hour every day from 5pm-7PM. $10 glasses of wine and $5 small plates. Courtesy notice: Not crawling with college bros."
East Village
Online booking