Restaurant and bar openings: September 5-11, 2013
The Dogwood, Dough Loco and more open in New York.
By Christina Izzo and Patty Lee Tue Sep 3 2013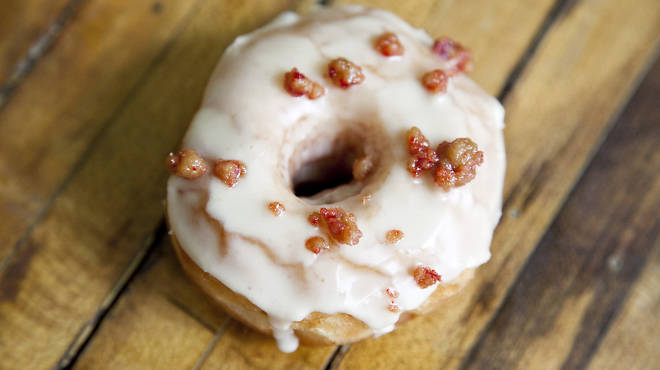 Maple-miso doughnut at Dough Loco Photograph: Melissa Sinclair
The following venues are expected to open by September 11th. Always call ahead, as openings can be delayed.
The Chester Chef Sam Hazen (Veritas) revamps the restaurant offerings at the Gansevoort Meatpacking NYC, crafting a menu of all-American fare. Before hitting the clubs, fill up on brasserie riffs like Montauk Pearl oysters with Tabasco mignonette, dry-aged Creekstone Farms steak, and roasted chicken with savory bread pudding. The bi-level space boasts several dining rooms, including a ground floor outfitted with black leather couches and white marble tables, and a 150-seat patio lined with white-and-navy benches. Gansevoort Meatpacking NYC, 18 Ninth Ave at 13th St (212-660-6766)
Creative Juice Tribeca Danny Meyer opens a ninth location of his cold-press café, this one inside Tribeca's Equinox. Gymgoers can benefit from fruit and veggie juices, like the Green Means Go, with Swiss chard, Tuscan kale and spinach. More substantial bites include an arugula-and-berry salad and a grilled-chicken sandwich. 54 Murray St between Church St and West Broadway (no phone yet)
The Dogwood Carolina roots run deep at this Southern-comfort Brooklyn joint, from North Carolina native Matt Weavil (owner of Fat Beagle). Named after that state's official flower, the rustic 35-seat restaurant specializes in updated down-home eats: Gruyère biscuits with arbol-chili–strawberry jam; heirloom tomatoes with summer melon, country ham and crispy hominy; and a Berkshire porterhouse with sautéed dandelion greens and grilled peach compote. Find peach cobbler, as both dessert (bourbon-spiked cobbler with goat-cheese drop biscuits and buttermilk ice cream) and cocktail (sauvignon blanc with crushed peaches, cinnamon syrup and thyme). Potted dogwoods are set throughout the bluegrass-soundtrack space, which also features mason-jar chandeliers and 1928 church pews bought off a local nun. 1021 Church Ave between Stratford and E 10th Sts, Prospect Park, Brooklyn (929-234-5692)
Dough Loco Haute doughnuts get their big break uptown. Chef Corey Cova (Earl's Beer & Cheese, ABV)—known for funky dishes like a Spam-and-octopus salad and a foie gras Fluffernutter—rolls out eccentric fried rounds at this ten-seat bakery. Behind a counter crafted from old bowling alley lanes, find a rotating selection of flavors like miso-maple, pineapple–brown butter and chocolate-and-stout. To drink: pour-overs and espressos made from Blue Bottle beans. 1261 Park Ave between 97th and 98th Sts (no phone yet)
Fornino The Williamsburg pizzeria sets up shop at Brooklyn Bridge Park. Dig into wood-fired pies (classic Margherita, eggplant-and-ricotta) and sandwiches (roasted turkey, prosciutto) at one of the indoor picnic tables, or snag a patio seat overlooking the water. A rooftop beer garden pours selections from Peroni and Brooklyn Brewery, along with wines by the glass. Pier 6, Brooklyn Bridge Park, Atlantic Ave at Furman St, Dumbo, Brooklyn (no phone yet)
Irving Farm Coffee Roasters Java fiends can sip single-origin pour-overs and espressos at this 32-seat café, the roaster's fourth New York location. This branch also offers a menu of light bites, like a ham-and-Swiss croissant and roasted-beet salad. 88 Orchard St at Broome St (212-228-8880)
It'Sugar The Crayola-bright sweets chain—from candy man Jeff Rubin (Dylan's Candy Bar)—launches a fifth NYC location, a 7,000-square-foot Noho shop. The store's 100-plus candy selection includes 26-inch-long gummy worms, oversize gobstoppers and Marilyn Monroe–inspired confections. 655 Broadway between Bleecker and E 3rd Sts (212-677-6181)
J'eatjet? There's nary a buffalo wing or nacho chip in sight at this Park Slope gastropub. Instead, chef-owners Becky and Bret Macris (Rose Water Restaurant) elevates bar food with bites like sweet-corn hush puppies with basil sauce; pickled fried chicken; and fried lamb belly with curry coleslaw and chermoula (a Moroccan parsley marinade). Abiding a local creed, Macris employs produce from nearby farms, Brooklyn-made sauces like Sunny Bang and herbs picked from the back garden. At the warm-wood bar, find Empire State beers on tap, such as City Island Pale Ale, Ithaca Flower Power and Captain Lawrence Kolsch. A selection of bourbon (Woodford Reserve, Bulleit) and rye (Redemption) is available for whiskey buffs, while cocktail drinkers can quench their thirst with a Light but Stormy (white rum, cantaloupe, ginger and lime) or a Spiked Ice Tea (bourbon, peach and lavender). For warm-weather dining, head to the back deck, decorated with strings of lightbulbs, a picket fence and a large rooster-and-sunflower mural. 685 Fifth Ave between 20th and 21st Sts, Park Slope, Brooklyn (347-227-7410)
Pagani Restaurateur Massimo Lusardi (Uva) and chef Mark Barrett (Babbo) showcase the cuisine of Italy at this 64-seat canteen, decorated with brass light fixtures and a cherrywood mantel. The menu draws inspiration from all over the country, featuring dishes like fennel-flecked white shrimp, carrot-and-chive tagliatelle and scallops with sunchoke puree. Musically themed cocktails by Sean McClure (Craft) nod to the spot's former tenant, O. Pagani & Bros. record store: The Victrola Spritz is named after an antique music player, while the Beach-Bum uses a Jamaican rum by Island Records founder Chris Blackwell. 289 Bleecker St at Seventh Ave South (212-488-5800)
Trattoria Il Mulino Il Mulino adds a 12th location to its globe-spanning empire—a casual offshoot of the Village flagship. Sticking with the chain's Abruzzese-inspired cuisine, chef Michele Mazza oversees a menu of dishes like beet salad with Gorgonzola dolce, frisée and blood orange; house-made capellini dusted with pecorino and pistachio; and lamb steak with arugula salad. Looking to bait a younger crowd, the 140-seat restaurant features a separate late-night bar menu (wood-fired pizzas, crudo) and is kitted out with industrial accents (art-installation piping, concrete walls and a large NYC-themed mural from Vancouver artist Tim Barnard). 36 E 20th St between Broadway and Park Ave (212-777-8448)
Venturo Osteria & Wine Bar Owner-chef Michelle Vido (Vesta, Pachanga Patterson) is behind this 54-seat spot, styled with subway tiles, whitewashed brick and a backyard patio. Find Italian fare like pizza topped with roasted mushrooms, spinach pesto and fried egg, and pansotti filled with beet puree and mascarpone. Community dinners are held for couples or groups of three, focusing on shareable fare like Sicilian-style whole-roasted chicken with cauliflower, almonds and caperberries. Pastry chef Eve Bergazyn (Le Bernardin) is in charge of the house-made cheese (mozzarella), breads (focaccia) and pastry (rice-pudding arancini). At the bar, find European wines and classic cocktails with an Italian spin, such as a Pimm's variation made with Campari and fernet. 44-07 Queens Blvd between 44th and 45th Sts, Sunnyside, Queens (718-406-9363)
The Winslow Taking cues from a traditional U.K. gin house, this East Village joint features a gin selection overseen by the NoMad's Dominic Venegas. At the 20-foot-long concrete bar, find ten gins (Brooklyn, Dorothy Parker) available straight or in cocktails like the Stallion (gin, barolo chinato, curaçao and bitters). Also on offer are 20 old-world wines, British draft beer (Fuller's London Pride, Belhaven) and an all-crumpet snack menu (smoked salmon, duck confit). Along with the griddle cakes, you can chow down on British eats like Bronx Ale–battered fish-and-chips, steak-and-kidney pie, and bacon-wrapped quail with foie gras and brioche. Decked out with fumed oak and blackened steel, the 75-seat pub features multiple flatscreens broadcasting sports. 243 E 14th St between Second and Third Aves (212-777-7717)
---