Open House New York
Can't make heads or tails of the 350-plus offerings during Open House New York weekend? We've got the secrets behind 20 of our favorites.
By Rebecca Dalzell Mon Oct 5 2009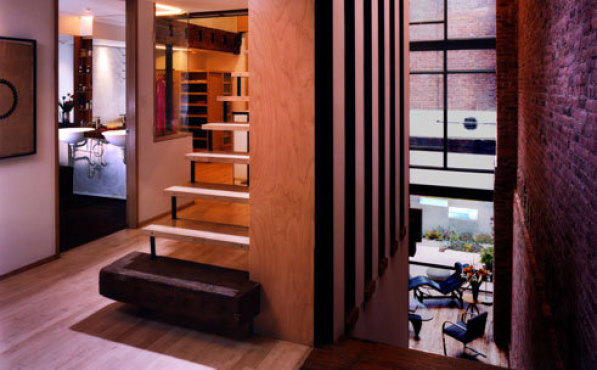 Bronx
Melrose Commons
754 Melrose Ave at 156th St; Sat, Sun 9am--3pm; open dialogue talks Sat, Sun 9am--3pm; Jr. Selene Dorado building tours Sat, Sun 10am, 1pm; Orion building tours Sat, Sun noon, 3pm
What it is: A 30-block affordable housing complex built with input from local organizations.
Why go? This is New York's first urban renewal plan cocreated with the public. Tour the site to learn how the architects worked with local community-development group Nos Quedamos to design the site based on residents' needs.
Do this after: Head to Arthur Avenue to put away a killer hoagie at Mike's Deli (2344 Arthur Ave between Crescent Ave and 186th St; 718-295-5033, arthuravenue.com), like the Towering Inferno ($6--$7.50), made with smoked mozzarella and smoked prosciutto.
Old Croton Aqueduct Walking Tour
Bedford Park Blvd at Goulden Ave; Sat 9:30am--12:30pm; reservations required
What it is: Take a four-mile stroll atop an old masonry water tunnel.
Why go? Get the scoop on the history behind the 1842 aqueduct, which was the city's sole fresh water source until 1892. A guide from the Friends of the Old Croton Aqueduct takes you on a stone-sided embankment and on paths overlooking the Harlem River, pointing out clues that will help you see the tunnel below the trail.
Do this after: Walk across Washington Bridge, which connects Manhattan and the Bronx, to La Casa Del Mofongo's hearty Puerto Rican delights (1447 St. Nicholas Ave between 182nd and 183rd Sts, 212-740-1200), including arroz con pollo ($12.95).
Brooklyn
Brooklyn Bridge Park
Pier 1, Furman St at Old Fulton Sts, Dumbo; Sat, Sun 11am, 1, 3pm; reservations required
What it is: A hard-hat tour of a new Brooklyn waterfront development.
Why go? This is a teaser of the urban nirvana to come. Walk along the East River's edge and see the future home of new pathways, volleyball courts and playgrounds—the first two renovated piers will open this winter.
Do this before (or after): Stop by the festive Sunday bluegrass brunch at Superfine (126 Front St at Pearl St, Dumbo; 718-243-9005) and treat yourself to a plate of huevos rancheros ($10).
Tom Otterness Studio
96 4th St between Bond and Hoyt Sts, Gowanus, Brooklyn; Sat, Sun 10:30am, 1, 3pm; reservations required
What it is: Meet the sculptor behind the cute statues in the 14th St A/C/E station.
Why go? The artist leads a walk-through of his workspace, and will offer a special look at a privately commissioned work on the economic collapse (with a vulture that looks strangely like Federal Reserve chairman Ben Bernanke). Otterness will show off pieces in various stages of development, and may even demonstrate how he begins a sculpture in clay.
Do this after: Sunday brunch at Chestnut (271 Smith St between DeGraw and Sackett Sts, Carroll Gardens, Brooklyn; 718-243-0048, chestnutonsmith.com) includes classic dishes like huevos rancheros ($8)—and each order comes with a gratis plate of buttery pastries.
Red Hook Carriage House + Architecture Office
17 Dikeman St between Dwight and Otsego Sts, Red Hook; Sat, Sun 11:30am--5pm
What it is: This 1899 carriage house was gut-renovated in 2009 and turned into a living space.
Why go? The 2,000-square-foot home and studio boasts a roof deck, a garden, cantilevered shelves and an atrium-like courtyard that faces Red Hook Park. Original elements include exposed ceiling joists, a wooden garage door and metal cornices. You'd never know it from the outside.
Do this after: Dressed-up diner fare can be found at Hope & Anchor (347 Van Brunt St at Wolcott St, Red Hook; 718-237-0276); try the lamb burger ($9) with feta cheese on chewy olive bread.
Slot House
134 Adelphi St between Myrtle and Park Aves, Fort Greene; Sat 10am--5pm, tours take place every half hour; reservations required
What it is: An award-winning renovation of a Revolutionary War--era house.
Why go? A 60-foot-tall maple tree in the front courtyard rises outside a three-story corner window cut into the modern facade. Revealing elements of the original building, the 1,000-square-foot loft also includes genius space savers like a fold-down dinner table.
Do this before (or after): Quirky garden bistro Chez Lola (387 Myrtle Ave between Clermont and Vanderbilt Aves, Fort Greene; 718-858-1484, bistrolola.com) offers brunch until 5pm; sample the sweet brioche French toast ($7.50).
Manhattan
artHARLEM Artist Studio Tour: HOAST2009
Casa Frela Gallery, 47 W 119th St between Fifth and Malcolm X Blvd (Lenox Ave); Sat noon--6pm, Sun 1--6pm
What it is: More than 100 galleries and studios across 60 blocks open their doors.
Why go? This is the new Harlem Renaissance. On your self-guided tour, check out the Laundromat Project (143 W 116th St), which brings art to communities at their local coin-op washing stations, and Daina Shobrys's playful flower sculptures, on view at Hamilton Landmark Galleries (467 W 114th St).
Do this after: When in Harlem, it's gotta be soul food at Amy Ruth's (113 W 116th St between Malcolm X Blvd [Lenox Ave] and Adam Clayton Powell Jr. Blvd [Seventh Ave], 212-280-8779).
Control Group Offices at the Woolworth Building
233 Broadway at Park Pl, 21st floor; Sat 11am, 1pm; reservations required
What it is: Take a peek inside one of the city's oldest iconic skyscrapers.
Why go? Architectural historian Gail Fenske leads tours of Cass Gilbert's 1913 Gothic masterpiece. The lavish lobby, usually closed to tourists, features vaulted cathedral ceilings with gilded mosaics, and gargoyle-like creatures on the walls.
Do this before: Nosh on a hand-rolled bagel with a schmear of cream cheese ($2.25--$4.50) at the flagship outpost of Zucker's Bagels & Smoked Fish (146 Chambers St between West Broadway and Greenwich St; 212-608-5844, zuckersbagels.com).
Duane St Live/Work Loft
R.S.V.P. to info@mparchitectsnyc.com; Sun 1--4pm (tours take place every half hour); reservations required, children under 12 not admitted
What it is: A dramatic 3,800-square-foot converted loft in an 1864 manufacturing building.
Why go? Marpillero Pollak Architects' 2001 renovation engaged the loft's industrial history, incorporating recycled materials like steel doors and faucets, plus exposed brick and a bookshelf wall. A 25-foot-high window that faces a garden makes the loft feel expansive and bright.
Do this before: Dig into an array of Belgian waffles (try them with strawberries and whipped cream for $10) at nearby Petite Abeille (134 West Broadway between Duane and Thomas Sts; 212-791-1360, petiteabeille.com).
Grand Masonic Lodge of New York
71 W 23rd St between Fifth and Sixth Aves; Sat, Sun 10am--4pm
What it is: New York's Freemasons make their home at this over-the-top residence, built in 1912.
Why go? This lodge is like a fun house: Its 13 rooms adhere to specific themes (like the American Room, which features presidential-inspired decor) and are adorned with medieval woodworking and Egyptian icons (among other tchotchkes). Masons will lead the tours, but don't expect any Lost Symbol revelations.
Do this after: Rickshaw Dumpling Bar (61 W 23rd St between Fifth and Sixth Aves; 212-924-9220, rickshawdumplings.com) offers succulent dumplings in varieties like chicken and Thai basil (six for $5.50).
High Bridge Water Tower
W 173rd St at Amsterdam Ave; Sat 10am--4pm
What it is: The water tower was built in 1872 to increase water pressure to northern Manhattan.
Why go? This is a rare chance to visit the 185-foot-tall granite structure, which once had a 47,000-gallon tank. Climb its spiral iron staircase for sweeping views up and down the Harlem River and west to the George Washington Bridge.
Do this before (or after): Popular Dominican joint El Malecon Restaurant (4141 Broadway between 175th and 176th Sts; 212-927-3812, maleconrestaurants.com) features local favorites like arroz con pollo ($12) and fresh tropical juices ($3.75).
illy Push Button House
Little W 12th St at Ninth Ave; Sat 10am--11pm, Sun 10am--7pm
What it is: At the push of a button, a metal shipping container opens into a 440-square-foot apartment.
Why go? Design geeks will be buzzed as old, rusted walls fold down to reveal a furnished living room, kitchen, library and bedroom. Having traveled to Art Basel Miami Beach and the Venice Biennale, the house shows that an ugly industrial block can become an elegant space—an appealing thought for New Yorkers.
Do this before (or after): Need an energy boost? Pair a Fat Witch brownie ($2.75) with Ninth Street Espresso coffee ($1.50) at Chelsea Market (75 Ninth Ave between 15th and 16th Sts; 212-243-6005, chelseamarket.com).
The Lilac Dances
The Lilac, Pier 40, White St at Houston St; Sat, Sun 5:45pm; reservations required
What it is: This site-specific 30-minute dance is performed on the deck of a 1933 national-landmark steamship.
Why go? Inspired by 1930s Hollywood and World War II, choreographers Ann and Alexx contrast eight dancers' moving bodies with the ship's decaying architecture.
Do this after: Sample French-Caribbean cuisine, like escargot in a cayenne-curry sauce ($10), at tiny BYOB joint Ivo & Lulu (558 Broome St between Sixth Ave and Varick St, 212-226-4399).
Little Red Lighthouse
Fort Washington Park, W 178th St at the Hudson River; Sat, Sun 10am--4pm
What it is: The subject of Hildegarde Swift's beloved children's book, the 1880 lighthouse sits in the shadow of the Great Gray Bridge (that would be the George Washington).
Why go? It's really cute. The lantern room at the top (which is seldom open to the public) is fitted with a working lens that still helps ships navigate the river.
Do this before: Plum Pomidor's $14.95 prix-fixe brunch includes classic dishes (eggs Benedict, French toast) and—for the lushes—two mimosas (4009 Broadway between 168th and 169th Sts; 212-781-3333, plumpomidor.com).
Midtown Modern
Seagram Building, 375 Park Ave at 52nd St; Sat 11am--1pm; reservations required
What it is: A two-hour walking tour of midtown's Modernist icons with architectural historian Jennifer Gray.
Why go? Get an up-close look at buildings you usually breeze by. Gray focuses on six landmarks, including Ludwig Mies Van der Rohe's Seagram Building (1958) and Philip Johnson's Sony Building (1984), and explains original concepts behind modern architecture.
Do this after: Stay on topic with an elegant lunch of Scottish salmon ($17) in the Modern's bright, Bauhaus-style bar room (9 W 53rd St between Fifth and Sixth Aves; 212-333-1220, themodernnyc.com).
MTA Substation
225 W 53rd St between Broadway and Eighth Ave; Sat 11am, 1pm
What it is: One of the MTA's original power stations, tucked beneath a midtown street.
Why go? Opened in 1904, this is one of eight original IRT substations that served the subway system (for some perspective, there are now 215). View modern generators, as well as historic rotary converters, the subway's earliest power source.
Do this after: Chow down on traditional Brazilian fare, like creamy black bean soup ($6.50), at homey Rice & Beans (744 Ninth Ave between 50th and 51st Sts, 212-265-4444).
New York Marble Cemetery
41 Second Ave between 2nd and 3rd Sts; Sat, Sun 9am--5pm
What it is: The nonsecular resting place of 2,000 19th-century New Yorkers.
Why go? It's like a secret garden—you've probably walked by its iron gate dozens of times—and one of the most peaceful spots in the neighborhood. There are no gravestones on the half-acre lawn, only plaques on the stone wall.
Do this before (or after): Choose from ten Bloody Marys, like the chipotle-spiked Southwest ($9), during the gourmet brunch at Prune (54 E 1st St between First and Second Aves; 212-677-6221, prunerestaurant.com).
Queens
Richard Meier & Partners Model Museum
5-22 46th Ave between Vernon Blvd and 5th St, Long Island City; Sat, Sun 10am--4pm; reservations required
What it is: A glimpse into the starchitect's design process.
Why go? The warehouse features architectural models from the 1960s to today, including early renditions of the Smith House in Connecticut and the unbuilt Renault Headquarters in France, as well as large-scale models of L.A.'s Getty Center.
Do this before: Friendly French bistro Tournesol (50-12 Vernon Blvd between 50th and 51st Aves; 718-472-4355, tournesolnyc.com) offers inexpensive, classic fare like a croque-monsieur ($8.50).
Staten Island
Fresh Kills by Bus
Eltingville Transit Center, Arthur Kill Rd at Center St, Staten Island; Sat, Sun 10am, 1pm; reservations required
What it is: The onetime landfill is slowly being turned into a 2,200-acre park.
Why go? No longer the world's largest dump (the Great Pacific Garbage Patch in the northern Pacific Ocean claims that honor nowadays), Fresh Kills—which houses 200 animal species—will have some world-class greenery by 2011. This tour takes in the harbor views from two of its four garbage mounds, and discusses the site's history and renewal.
Do this after: Hop on the S74 bus to Tompkinsville for a taste of Sri Lankan delicacies at Lakruwana (226 Bay St at Minthorne St, Staten Island; 718-420-0027, lakruwana.com). And the price is right—few menu items are more than $10.
St. George Theatre
35 Hyatt St between St. Marks and Stuyvesant Pls; theater is open Sat 10am--2pm, tours take place at 10am and noon
What it is: A backstage look at a Baroque-style vaudeville palace.
Why go? Tour the theater as it prepares for an evening musical-comedy show (Divas of Daytime TV): You'll peek into the dressing rooms and orchestra pit. Volunteers will also tell ghost stories and explain how the 1929 building was saved from demolition five years ago.
Do this after: Grab a burger ($8) at cheerful standby Cargo Caf (120 Bay St between Central Ave and Slosson Terr; 718-876-0539, cargocafe.com).
GET KEYED IN! Open House New York runs Sat 10 and Sun 11. Call 212-991-6470 or visit ohny.org for detailed info and reservations.