Ten things you must do in Central Park
Don't wait until you have visitors—enjoy these experiences now. Plus, free tours!
By Tim Lowery Mon Apr 30 2012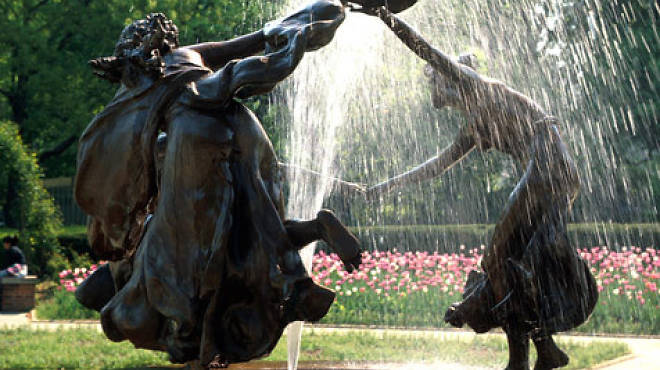 Conservatory Garden Photograph: Central Park Conservancy
Stroll through the Conservatory Garden
Experience the charms of a European garden without having to, you know, fly to Europe. This six-acre garden offers three styles (French, Italian and English) and a plethora of flowers, fountains, neatly trimmed hedges and walkways. Just be prepared for the throng of edding photo shoots, and by that we mean be prepared for photo-bombing. East side from 104th to 106th Sts, enter at Fifth Ave and 105th St
Free tours: Meet at Vanderbilt Gate, east side at 105th St; Sat 11am; free. Through Oct 27.
Watch the wheels go round and round at Strawberry Fields
Walk through John and Yoko's favorite stretch of the park, just across the street from their residence at the Dakota. Renamed Strawberry Fields in '81, after Lennon's murder in front of that building several months earlier, the two-plus-acre area features the Imagine mosaic, where Beatle fans from across the world pay homage to the late great. But don't sing the ground's namesake tune too loudly, as Strawberry Fields is also a designated quiet zone. West side between 71st and 74th Sts, enter at Central Park West and 72nd St
Rock the boat
Take a romantic paddle around the Lake (hour $12, each additional 15mins $2.50, plus a $20 deposit)—or let someone else do the work, with a Venetian gondola ride (half hour $30). While you're there, absorb the picturesque view of the Lake at the Central Park Boathouse Restaurant, for fine—if pricey—fare like fish, crab cakes, salads and an assortment of wines. Midpark from 71st to 78th Sts, enter at Fifth Ave and 72nd St
Trip on shrooms at the Alice in Wonderland statue
Don't fret if the kiddies climb all over this bronze statue of Alice and company—that's what it's there for. Dedicated to the children of NYC and commissioned by George Delacorte after the passing of his wife, who enjoyed reading Alice to their children, the larger-than-life figures have been explored by children since 1959. Relive your youth and join them on the mushroom, or if you can't let go, read the engraved verses of the poem "Jabberwocky," by Alice scribe Lewis Carroll, portions of which line the sculpture. East side at 75th St, enter at Fifth Ave and 72nd St
Monkey around at the Central Park Zoo
Animal lovers will dig the cute critters at the Tisch Children's Zoo, adjacent to the main zoo, where you can also get up close and personal with goats. In the Central Park Zoo itself, coo over the daily feeding of the sea lions and penguins, and watch Japanese monkeys leap playfully between rocks. East side between 63rd and 66th Sts, enter at Fifth Ave at 64th St (212-439-6500, centralparkzoo.com). Daily 10am–5:30pm. $12, seniors $9, children $7, children under 3 free.
Ride your pony
Experience the retro charm of bobbing along to organ music atop one of the Friedsam Memorial Carousel's 52 saddles. The carousel is in its third incarnation since 1871 (the original was horse-powered, and the next two were supposedly destroyed by fires), and the current version dates to 1950, when it was discovered in a Coney Island trolley terminal. Expect long waits, popcorn, hot dogs and a few crabby kids. Midpark at 64th St, enter at Fifth Ave and 64th St. Daily 10am–6pm (weather permitting). $2.50 per ride.
Climb up Belvedere Castle
Take in a sweeping view of the Great Lawn, the Ramble and Turtle Pond from Belvedere Castle, a folly built on the highest point in the park. Borrow a free discovery kit (requires two forms of ID, one of which is kept as a deposit) from inside the castle, which includes binoculars, a map and a guide for bird-watching in the Ramble's woods. Midpark at 79th St, enter at Fifth Ave and 72nd St
Free tours: Meet at Belvedere Castle, midpark at 79th St; dates and times vary; vist centralparknyc.org; free.
Romance your beau on the Bow Bridge
New York has no shortage of bridges seemingly custom-made for gazing into a lover's eyes and sighing deeply, and this one, which spans some 60 feet over the Lake, is one of our faves. Yeah, it occasionally gets crowded with tourist couples snapping photos, but that's with good reason. Midpark at 74th St, enter at Central Park West and 72nd St
Get ready to Ramble
The 38-acre wilderness area, on the west side of the park known as the Ramble, has a storied history (as a gay cruising spot dating back to the turn of the last century, among other things), and it was even proposed as a recreational area in the mid-'50s. Thankfully, the winding trails, rocks and streams remain, seemingly waiting to be discovered. It's also the city's primo bird-watching spot, where you can view many of the park's 230 species. Midpark from 73rd to 79th Sts, enter at Central Park West and 72nd St
Free tours: Meet at Belvedere Castle, midpark at 79th St; dates and times vary; visit centralparknyc.org; free.
People watch in Sheep Meadow
On warm days, we're hard pressed to think of a better spot in Manhattan to ogle hotties than Sheep Meadow, the bucolic 15-acre field located along the southwestern edge of the park. Expect thousands of scantily-clad locals to take over the area on weekends. To secure a shaded spot, we suggest arriving at 11am, when the field opens. West side between 66th and 68th Sts, enter at Central Park West and 66th St (212-310-6600, centralparknyc.org)
Free tours: Meet at Tavern on the Green, west side at 67th St; dates and times vary; visit centralparknyc.org; free.
Share your thoughts