Heads up! We're working hard to be accurate – but these are unusual times, so please always check before heading out.
The 11 absolute best Athens restaurants
Homey comfort food still rules on this city's dining scene. But the best Athens restaurants reveal a creative side
Going to Greece and gunning for gyros? Athens's homey tavernas can certainly deliver the goods (and be warned: they're moreish). We think you should go in for one of those juicy bundles of meat as soon as you arrive. But just as its art scene is blossoming, and the list of brilliant things to do diversifying, the best Athens restaurants have matured no end in recent years. And gyros isn't on the menu.
Now those greasy kebab joints are joined by trendy restaurants still offering old-world classics, but reworked in increasingly daring ways. Ever thought of chucking cuttlefish in your moussaka? Squid in your pesto pasta? One Athenian chef has. Wherever you go, you'll still notice a focus on high-quality, locally-sourced produce – meaning that whether you're tucking into a grilled meat platter with a sea view or a creative dessert in an up-and-coming opening, your plate will sing with fresh flavours.
This is our pick of the very best food experiences in Athens right now. If you're travelling around the country, then we've also chosen the very best things to do in Greece.
Eaten somewhere on this list and loved it? Share it with the hashtag #TimeOutEatList.
Best Athens restaurants
Klimataria
Why go? For traditional Greek food, music and dance.
This family-run taverna has been going strong since 1927, offering evenings packed with Mediterranean food, music and dance – a combination Greeks love. The tis oras – a grilled meat platter – is what you should go for. It includes biftekia, grilled meat patties seasoned with spices, as well as lamb and pork chops. Plus, considering Klimataria translates as 'grape vines', it's no surprise the wine served here is always excellent.
Price: Mid-range.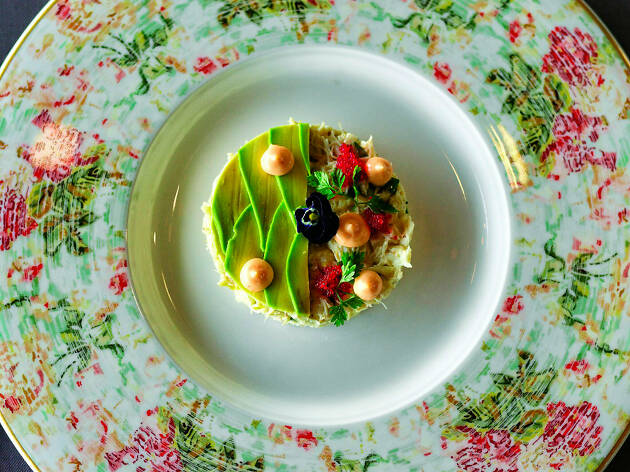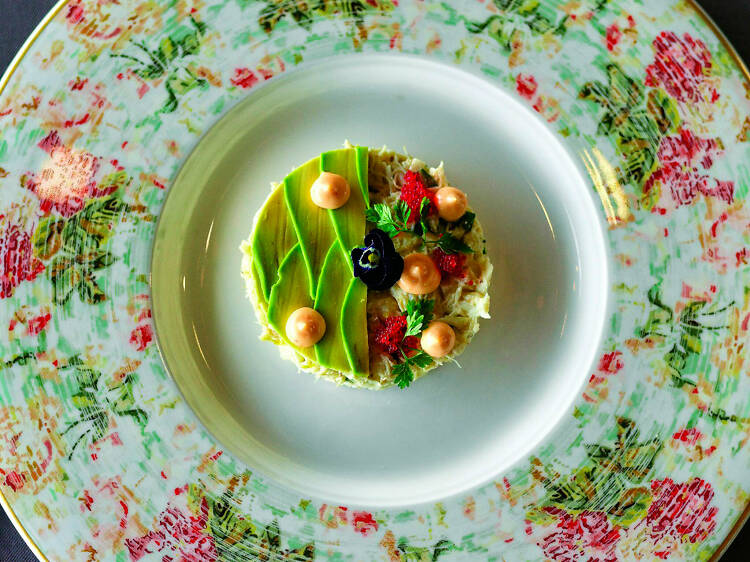 Why go? For a Michelin-starred experience by the sea.
Varoulko is one of the most elegant sea-view spots in the city. The Michelin-starred chef Lefteris Lazarou specialises in taking traditional Greek dishes and adding a creative and flavourful seafood touch. For example, his take on the usually minced-meat-laden moussaka is made with crayfish, while his pesto pasta has squid in it. Make sure to try the smoked octopus prepared with wild greens called stamnagathi too. Visitors can take in the picture-perfect view of Mikrolimano harbour, the sailboats, yachts and tiny fishing boats floating in the distance.
Price: High-end.
Ta Karamanlidika Tou Fani
3. Ta Karamanlidika Tou Fani
Why go? For the traditional Greek deli experience.
This Byzantine pastomageireio, a tavern and deli in one spot, is set in a neoclassical house. Expect an array of Greek cheeses and cold cuts in the deli. The restaurant serves traditional regional dishes, like fried aubergine and zucchini in a Cappadocian sauce or saganaki cheese served with a dried meat called pastourma, beef sausage and eggs.
Price: Mid-range.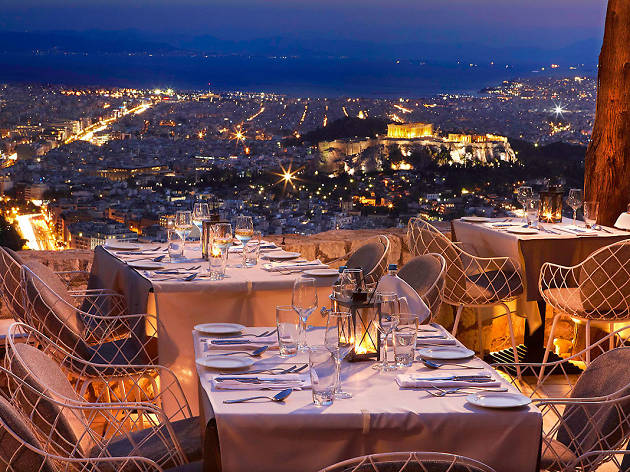 Orizontes
Why go? For fine dining on Athens's most scenic terrace.
Perched on Lycabettus Hill, one of the highest peaks in Athens, the views from Orizontes are god-level. Sit outdoors come sunset – with the Acropolis, Aegean Sea and entire city sprawled below – and you're guaranteed to feel like you're dining on Olympus. The restaurant is equally acclaimed for its food: Mediterranean dishes that incorporate seasonal ingredients and local produce. Go for the pork tenderloin with vegetables in feta cheese, honey and sesame if it's on the menu. It's rich, moreish and will blow your mind.
Price: High-end.
Katerina Avgerinou
Why go? It may have a cheesy name, but Funky Gourmet's dishes are true art.
Science meets fine dining at this Michelin-starred joint. Funky Gourmet's chefs push boundaries with unique textures, shapes and tastes thanks to experimentation with molecular menus. This is more of an experience than a meal, though you won't go home hungry. The Cuttlefish Oreo is worth braving, and so too are the innovative takes on traditional Greek grub that form part of the 'Picnic' spread.
Price: Blowout.
Hytra
Why go? To try some of Greece's most distinctive flavours.
Greek cuisine is always elegantly presented at this Michelin-starred restaurant on the sixth floor of the Onassis Cultural Centre. Here, dishes are created with wild herbs, fresh vegetables, meat and seafood – all sourced from nearby. A multi-course menu encourages anyone new to Greek cuisine to indulge in its most distinctive flavours, through dishes like sea bass carpaccio and orange-scented pork. There's an array of imaginative desserts.
Price: High-end.
Lukumades
Why go? To chow down on a doughnut with a difference.
Most European cultures have their version of doughnuts, but Greek loukoumades are arguably one of the tastiest. They're perfectly fluffy fried dough balls topped with Greek honey and cinnamon. At Lukumades dessert café, lines of locals come to indulge in much more sinful versions. Creative toppings and syrups are drizzled on and they're sometimes accompanied by scoops of creamy ice cream made with mastiha (a resin from the mastic tree).
Price: Budget.
O Kostas
Why go? To tuck into the city's best quick bites.
Gyros are the classic fast food of Greece. They're hot pittas piled high with grilled meat and stuffed with onion, tomatoes and lettuce. They're juicy and delicious, and O Kostas does some of the best in Athens. Come lunchtime, there are lines of locals at this no-frills shop, no doubt thanks to owner Kostas's simple but perfectly balanced recipe passed down from his father.
Price: Budget.
tastefortravel.com.au
Why go? To experience a hidden neighbourhood Greek taverna.
Tucked down a small street round the corner from the Acropolis Museum is a Greek taverna run by two generations of local family, the Bakatselos, who have been serving traditional meals here for more than three decades. They all pitch in to help in the open kitchen, cooking up hand-me-down recipes and making guests feel at home in the understated dining space. There's no menu, rather a display of whatever's just come out of the oven.
Price: Budget.
Strofi
Why go? To dine with superb views of the Acropolis.
The view of the Acropolis from Strofi's roof terrace is one of the most impressive in town. The menu is astounding too: expect traditional Greek dishes, including meze such as smoked aubergine and a cooling, smooth tzatziki. A classic main is the roast lamb stuffed with Greek cheese.
Price: High-end.
M-word
Why go? Locally sourced Greek food.
This bistro places an emphasis on organic produce – packing local veg and traditional pasta into hearty dishes that also incorporate meat from sustainable growers. The farm-to-table concept is combined with a trendy, laid-back atmosphere reminiscent of '50s Hollywood (even its name is inspired by a Frank Sinatra song). Try the Bogie and Bacall, skewered chicken kontosouvli marinated in Greek beer with sun-dried tomatoes, or the Coppola zucchini pasta topped with buffalo meat and marinated in a florina pepper sauce.
Price: Mid-range.
Discover Time Out Market: the best of the city under one roof
Still got time to explore?
Athens is Greece's cosmopolitan heart: city of the ancient, historic, hip and modern. Go and soak it in with our helpful guide to the best things to do in Athens.