The 15 best Austin attractions
Looking for places to visit in the Texas capital? Hit these Austin attractions for sightseeing, culture and fun times.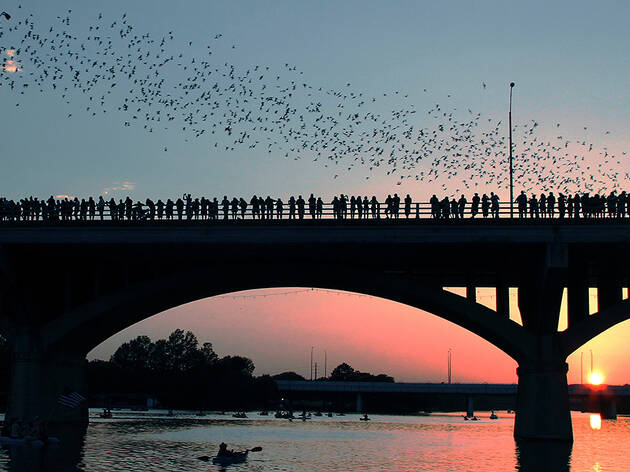 The Austin events calendar is stuffed full with enough music festivals, conferences and sport to make the city one of the country's premier tourist destinations—but what to do when you're looking for things to do in Austin between screaming for your favorite band or cheering on your team? Visit these great Austin attractions, that's what. From some of the most iconic live music venues in Austin to buzzy food-and-drink districts to green spaces you'll want to loll around in for days, these are your must-tick-off Austin attractions.
Best Austin attractions
In so many cities across the U.S., tapping into well-preserved wilderness requires a trip outside of town. Not in Austin. That's largely thanks to multiple green space preserves, but largely due to one: the Barton Creek Greenbelt (lovingly referred to by locals as the Greenbelt), which spans 7.25 miles of dense forest, limestone cliffs, shallow swimming holes (mostly connected by the creek's flow) and hike-and-bike trails. The public property is populated year-round by mountain bikers, hikers, and rock climbers. And in the summer months—pending enough rainfall—it is the uncontestably the most magnificent place to swim within city limits. Whether you hit up the super-popular Campbell's Hole, the gloriously gushing Sculpture Falls or the relatively secret Lost Creek site, the mind is always put at ease by way of immersion in what sometimes feels like an impossibly secluded oasis adjacent to some of the city's busiest sections (many of entry points require a bit of Google research to locate). If Austin's contemporary urban utopia didn't already have you hooked, this slice of natural paradise embedded within ought to do the trick.
Attractions, Rivers, lakes and ponds
Each October for two weekends, Zilker Park—situated at the bottom of South Austin neighborhood Barton Hills—is the home to the internationally renowned annual Austin City Limits Music Festival, and each winter holiday season it hosts the dazzling Trail of Lights. But those yearly events barely scratch the surface of what the park regularly offers. Year-round, the 358-acre publicly-owned swath of land is equipped to entertain all generations and cultural groups living in and visiting Austin. There's a playscape and small train ride for the kiddos, soccer and rugby fields, and hike and bike trails for the athletically inclined and—the apex of manmade ATX swim spots—Barton Springs Pool. The expansive, blocked-off section of Barton Creek is fed by the Main Barton Spring (Texas's fourth largest spring), which maintains a stable 68-degree temperature. Say it with us…brrr! Yes, it's essentially freezing, but it becomes a godsend once we hit our almost annual streak of 30-plus days of unbearable, 100-degrees-or-hotter weather. Besides, it's one of the most surefire spots in town to socialize—you're bound to run into old friends along the hillsides if you're local, and likely to make new friends if you stick around long enough.
3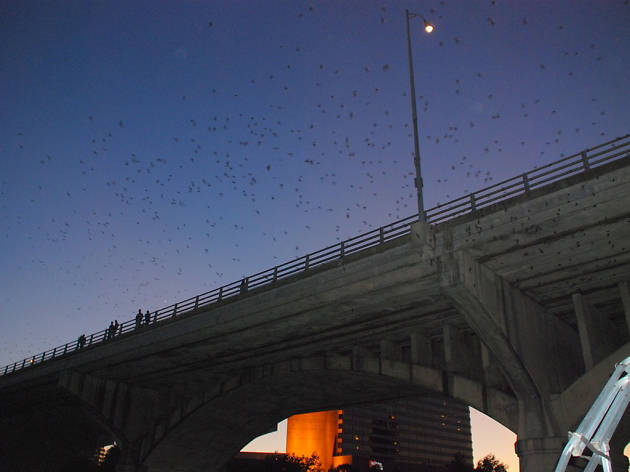 Photograph: Courtesy Creative Commons/Flickr/Pardesi
The Bats at Anne W. Richards Congress Avenue Bridge
For many, the idea of the world's largest urban bat colony—approximately 1.5 million Mexican free-tailed bats—all flying out from under a bridge within the span of a few minutes may sound utterly terrifying. Maybe so, especially if you've got a genuine phobia, but actually witnessing them speed out at up to 60 mph and 2 miles high en masse on any given evening (around dusk) is one of the most jaw-dropping sights in the region. By now, it's a business: You can buy into one of Capital Cruises' boat tours to watch them emerge from lake level or you can simply do as the Romans do and arrive early to grab a spot along the eastern side of the bridge. Generally speaking, the bats aren't at all dangerous (unless you attempt to handle them, so do not try). In fact, aside from the majestic beauty of their cyclonic flight, they're local assets: The bats consume about 20-30 thousand pounds of insects each night (i.e. they're heroes, the best mosquito slayers we've got). Even though bats reside there most of the year, summertime—as with most things here—is peak for activity; if you wanna reap all of Austin's benefits, you gotta stick out the heat for the good stuff.
S. Congress Ave between W. Cesar Chavez St and Barton Springs Rd (crossing Colorado River)
Attractions, Public spaces
The origin story of west-central Austin's HOPE Outdoor Gallery—also called Castle Hill after the old Texas Military Institute castle perched at the top—is fairytale-esque in nature: During SXSW of 2011, the concrete-walled shell of a condemned condo project from the '80s was transformed into a three-story paint park (mostly graffiti-style street art) for the public to enjoy. It has since become the flagship of Austin's contemporary street art scene and one of the top tourist destinations in the city, not to mention one of the official top 10 artistic destinations in Texas. HOG is another locale worth multiple visits; the colorful array of murals, stencils, and graf is constantly transforming as both commissioned and amateur artists alike put up new work. Though the rules are fairly lax—there's never a shortage of randoms walking up and painting willy-nilly—the grounds are officially private property, and you must get a paint pass from an authorized location (Tuesday to Thursday from noon to 9pm at SprATX, 501 Pedernales Street, Unit 2A) to paint anything without risk of being removed by police. No biggie, really: It's really more enjoyable to sit back and witness these talented artists make manifest their inspirations, especially from the uppermost (third) level of the property, which simultaneously reveals one of the best views of Austin's skyline facing east. Go there and take pictures—ALL of the pictures.
5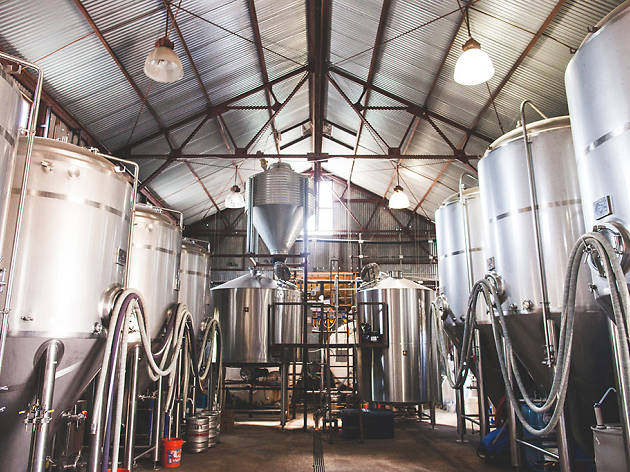 Photograph: Wes Kitten, The Beer Haul
Like so many hipster havens across the U.S., Austin has seen a massive boom in local craft brewery culture within the past 5 years; about a dozen new producers (typically with adjacent taprooms) have popped up. Which ones you visit all depends on your palate: Hops & Grain leans more toward IPAs and (appropriately) hoppier fare, Blue Owl is the spot for sours, Jester King—located in the beautiful hill country—flirts with interesting flavors in its farmhouse ales and Austin Beerworks' beers run the gamut from easy-drinking to heavy-and-malty. If hops don't make you happy, there's always Austin Eastciders, which—across two locations including a brand new South Austin cidery facility—offers a variety of craft ciders advertised as "drier, smoother and more complex than many modern ciders." Of course, the places listed here only represent a tiny sampling of the sprawling ATX brewery community. Consider signing up for a tour via companies like ATXcursions or Austin Brew Bus if your time is limited.
Photograph: Wes Kitten, The Beer Haul
6
Photograph: Forrest Preece
Ask any native Austinite: most of us didn't grow up skiing or snowboarding—the closest mountains are an arduous drive away—but we did do our fair share of boating, waterskiing and wakeboarding. That's because Austin boasts three fantastic lakes within relatively close proximity. Lady Bird Lake (still referred to by most locals as Town Lake, its name until former FLOTUS Lady Bird Johnson died in 2007) sits on the edge of downtown and connects to the Colorado River and Barton Creek; you legally can't swim in it, but there are a few standup paddle board and kayak rental spots so you can glimpse a panoramic view of the city skyline while floating atop the serene water's surface. Lake Austin, meanwhile, is the premier locale for watersports, jetskiing and—if you're lucky—lounging or partying at a pal's lake house. For the past decade, Lake Travis fell victim to drought, but with the heavy El Nino/La Nina rains of the past two years, it has once again become a hotspot for sailing, speedboating and fun family outings. Your best bet as a newbie? Lady Bird. With such close proximity to downtown, you can squeeze in a session between other activities, and there are plenty of other nearby spots to get your swimming fix, too.
Photograph: Forrest Preece
7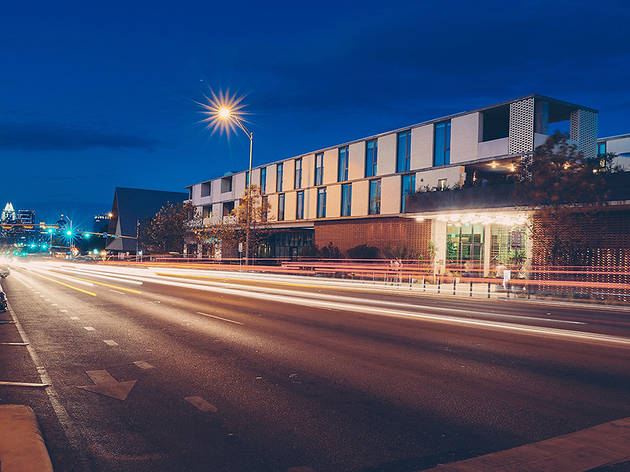 Photograph: Courtesy South Congress Hotel
If your wallet's well-stocked, you could pull off an entire week's worth of eating, drinking, shopping and live music in one day on SoCo, the shortened moniker for the historic strip of S. Congress Avenue south of the Colorado River. But we recommend taking your time over a span of several visits. It behooves you to sit down for a long, fulfilling meal at the legendary Hopdoddy Burger Bar (worth the lengthy lines, we promise), Perla's Seafood & Oyster Bar or Güero's Taco Bar, where—on almost any given night—you're bound to catch an outdoor concert from some of the finest local players. And it's equally important not to rush through the almost overwhelming array of vintage shops, boutiques and mom-and-pop craft vendors. If you're a first-timer to the area, we recommend First Thursdays, where most shops stay open until 10pm, and a flourishing marketplace featuring local artists and small businesses blooms in the lot of delicious Italian eatery Vespaio. Also essential: catching a show at the Continental Club, one of the city's oldest continuously running venues (more than 60 years) where Texas legends like Stevie Ray Vaughan, Paul Ray and the Cobras and Joe Ely played regularly in their heydays.
S. Congress Ave between Nellie and Mary Sts
8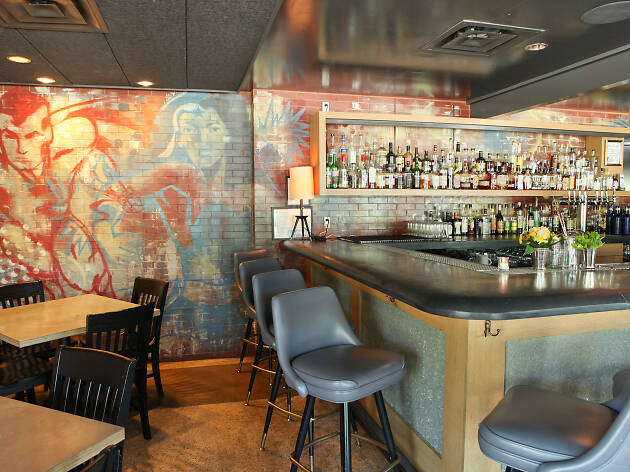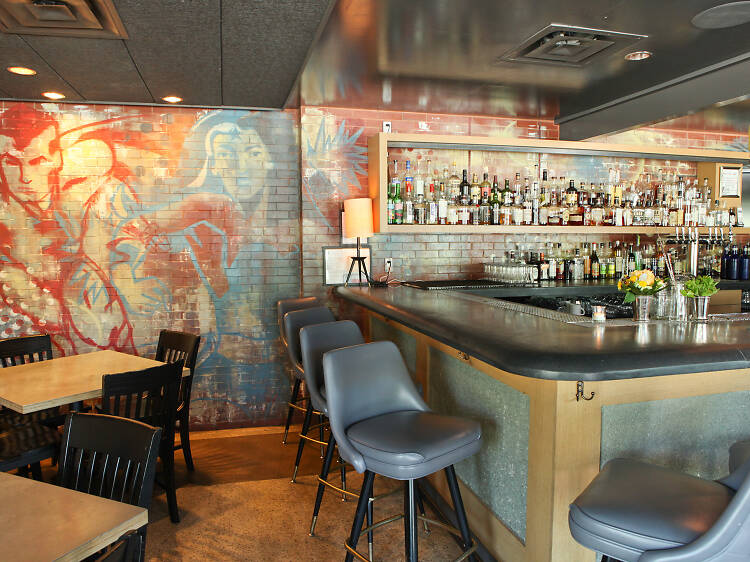 Photograph: Courtesy drink.well./Claire McCormack
Can't hang with the crowds on Rainey or Dirty 6th? Tired of the upscale price tags along SoCo? Craving an authentic locals-only atmosphere? North Loop is your go-to hood. Along the stretch of N. Loop Boulevard roughly between Guadalupe Street and Airport Boulevard, you'll find a blend of shops that toe the line between old-school and contemporary: there's Room Service, one of Austin's best sources for '50s, '60s and '70s furniture, clothing, collectibles and knickknacks; Vulcan Video, which specializes in foreign, cult and classic flicks, many on VHS (!); Monkey Wrench Books, an all-volunteer bookstore and social space (they host some killer local concerts) with the mission in mind to spark "radically different" ways of thinking/living; and the all-vinyl Breakaway Records. For the alcohol-inclined, whether day- or night-oriented, you can hit up one of the friendliest-staffed and most well-stocked (especially in terms of craft beer) dives in town, Workhorse Bar or, for some award-winning cocktails, the ever-intimate drink.well (pictured). The only catch for any of these places is limited parking since the strip is positioned in a primarily residential area. At the same time, it's the everyone's Cheers, neighborhood feel that makes this short jaunt north of downtown well worth it.
N. Loop Blvd between Guadalupe St and Airport Blvd
9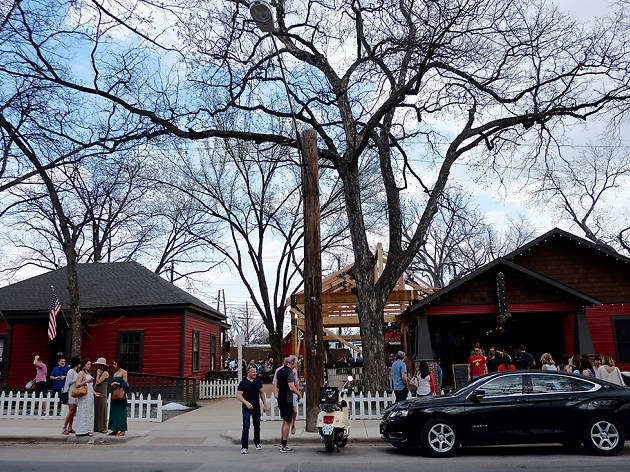 Photograph: Courtesy CC/Flickr/Panchenks
Rainey Street Historic District
The stretch of E 6th Street between IH-35 and S Congress Avenue—known by locals as "Dirty 6th"—hosts a wild college party scene nightly (it's essentially our Bourbon Street). But as far as well-rounded, barhoppable strips go, it—or any other ATX drinking district—doesn't come close to Rainey Street just a few blocks south. Here, you've got your pick of the lot: sports bars (Bar 96), swankier cocktail joints (Half Step, Icenhauer's, Lucille Patio Lounge), reliable live music havens (Bungalow, the Blackheart, Javelina) and microbrew meccas (Banger's, Craft Pride). Quite a few of these feature excellent food choices as well, making the district an all-in-one-stop worthy of an entire evening. Nighttime visits are more key as many establishments don't open until late afternoon or early evening, but daytime eats are top-notch, too: Grab a brat at Banger's, some of the best Indian food in town at G'Raj Mahal, or go for some gourmet food truck fare at Little Lucy's, Art of Tacos or Masala Dhaba. Barring the food trucks, most of these places are set up inside renovated old houses—each just minutes or moments apart—which lends the avenue a heavy layer of homey charm on top of its enviable variety.
Rainey St between W. Cesar Chavez and Holly Sts
Photograph: Courtesy CC/Flickr/Panchenks
10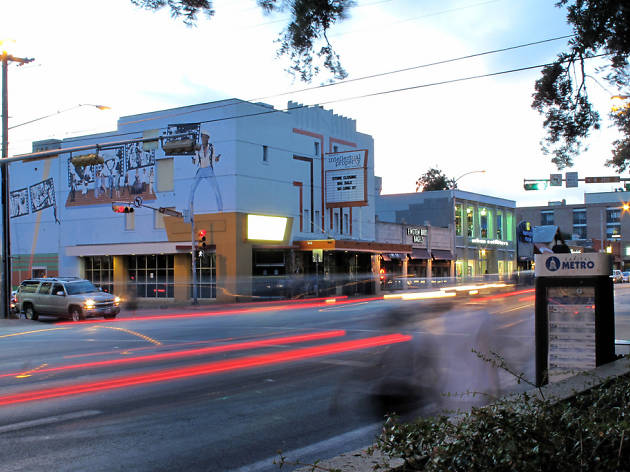 Photograph: Courtesy CC/Flickr/Matthew Rutledge
If you're headed anywhere on or near University of Texas campus, you've gotta take a stroll down the Drag—the stretch of Guadalupe between 29th Street and Martin Luther King Jr. Boulevard that runs alongside campus—for some superb shopping and/or food along the way (officially, it's between 21st and 25th Streets, but true Austinites know better). Gone are the days of classic music stores like Tower Records and Sound Exchange, but there's still plenty of culture to soak up via vintage clothing shops (Buffalo Exchange, C. Jane, Monkies Vintage and Thrift), delicious eateries (Kerbey Lane Café, Madam Mam's, Teji's Indian Restaurant), one of the city's best dive bars (Hole in the Wall) and a plethora of handmade craft goods at the open-air Austin Renaissance Market on 23rd Street. For some carefree recreation, one needs only to jaunt across the street and down a few flights of stairs to access the UT Student Union Underground, which is decked out with billiards tables, an arcade and glow-in-the-dark (!) bowling. Glow Bowl is only available from end of May through mid-August, so we highly recommend it as a fun and trippy—not to mention air-condition—respite during the often brutally hot summers.

Guadalupe St between 21st and 25th Sts (University of Texas campus)
Photograph: Courtesy CC/Flickr/Matthew Rutledge
"Last of the true Texas dancehalls and damn sure proud of it!" reads a quote from owner James M. White on the South Austin bar-restaurant's website. If that sounds pretty dang Texan, it's because it has been, is, and always will be one of the most Texan spots you can visit since 1964. The family-owned honky-tonk is situated far enough from downtown that it feels much more like a homey, neighborhood watering hole, and its food menu features all the ATX essentials: steaks, burgers, Tex-Mex and, of course, BBQ. Two-steppin' is always in full-swing, and you can even sign up for lessons with White's daughter Terri on Wednesday nights. But one of its most attractive features is a long tradition of hosting legendary musicians—Willie Nelson, Earnest Tubb and Bob Wills, to name a few. Some of those who are still around occasionally pop in announced. No joke, if you're lucky, you might witness Nelson hop on stage for an impromptu show any given night of the week. Can I get a "yeehaw"?!
Located northwest of downtown near the Contemporary Austin's sprawling Laguna Gloria artists' complex, Mayfield Park is a mainstay for locals, but often overlooked by visitors on their way to the scenic Mt. Bonnell overlook just up the road. With its quaint central cottage built in the 1870s surrounded by a serene, sprawling garden replete with koi ponds and lush, colorful flora, it's a perfect place for an afternoon picnic, reading or just generally relaxing. There's also a lovely hiking trail through the 23-acre nature preserve if you're aiming for a more active mode. But the real draw for most are the two-dozen or so resident peafowl (that's the accurate plural of peacocks and peahens) who—not the least bit frightened by humans—roam the grounds, rooftops and trees of the central park. Our recommendation: Go see these majestic birds between February and April—this is the season when the males begin courting the females by fanning out their colorful tail feathers, a truly impressive spectacle.
Things to do, Walks and tours
For architecture and history enthusiasts, the Texas State Capitol building—located at the head of South Congress Avenue in the heart of downtown—is an essential stop. Really, though, it's a must for anyone trying to get the full feel of Austin's Texas-centric side. Free daily guided tours will take you into the central atrium where stunning portraits of every Texas governor hang on display, into the Senate Chamber and newly restored House of Representatives Chamber, and finally into the impressive underground extension. All the while, your guide will give you a rundown of Texas history and politics. Those with specific informational interests should check the website for details about themed tours, which include Women in Texas History, Heroes of the Texas Revolution, Rest in Peace (urban myths and ghost stories near Halloween), Bravest of the Brave: Celebrating Texas Veterans, the Holiday Tour (available in December) and Early Texas Artists. The Capitol is also proof that everything is bigger in Texas—it's a replica of the Washington, D.C. building, but actually a bit taller. How much taller? You'll have to ask when you get there.
You don't need to be a nudist to enjoy the secluded beauty of Hippie Hollow, but you do need to be comfortable with the concept. The 109-acre park, situated about 20 minutes from downtown alongside Lake Travis, is the only legally recognized clothing-optional public park in the Lone Star State—quite appropriate for a city that proudly strives to "keep [it] weird." Even if you don't strip down to your birthday suit, it's worth a visit for its natural oasis-like atmosphere and solid swim spots with close proximity to the city center, without any sign of the hustle and bustle. Just be warned: you will see naked bodies of all types—young, old, male, female—so think twice if you're the modest type.
Things to do, Sport events
If you're an avid live music fan, you may want to check COTA's website for concert listings before you plan your visit; aside from the 3.4-mile racetrack (home to the only Formula 1 race in America, the United States Grand Prix), the complex is home to Austin360 Amphitheater, the largest permanent outdoor amphitheater in Central Texas, which since opening in 2012 has hosted some of music's biggest artists, including Kanye West, KISS and local legend Willie Nelson. For racing fans who just want to see the track—which features a ride up Turn 1, a 133-foot rise with panoramic views from the top of the surrounding hill country—you can catch a guided tour on Saturday or Sunday. If neither racing nor live music are in your wheelhouse, COTA is still worth a visit for a trip to the top of its iconic 25-story Observation Tower, which provides a clear view of the Austin skyline—you won't want to miss that awe-inspiring perspective!