Time Out meets Genius Gangster
Creative collective Genius Gangster introduces a different kind of music experience to Bangkok.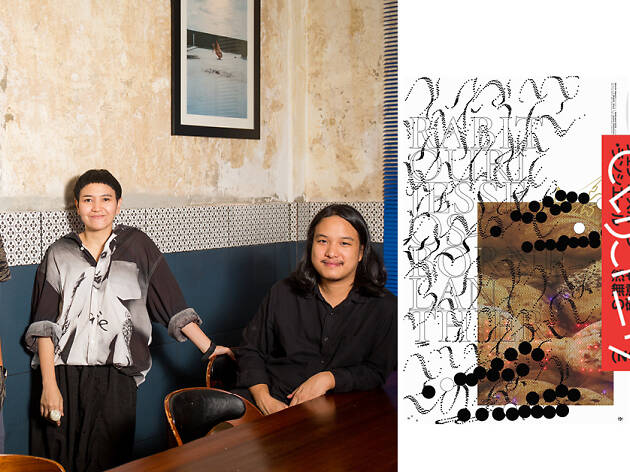 The arts and music scene in Bangkok is always changing and evolving, and into this highly prolific arena comes ShapeShifter, a music performance that puts focus on visuals as much as sound. The idea might sound a bit cliché but, trust us, ShapeShifter is everything but.
The concept was created by a group of creatives called Genius Gangster, comprised of Voranat "Urk" Voraphitak, a graphic designer and owner of musical instrument store Sathon Chainsaw; Chanida "Kook" Voraphitak, founder of graphic design brand Cuscus the Cuckoos; and Gunn Leelhasuwan, one of the masterminds behind popular bars Asia Today and Teens of Thailand. ShapeShifter is basically a platform where people who specialize in different art forms can gather, collaborate and work with each other's distinctive skills and talents.
Each of the founders' unique taste in art and music served as inspiration. "I like clubs with loud music and everything, but most of the clubs that I've been to seem to only put effort into the sound but not the visuals," Urk explains. "When I started working in this industry, I realized that I can make every element equally good. So every time we do our events, we really put our mind and dedication to all the elements. Like when we do the visuals, we do it like it's a film, and not just pictures that respond to the music."
Most of the time, when you attend different events hosted by the same curator, you can already predetermine the narrative of the exhibition, but that doesn't apply to ShapeShifter. You can expect something different each time when ShapeShifter is behind the wheel. Sometimes, you'll find yourself lost in a visual reality performance; other times, you'll be standing in a room where the music is blasting so loud that you can literally feel the vibrations on your skin.
The last ShapeShifter event acquainted us with the work of Berlin-based musician Jesse Osborne-Lanthier, a highly acclaimed conceptual electronic musician and sound/visual artist known for his disorienting abstract work and multifaceted productions. His performance was a mind-blowing experience that focused on cymatics, a scientific phenomenon that proves the connection between sound vibrations and physical reality.

By delivering an experience like no other, the brains of ShapeShifter are hoping to go far beyond just creating remarkable art and sound performances. They hope to change perceptions and open up minds as well. "There are people who like art but didn't know that this kind of art form exists. So we're kind of a mini Google that shows them that there's this and that," Gunn relates. "We carefully handpick each artist based on our own preference. People who come to our events don't even have to like what we showcase, but we just wanted to show that this kind of music or graphics exist."
Another reason behind their project is to share the experience to the youth. "We want to give the opportunity to students who do not have the privilege to experience this kind of things. So they can join for free.", Kook adds.
Like Sathon Chainsaw's Facebook page to keep track of the next ShapeShifter events.