Things to Do
Your comprehensive guide to the best things to do in Bangkok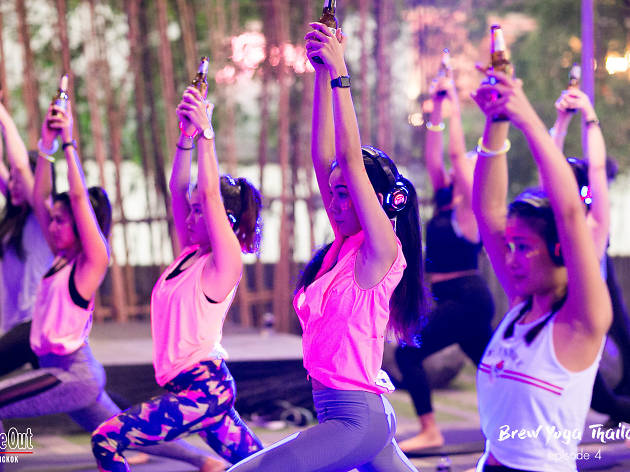 10 awesome things to do this week
Fri 30 Bangkok That Was: Photographs 1956-1961 by Fabrizio La Torre; 11am; free Fabrizio La Torre was an Italian photographer who lived in Bangkok from 1956 to 1961, commissioned to document and photograph the launch of renowned Italthai Industries company. During his time in the city, the avid art enthusiast also took thousands of photos of the city and its residents. Bangkok That Was showcases these rarely seen photographs in a double-venue exhibition simultaneously showing at Serindia Gallery and the National Museum. Felipe Pantone W3-Dimensional & Current Work Exhibition at Siam Center; 10am; free Argentinian-Spanish artist  Felipe Pantone best known for the use of bold color and kinetic/op art is heading to Bangkok for an exclusive talk and exhibition this month. Felipe, despite never expose his face to the public, has shown his works at galleries and museums around the world, including Long Beach Museum of Art, Palais de Tokyo in Paris, and Mesa Contemporary Arts Center. Now, it's your chance to see his amazing artworks in Bangkok at Siam Center. Felipe Pantone will be creating a showcase called W3-DIMENSIONAL Park, mesmerizing mall-goers with optical illusion art pieces --- these include four original pieces that are parts of his painting projects he's been working on. 40s & Shorties x Narcos official party at Susie Q; 9pm; free Blaq Lyte joins forces with Auntys Haus to host 40s & Shorties x Narcos official party. The party is to launch a special collaboratio
Japanese artist AMKK is flowerbombing Siwilai City Club this Dec
This Dec, the posh Siwilai City Club will be in full bloom, literally, as it will showcase a series of three exclusive installations from renowned Japanese floral artist AMKK.  Kicking off the series is Orchid Tower, an installation featuring thousands of tropical flowers, which will be showcased at Sundown Circle Bangkok, a party Siwilai co-hosts with Indonesian-born Potato Head Family. Orchid Tower will be displayed for 10 days. The second exhibit in the series, Paradise Ball, will take place from 11 Dec to 17 Jan at the same location.  The last chapter of The Flowerscape Series, which is aimed at celebrating Siwilai's 5th anniversary, will be revealed next year. Stay tuned for more updates.  AMKK  
Felipe Pantone is showcasing his cyberspace-inspired W3-Dimensional installation at Siam Center
Argentinian-Spanish artist Felipe Pantone best known for the use of bold color and kinetic/op art is heading to Bangkok for an exclusive talk and exhibition this month.  Felipe Pantone, who also goes by street artist name Pant1, has been doing graffiti since he was young -- 12 yrs, to be precise. Based in Valencia, Spain, his unique style involves saturation, dynamism, transformation, and omnipresence of colors. When you see his artworks, you'll realize they're his.  Felipe, despite never expose his face to the public, has shown his works at galleries and museums around the world, including Long Beach Museum of Art, Palais de Tokyo in Paris, and Mesa Contemporary Arts Center. Now, it's your chance to see his amazing artworks in Bangkok at Siam Center. Felipe Pantone will be creating a showcase called W3-DIMENSIONAL Park, mesmerizing mall-goers with optical illusion art pieces --- these include four original pieces that are parts of his painting projects he's been working on. W3-DIMENSIONAL Park. 27 Nov-31 Dec at G Floor, Siam Center.   Siam Center Siam Center Siam Center Siam Center
The historic East Asiatic Building is now open to the public to showcase Bangkok Art Biennale art works
The East Asiatic Company Building is one of the most discreet historic landmarks in Bangkok. It has always been there, precisely at the riverfront location next to Mandarin Oriental Hotel, but you probably never noticed it as it's never been open to the public—until now!
These are 5 artists you need to check out at Bangkok Art Biennale's venues in Pathumwan-Wireless area
Apart from being home to a lush park, commercial buildings, hotels and embassies, the affluent areas of Silom and Wireless are some of the city's most culturally rich neighborhoods. The works of artists from all around the world will be displayed in four venues in these hoods.   Yoshitomo Nara One Bangkok and Nai Lert Park Heritage Home One of Japan's most influential artists was born in 1959 and is known for his unique, childlike drawings of moody little girls engaging in various provocative activities. The artist has shown more than 40 solo pop-art exhibitions at some of the world's top museums and galleries. For the Bangkok Art Biennale, he's bringing in one of his iconic works, "My Sweet Dog."  Time Out Bangkok   CANAN BAB Box at One Bangkok Turkish artist and activist CANAN uses her colorful multi-disciplinary exhibits to raise awareness on various social issues. Bangkok residents will get to explore "Animal World," a site-specific installation depicting various animals and astronomic elements made of different materials. Time Out Bangkok   Kawita Vatanayangkur CentralWorld, EmQuartier, The Peninsula Hotel, The East Asiatic Building, Theatre of Indulgence Video artist Kawita Vatanayangkur examines the topic of women's rights by using her body to represent household appliances. Her work is so powerful that she became one of the very few Thai artists to have been invited to show at last year's Venice Biennale as well as at Saatchi Gallery London.
Sights and attractions in Bangkok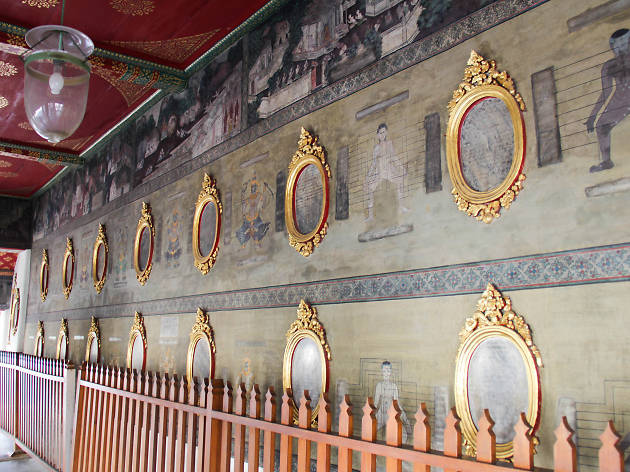 Bangkok best attractions
We'll call it right now: Bangkok is one of the most vibrant cities in the world. A curious mix of old and new, and East meets West, Bangkok asaults the senses with its majestic sights, exotic destinations, flavorful cuisine and exhilarating nightlife. This city has some of the best restaurants in Asia, the grandest temples and the most energizing massages this side of the world. There are too many sights to be seen, food to be eaten, and merriment to be made. We zone in on the most memorable experiences this exuberant city has to offer.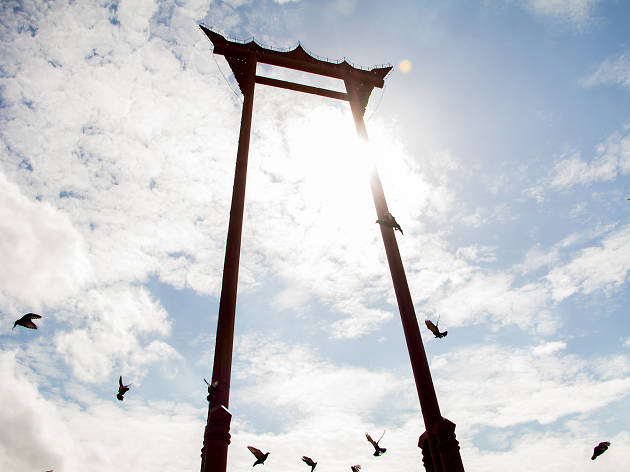 Devasathan & the Giant Swing
Standing in City Hall square, the Giant Swing (Sao Ching Cha) was originally erected in 1784 as part of the adjacent Devasathan, a Brahmin compound of shrines to Shiva, Ganesha and Vishnu. The Brahmin priests based here still officiate at royal and other official ceremonies (although no longer at the Brahmin New Year rite). In the past, a ceremony, meant to celebrate an exploit of the god Shiva, would require four brave men to swing from this lofty red frame to grab at pouches of coins. However, due to fatal casualties, the ritual stopped in the 1930s. The poles were erected in 1919 by the Louis T Leonowens Company to honour of the son of Anna Leonowens (the contentious governess in The King and I and a teacher in the Siamese court of King Rama IV). In 2006, the rickety timbers were replaced by the structure you see today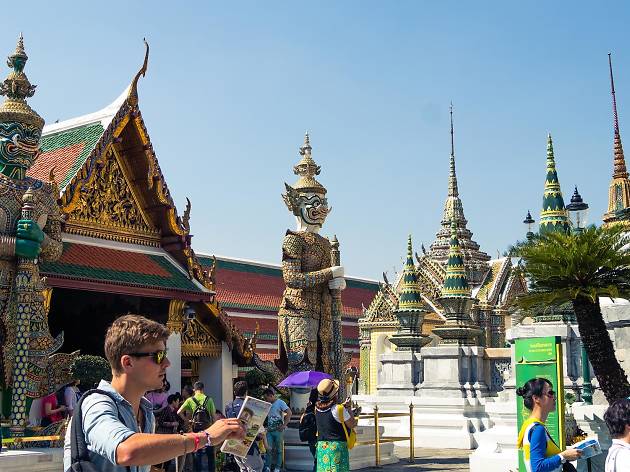 The Grand Palace & Wat Phra Kaew
The Grand Palace Bangkok's paramount must-see sight is this architectural and spiritual treasure, which is twice as dazzling if you see it on a sunny day. Ignore the gem touts claiming 'it's shut', and immerse yourself in the palace's palpable dignity (while observing the ban on sandals, shorts and bare shoulders). Nearly two kilometers of walls with lotus-shaped crenellations enclose what was once a self-contained city of throne halls, royal chambers, servants' quarters, ministries and a prison. Built in 1782, it was modified by each Chakri king. It now only gets ceremonial use, but remains the kingdom's holiest landmark. Allow at least a two-hour visit. Wat Phra Kaew Wat Phra Sri Rattana Sasadaram, better known as Wat Phra Kaew, is the temple of the Emerald Buddha, the palladium of Thai independence. Modelled on royal chapels in Sukhothai and Ayutthaya, and embellished to an astonishing degree, it omits monastic living quarters since there are no resident monks.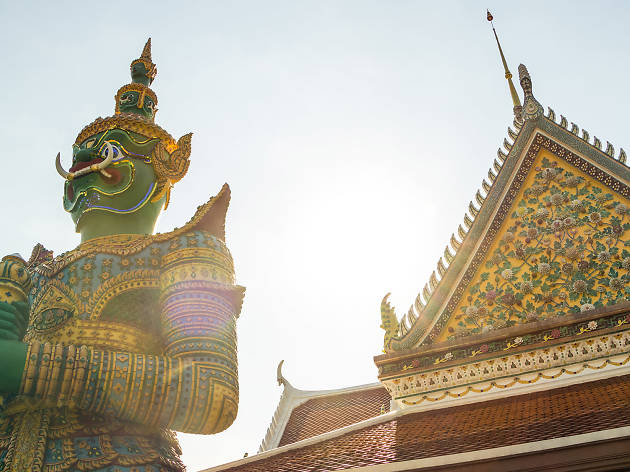 Wat Arun
Seen on the TAT logo and 10-baht coin, this five-spired landmark has been known as the 'Temple of Dawn' ever since the soon-to-be King Taksin landed by the then Wat Magog at sunrise in October 1767. Briefly home to the Emerald Buddha, Wat Arun features a pair of yaksa (giant) statues, ceramic gables and 120 Buddha images. Don't rush a visit on a canal tour. Instead, access the temple via the public ferry from Tha Tien, and wander the temple grounds for as long as you wish.