Top 20 terraces in town
Find the spots where you can relax, eat and drink on the coveted sunny terraces of Barcelona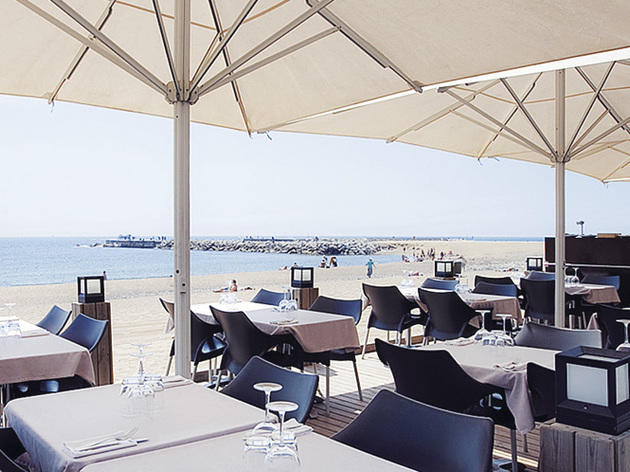 With such pleasant weather most of the year in Barcelona, one of the great joys is discovering a corner of the city with a lovely terrace to sit and grab a cool drink and scrummy tapas. With our list of 20 top terraces, you can find spots to do just that, while you do your share of people watching as the afternoon turns to evening and beyond.

RECOMMENDED: Barcelona terraces with views
Restaurants, Mediterranean
This is a delightful place to go out for lunch, dinner or just for a drink and an evening aperitif, prepared by the amiable Ginés behind the bar. Meanwhile, Nati specialises in making good, traditional food, like: hare with lentils, foie gras prepared according to taste, pigs' trotters, and her star dish: oxtail.
This chic, exclusive hotel is set in an 18th-century aristocratic house overlooking a secluded square in the heart of the Gothic Quarter. Its contemporary style contrasts with the impressive historic surroundings.Set right beside the city's Cathedral, the Hotel Neri lies just a short distance from the bustling Las Ramblas. The building's original period charm has been preserved and enhanced by the hotel's sophisticated interior design. This design blends with relaxing music and sensual aromas to create a unique setting in this ancient, atmospheric area of central Barcelona.Dine on delicious specialities in the hotel restaurant or enjoy a drink at the terrace bar. You can also spend a relaxing moment in the tranquil library or on the pretty rooftop garden terrace.
Restaurants, Creative contemporary
Thanks to chef Jordi Vilà, this little restaurant with so much history behind it has once again become a benchmark of fine cuisine, with a menu featuring top-quality tapas and dishes at affordable prices. It's hard to make your mind up about certain dishes, as Vilà's amazing creativity makes deciding a little difficult. It also has a nice interior terrace, perfect for warmer nights.
Restaurants, Sandwich shop
This corner bar has been around for so long that it has become a true institution in the Horta neighbourhood. Their sandwiches (especially the omelettes) are revered throughout the city.
The Colombo twins ('xemei' means 'twins' in Venetian) have bewitched the most demanding fans of Italian cuisine, especially that of their Venice, their hometown. Theirs is a lovely trattoria with a very warm and friendly bohemian atmosphere. Dive in to the best of Venetian cuisine, starting with fegato alla veneta (Venetian-style liver), followed by black spaghetti (it's because of the squid ink, of course).
A good selection of salads and pasta, plus cold mixed dishes with cheese, ham or smoked salmon. Unusually, the outdoor terrace is not located outside the actual cafe, but that's just because the alley where Bliss is located is too narrow. You have to walk a few metres to Plaça de Sant Just to find the cafe's terrace in the sunshine, surrounded by ancient stone walls. In springtime, it is a sheer delight to sit at this Gothic terrace, read the newspaper and sip coffee or fresh fruit juice.
In the midst of the leafy garden formed by the farmers' market next to the Boqueria, Papitu is an ideal bar for a snack, surrounded by the hollering of vendors, the squeaking of fruit trolleys and the general din. Its terrace takes up most of the square, while the bar itself sums up Papitu's minimalist charm: a small kiosk where they serve good beer on tap and excellent croquettes and squid. While you sip at your vermouth (accompanied by a dish of anchovies), you might wonder how this little miracle can all come out of a bar less than one metre in length. Barcelona Neorealism with tourists and anchovies.
Restaurants, Mediterranean
When you eat here, your feet are practically in the sand, just like in the old days... Their specialities include grilled sardines, tuna carpaccio and the mouth-watering fideuà with clams.
That sentence written in all the guidebooks about the 'incomparable setting' was likely invented to talk about Torre Rosa. Drinking a cocktail in a house formerly owned by one of the 'indios' or 'Americanos' (Catalans who left and made good on the other side of the pond and then returned to spend their wealth) can have a hand in making your heart skip a beat or two. This is possibly one of the most perfect places in Barcelona. Behind the bar you'll find Jordi Reig, who will tell you everything anyone could ever want to know about the different types of rum and how to mix a good mojito. If you aren't in the mind space for explanations and would rather imagine yourself in Havana, just head out to the terrace and do a bit of moon gazing.
Show more