Great Barcelona restaurants offering half off for two weeks
From Oct 17 to Nov 2, dine in some of Barcelona's best restaurants for up to 50 percent off!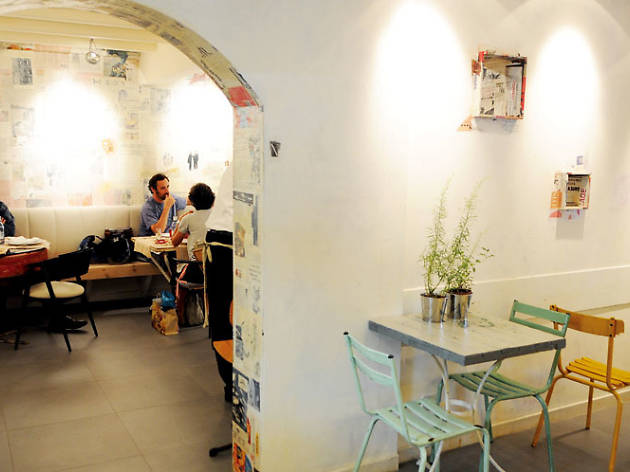 Gourmets who want to save, you're in luck. From October 17 to November 2, 100 restaurants in Barcelona are offering discounts of up to 50 percent as part of the campaign 'Cómete la Ciudad' ('Eat Up the City'), and you can book your spot via Time Out Barcelona. How do you get in on the promotion? Easy: just click the Book Online button and choose the option you want, featuring discounts of up to 50 percent on dishes from the menu or an entire set menu. It's free to book, and you pay in the restaurant after your meal.

Some of the best restaurants in the city are among those participating in the campaign, and you'll find quite a wide variety of cuisines, from the most exotic dishes out of India, Ethiopia and Nepal to the most traditional Catalan food, as well as Japanese, Argentinean and more. There's something for all palates and in all areas of Barcelona.

We've picked out a selection of some of our favourite restaurants participating in the promotion so you can narrow down your choices. Bon profit!
Since Dídac Moltó took on the job as chef at the Mirador del Palau – the restaurant at the Palau de la Música – the gastronomic bar has been raised substantially. The restaurant that's part of this Modernist gem now offers a la carte options as well as set menus that you can get as tasting menus or express dishes, which really helps if you fancy a bite during a concert intermission. And it's all made with local products and lots of personality. For example, the lamb with rosemary confit, served with aubergine caviar with yoghurt. It's great signature cuisine at a price that's better than you might think.
Book now
Read more
The media-friendly Isma Prados' new restaurant is NONONO, where he takes his ecological views a step further: all the products served here are biodynamic, chemical-free and produced naturally, according to the Earth's seasons. Apart from a very accomplished lunchtime menu, this beautiful space with its bistro air serves simple cuts of meat – lamb, rabbit and chicken – together with humble yet delicious dishes such as green salad.
Read more
If you've got an occasion to celebrate, and you're looking for a cosy, intimate, well-decorated spot St. Rémy can offer you a big space that's still comfy, with an elegant yet modern design. It's an oasis of glamour where you can dine on sophisticated cuisine based on high-quality products and the traditional essence of the best Mediterranean dishes. If you like a good steak, be sure to try their excellent selection of meats.
Book now
Read more
When you smell the steaks cooking, you'll get that Al Punt is a place to worship the selection of Argentinian meats that are practically hidden within the very complete menu.  And this isn't just any beef – it bears the prestigious Angus seal of quality.  In terms of flavour, it's tender and juicy, a superior delicacy.  If you don't like eating mammals, no worries, as they also cook fish with obsessive care. They do Imperial salads and have an appetizer menu (from grilled vegetables to ravioli) not recommended for gluttons.
Book now
Read more
It's hard to find a more palate-pleasing 'bacallà' (cod) in Gràcia than the one they do at Ombú. It's their self-proclaimed speciality so it's practically a sin to go and not order the dish. But if you're not in the mood for fish, don't fret. The menu is full of tempting market fresh recipes with Mediterranean touches, including pasta, salads and meat-based dishes all served in a cosy space with a space advantage over crowded restaurants in the centre. It's an excellent value for money, and the wine celler is also superb.
Read more
Need a cosy spot for a romantic date? Antigua could just fit the bill – its sensuous surroundings provide just the backdrop for a seductive evening. Ochre colours and exposed brick complement the imaginative fresh market menu featuring superb quality ingredients. Perfectly executed recipes allow the meat, fish and vegetables to hit their peak flavours. Try to take your time to enjoy it all even though you'll just want to lick your plate clean to get home and slip into something more comfortable.
Book now
Read more
The sister restaurant of Kathmandû is actually an identical twin: traditional Nepalese cuisine, with dishes such as duck marinated in yoghurt and ginger and cooked in a tandoori oven.
Read more
The name doesn't lie. This restaurant has a fresh interior, a bit on the trendy side, defined by its pleasing colour combo of white, silver, black, and fuchsia. They've modernized and moved towards a fresh market Mediterranean menu with creative touches – daring, without being strident. Newcomers first sample the quality meats, pasta, rice, salad, and fish. If you're not sure what to try, make it easy on yourself and sink your teeth into the house burger, the very best of Sant Gervasi. 
Read more
Show more