Barceloneta & the Ports
Find the best restaurants and bars, shops, and nightlife spots in the seaside neighbourhood of Barceloneta and surrounding ports.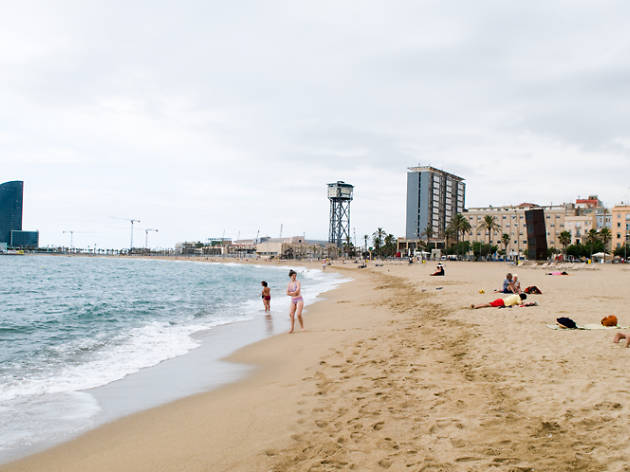 The city's seafront was ignored until 1992, when it underwent a massive transformation for the Olympics. Despite the initial resistance, it was wildly successful: the city now has seven kilometres of golden sands, running from the bustling Port Vell to the upscale Port Olímpic and beyond to the Fòrum. Inevitably, this is also where you'll find some of the city's best seafood restaurants.
Founded in 1903, Can Solé is one of the city's classic seafood restaurants, with a selection of rice and fideuà dishes that is perhaps the most extensive in Barceloneta. Their great speciality is creamy rice, a dish that achieves its most sublime form when made with Norwegian king crab.
Read more
Chef Marc Singla has taken La Mar Salada beyond being just a typical paella restaurant. His lunchtime menu offers creative cuisine of the highest quality at affordable prices.
Read more
Tapas and tango is their motto. Apart from that, these Argentineans serve stupendous barbecued meat (it's one of the few one of the few places in Barcelona that can be described as an authentic Argentinean parrilla), and generous burgers made from premium beef.
Read more
At this lovely, laid-back bar by the sea, the Colombo twins from the Xemei restaurant serve special sandwiches (panini and tramezzini) that are very unlike the ones you normally find in Barcelona. They also have daily specials like cod mantecato and all kinds of Italian Venetian snacks. And they have spritz!
Read more
Barceloneta's true cuisine, as it should be – the best-known dishes are the cod fritters, but if they have baby squid, then grab a dish, quick!
Book now
Read more
In this Barceloneta fish tavern, fresh fish is coming through the door at the same time orders are being taken. The catches of the day are prepared in two ways: fried or grilled with garlic and parsley. You can eat well for a tenner, and for double that, you'll have a downright fish festival.
Read more
When you eat here, your feet are almost in the sand, just like in the old days... Their specialities include grilled sardines, tuna carpaccio and the mouth-watering fideuà with clams.
Book now
Read more
Unlike other places in Barceloneta that have shed their seagoing identity to attract customers looking for the cheapest food, Filferro offers an excellent range of local cuisine. The bread is from the Baluard bakery, now a benchmark with both restaurants and locals. The restaurant's ambience is what used to be described as 'yuppie', though now, what with the ravages of neo-liberalism, they seem more like an endangered species.
Read more
Mediterranean fish cuisine with modern touches, and in a chic setting: the cable car tower that looks down over the port. As you can imagine, bringing lobsters, wine and oil 75 metres uphill is not easy or cheap. So you can calculate on 80€ per head, at least. Treat yourself, just for a day. Another, cheaper option is to book during the week and try their lunchtime menu.
Book now
Read more
An authentic family-run bodega, hugely popular with local workers, where you'll need to arrive early for a cramped and possibly shared table. Said to be the birthplace of the spicy potato bomba, La Cova Fumada also turns out a great tomato and onion salad, delicious chickpeas with morcilla (black pudding) and unbeatable marinated sardines.
Read more
The enormous popularity of this long, narrow cruise ship style bar tells you everything you need to know about the tapas, but it also means that he who hesitates is lost when it comes to ordering. Elbow out a space and demand, loudly, chorizitos, patatas bravas, solomillo (cubed steak) or atún (tuna, which here comes spicy). The beer (its storage, handling and pouring) is also a point of great pride.
Read more
With its warm, neighbourhood feel, this bodega is one of the great vermouth classics in town. Aside from the house vermouth, it also features some of the city's best meat-and-potato bombas, tender potato omelettes, and a Russian salad that will make a fan out of anyone.
Read more
As many labels as the genre has, noir fiction (novela negra in Spanish) is a term that doesn't even begin to encompass everything this bookshop has to offer. At Negra y Criminal, readers will find spy novels, real-life tales, cinema stories and essays, among the hard-boiled detective novels and more traditional noir forms we know and love.
Read more
Warm colours, laughter and kutchi-kutchi. If you're a child at heart and yearn for the fluffy, sweet, imaginary world that little ones love, don't miss a visit to I Love Kutchi. This shop in Barceloneta, masquerading as a haberdashery, stocks accessories and decorations for the whole family: a thermal pillow, an iPhone case made of tempting fabrics, a notebook with silkscreened covers or just a roll of washi tape. You'll have a hard time leaving empty-handed.
Read more
Opium Mar is not just a restaurant with a terrace on the shoreline, but it's also a nightclub for the beautiful people looking for a modern ambience with a touch of opulence. Next to the Hotel Arts and practically on the Barceloneta beach, it's in one of the most enviable locations in town. Open daily.
Read more
Every Sunday, from 4pm onwards, the Eclipse Bar at the W Hotel serves a 'drunch' (high tea) made up of Asian dishes. You can try their dim sum – steamed rolls typical of Chinese cuisine – and excellent tea. Then round it all off with a good cocktail.As for the nighttime scene, Eclipse requires cocktail attire, and they're not joking. Try riding up the lift to the twenty-sixth floor in your street clothes next to a couple of leggy model types draped in sparkles and attitude. You could always find a quiet corner early on to enjoy a cocktail and take in the stellar view.
Read more
Carpe Diem Lounge Club, to give the venue its full name, remains at the forefront of Barcelona's splash-the-cash, see-and-be-seen celeb circuit: the white beds flanking the dancefloor, guarded by a clipboarded hostess, are perfect for showing everyone who's the daddy. Alternatively, for those not celebrating recently signed, six-figure record deals, funky house and a busy terrace provide an opportunity for mere mortals (and models) to mingle and discuss who's going to finance their next drink and, secondly, how to get chatting to whichever member of the Barça team has just walked in.
Read more
Maybe it's the name or maybe it's the location, but most of the Catwalk queue seems to think they're headed straight for the VIP room – that's crisp white collars and gold for the boys and short, short skirts for the girls. Inside it's suitably snazzy; upstairs there's R&B and hip-hop, but the main house room is where most of the action is, with everything from electro-house to minimal beats. Warm up with a louche cocktail at CDLC while you're waiting for Catwalk to open.
Read more