Getaway to Alt Penedès: Exploring the region from the Miravinya
We recommend a route which lets you enjoy the landscape, nature, culture and history of this wine-growing region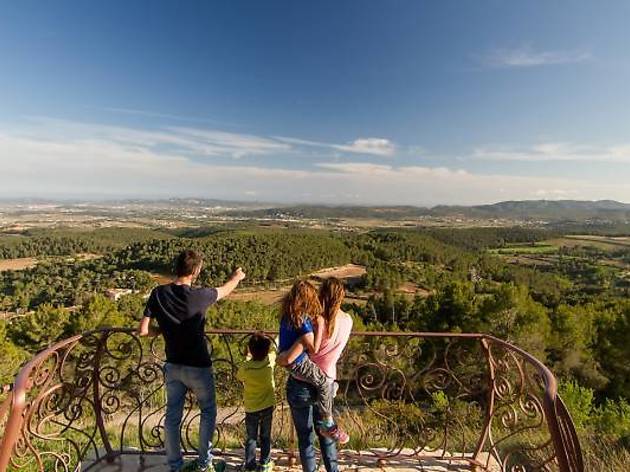 What are the Miravinya? They're lookout points scattered around the Penedès region that afford fantastic panoramas of this land dominated by vineyards. You'll need a car for this circular itinerary that unites the Miravinyas of La Cadira, La Bardera, El Circell, Sant Pau and Balcó del Penedès. It also leads to medieval castles, paper mills, hermitages and monasteries. To sum up, this is a route where you can discover a great deal about the geography, heritage and history of the Alt Penedès.

IN COLLABORATION WITH BARCELONA ÉS MOLT MÉS AND THE DIPUTACIÓ DE BARCELONA
Day 1: Summer houses in Gelida and country homes in Subirats
As this is a circular route, you can start wherever suits you best, but for the purposes of this guide we'll start you off from Sant Quintí de Mediona. (Note: To make the most of this trip, you can download the app which has audio guides for each Miravinya.) The first viewpoint you come across is La Cadira in the village of Torrelavit. The name means 'The Chair' and is quite literal: on top of a small hill there is a chair for you to rest on as you contemplate 360-degree views of the magnificent Penedès countryside. Before arriving at the next viewpoint, La Bardera, you can spot the paper mills on the Bitlles River, as well as the Sant Benet d'Espiells Hermitage. A little farther on, you can take a stroll around the summer homes in Gelida and visit the interesting historic centre of Torre-ramona.
The La Bardera Miravinya offers vistas of exceptionally extensive farmlands and is situated next to one of Subirats' oldest country houses, dating back to the 14th century. When you've enjoyed the view to your heart's content, set off to the outskirts of Avinyonet del Penedès. There, the El Circell lookout point awaits you to show more scenery exposed to the four winds. As well as vineyards, this area is dotted with olive groves and the famous Ordal peach trees. The nearest heritage site is the medieval monastery of Sant Sebastià dels Gorgs. A lovely spot to end this first day.
Day 2: The region's capital, Penyafort and El Foix
We hope you've had a good night's rest because today is going to be packed with things to see and do. So, let's not waste any more time and head straight to the Sant Pau Miravinya, which lies within the boundaries of Vilafranca del Penedès. From here you can take some excellent photos of the region's capital and the landscape. On your way to the last viewpoint you have a little time to spare so you can make a detour to visit the castle and convent called Penyafort, a valuable heritage site, and the charming historic nucleus of Castellet i la Gornal, which overlooks the Foix Reservoir.
Now it's time to drive up to the fifth and final Miravinya on your route, the Balcó del Penedès. As the name suggests, this is a fantastic balcony with views across the county, and in the distance you can even glimpse the blue of the sea. If you're not quite ready to head home yet, you could visit the Parc dels Talls, which has several species of birds, or the Mare de Déu de Foix Sanctuary, which is referenced in documents dated as far back as 608 AD.