Getaway to Baix Llobregat: Brushstrokes from North to South
Very close to Barcelona, this region has many interesting places to discover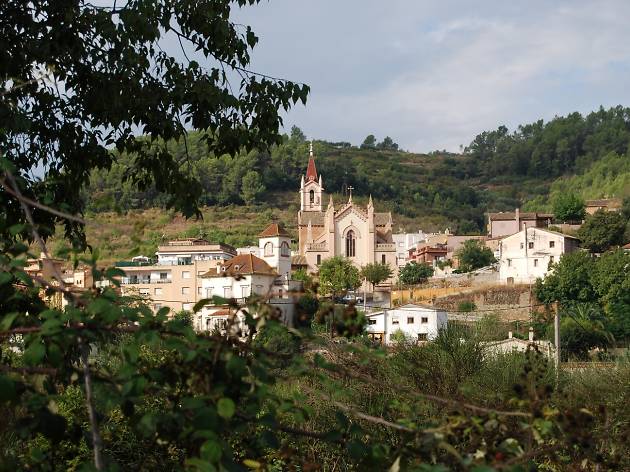 Baix Llobregat has an elongated shape that increasingly narrows as it moves away from the coast and goes inland. The landscapes and villages further to the north, marked by the presence of the mountain of Montserrat, are quite different from those near the sea, which are generally more populated. The getaway we are now starting will help us discover these two facets of the region and lots of interesting places.
IN COLLABORATION WITH BARCELONA ÉS MOLT MÉS AND THE DIPUTACIÓ DE BARCELONA.
A building built in 1572 is home to Hotel Can Rafel, which offers its customers a pitch and putt course in which you can practice if you already know how to play, or learn from scratch. If you're looking for relaxation, it can be found in the spa, which has a thermal circuit with bath and showers, and where you can get body and facial treatments with ingredients such as champagne or caviar. The hotel also offers a handful of packs with ideas for enjoying a romantic weekend or to explore Corbera de Llobregat.
Read more
At the entrance to Penedès, what used to be Masia Bach has been redeveloped into an establishment that will certainly meet your needs if you are looking for a peaceful weekend. Moreover, if you want to score a birdie or even an eagle you are certainly in the right place: the Club de Golf Masia Bach is an attractive course where you'll be able to show off your golfing skills.
Read more
If you're looking for a four star hotel with all the amenities needed for relaxing and sunbathing, this is a great choice. The hotel is on the seafront, in the residential area of Gava Mar and has an outdoor pool. Both the rooms and the facilities of the hotel are very modern and comfortable. In the vicinity of the hotel you'll find a spa where you can also relax beside the sea.
Read more
A four-star hotel near El Prat airport, well connected and ideal whether you are in the area for work or leisure. Comfortable, quality and welcoming is the perfect way to describe the Sallés Hotel Ciutat del Prat. The establishment also has a restaurant with fine food and several set menus.
Check prices
Read more