Heads up! We're working hard to be accurate – but these are unusual times, so please always check before heading out.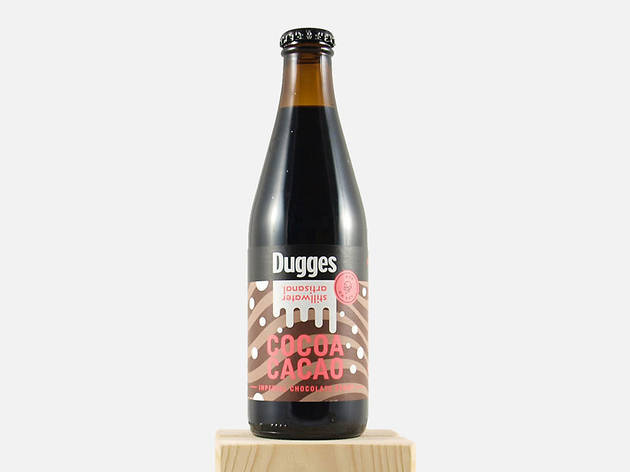 Best new craft beers to drink September 2017
Usher in fall in all its glory by indulging in the best new craft beers to drink this month, all refreshingly delicious
Best new craft beers to drink this month
Fruitallica, Stone Brewing (San Diego, California), Beavertown Brewery (London, England), Garage Project (Wellington, New Zealand)
The hop mavens at Stone Brewing have let loose a series of "metal-inspired" collaborations this year. First came Megawheat, then Dayslayer and now there's Fruitallica. Don't let the grizzly names and gnarly art scare you away, though. Like its predecessors, Fruitallica is boozy, hop-forward and yet very much approachable. A globe-spanning collaboration with England's Beavertown Brewery and New Zealand's Garage Project, the 8% double IPA is infused with the unlikely combination of yuzu, kiwi and habanero. The resulting beer is vibrantly juicy—a quality enhanced by its citrusy Wai-iti and tropical Riwaka hop—with the slightest hint of heat from the pepper.
Hive 56, Allagash Brewing Company, Portland, Maine
Allagash sells a whole lot of witbier—enough to help make the Maine brewery America's 35th biggest craft operation—but that hasn't tempered its experimental streak. If anything, the success of Allagash White has emboldened (and funded) it. Case in point: Hive 56. Back for a second year, the slow-germinating sour ale is a labor of love. Brewed with a mix of dark malts and wheat, Hive 56 spends 18 months in oak foeders with the wild yeast Brettanomyces and honey from Allagash's own beehives. During that secondary fermentation, the "Brett" eats through the honey, producing a rich beer aswirl with roasty, tropical and tart flavors. And at 9.2% (up from 7.7% last year), it's more of a treat than ever before.
Cocoa Cacao, Dugges Bryggeri (Gothenburg, Sweden) and Stillwater Artisanal (Brooklyn, New York)
Speaking of decadence, when it comes to chocolatey indulgence, the recently released Cocoa Cacao takes the cake—or maybe it's the candy bar. Brewed in Sweden, the seventh collaboration between Dugges Bryggeri and Stillwater Artisanal carries the confectionary imperial stout craze to its logical extreme: an 11.5% beer that literally tastes like a melted chocolate bar. Into the thick and creamy stout, these transatlantic partners dump cacao husks, cocoa powder, coconut and vanilla. To quote the graphic on the front of the label: Boy-oh-boy. Swipe right, chocolate lovers.
Foxy, Union Craft Brewing, Baltimore, Maryland
As leaves start to turn ruby red, it's only natural your beer should, too. For those in search of alternatives to Märzens and pumpkin beers, look no further than Foxy, a seasonal red IPA from Baltimore's Union Craft Brewing. Built on a base of the premium British pale malt Marris Otter, Foxy boasts a complex malt flavor that's sweet and bready with a surprising hint of chocolate. One whiff reveals a beer that's also bursting with citrusy and piney character from new school American hops like Columbus, Centenial and Mosaic. Foxy is proof that a warming campfire beer need not forsake hoppiness.
Peach Cobbler Ale, Flying Dog Brewery, Frederick, Maryland
Each spring, every Flying Dog Brewery employee—from brewers to sales reps to custodial staff —gathers at an annual retreat to pitch left-field ideas for one-off beers to their colleagues. The winning concepts are then released periodically throughout the year as Brewhouse Rarities. The latest in the 2017 series, Peach Cobbler Ale, arrives just in time for autumn. As you might imagine from its name, this 5.9% beer evokes the sweet and spiced character of the titular fruited pastry. It's hardly a sleight of hand: The orange-hued Peach Cobbler Ale is brewed with peaches, cinnamon, clove, nutmeg and vanilla beans.