The best new movies on Netflix in September
War is hell with Netflix's explosive assortment of military-related fare, highlights in a strong streaming lineup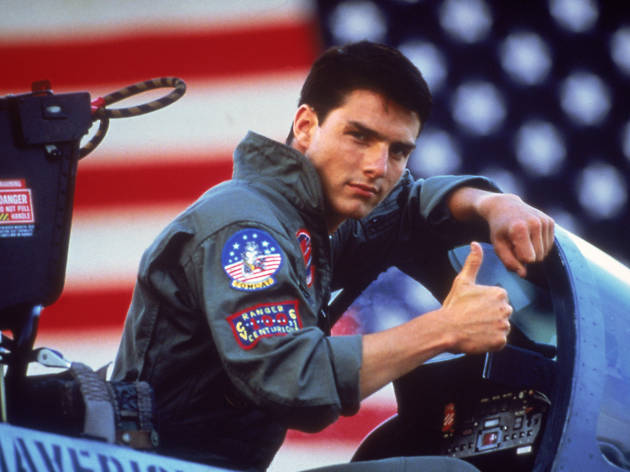 Netflix knows how to satisfy us, whether we want pummeling action movies, synth-scored '80s classics, Academy Award winners or just a plain ol' horror fun machine. This month's additions show a predilection for war movies, from Steven Spielberg's mighty Saving Private Ryan to the distinctly less mighty (but always hilarious) Top Gun. A fair amount of beloved cult objects—like the Nicolas Cage version of The Wicker Man—also return for your viewing pleasure. Check out these best new movies on Netflix.
Best new movies on Netflix
Steven Spielberg's WWII drama weds an intimate story to the sweep of history—and even if you didn't care for the fortunes of one lucky soldier, you couldn't avoid being floored by the movie's epic mounting of the 1944 Omaha Beach landing. Running a harrowing 27 minutes, the sequence has no equal.
Read more
These days, it's impossible not to view the movie as hilarious (Tom Cruise plays volleyball in his jeans, etc.), but don't forget how exhilarating the combat scenes were—and still are. This was late director Tony Scott's finest expression of jingoistic pop nonsense. You don't have the films of Michael Bay without it.
Read more
Alan Turing's mathematical WWII achievements, kept under wraps for years, counted for nothing when his homosexuality fell foul of the law in the early 1950s. Benedict Cumberbatch, no stranger to roles with a hint of sociopathic genius, delivers a performance with more complexity than the film around him.
Read more
True Grit (1969)
John Wayne finally won his Academy Award for his role as the one-eyed lawman Rooster Cogburn. The Coens improved on this film in almost every way when they did their 2010 remake with Jeff Bridges, but there's no denying Wayne's likable ease—this is the movie for those who say they can't stand him.
The film that became a YouTube highlights-clip sensation ("Not the bees!") is a remake of the well-regarded '70s horror-thriller about a cop who investigates some strange happenings in a remote island community. Nicolas Cage is his usual committed self—he's so crazy that the movie takes on a hallucinatory quality.
Read more
And here's everything coming in September, by date:

Available September 1
The Amityville Horror (2005)
Babel (2006)
Bayou Maharajah: The Tragic Genius of James Booker (2013)
Bill & Ted's Bogus Journey (1991)
Bratz: The Movie (2007)
Burn, Burn, Burn (2015)
Cats & Dogs (2001)
Crashing: Season 1
Defiance (2008)
Easy Fortune Happy Life (2009)
Europe's Last Great Wilderness (2015)
The Fierce Wife (2010)
Footloose (1984)
Full Out (2015)
Game Winning Hit: Season 1
Heartland: Season 7
Hellevator: Season 1
Hoot (2006)
Hope Floats (1998)
I Am the Ambassador: Season 1 ­ NETFLIX EXCLUSIVE
Indochina's Wild Heart (2015)
The IT Crowd: Series 5
Jaws (1975)
Jaws 2 (1978)
Jaws 3 (1983)
Jaws: The Revenge (1987)
Joyful Noise (2012)
Keepers of the Game (2016)
Last Holiday (2006)
Lucky Days: Season 1
Man on Wire (2008)
Milk Money (1994)
Practical Magic (1998)
Road Trip (2000)
Sam Kinison: Breaking the Rules (2000)
Saving Private Ryan (1998)
Scary Movie 2 (2001)
Shameless (U.S.): Season 5­6
Stomp the Yard (2007)
Sweeney Todd (2007)
Top Gun (1986)
True Grit (1969)
U­571 (2000)
The Wicker Man (2006)
Wild Madagascar (2015)
The Womanizer: Season 1
The Year of Happiness and Love: Season 1
Available September 2
Baby Daddy: Season 5
Chef's Table: France ­- NETFLIX ORIGINAL
Kazoops!: Season 1 - NETFLIX ORIGINAL
Kulipari: An Army of Frogs - NETFLIX ORIGINAL
Narcos: Season 2 - NETFLIX ORIGINAL
Young & Hungry: Season 4
Available September 6
Crash (2004)
The Finest Hours (2015)
Hard Target 2 (2016)
Honey 3 (2016)
R.L. Stine's Mostly Ghostly: One Night in Doom House (2016)
Available September 7
The Blacklist: Season 3
Galavant: Seasons 1­2
Available September 10
Supergirl: Season 1
Available September 13
Extremis (2016) - NETFLIX ORIGINAL
Hawaii Five­-0: Season 6
London Has Fallen (2015)
Available September 14
Goldie & Bear: Season 1
Available September 15
Sample This (2012)
The Walking Dead: Season 6
Available September 16
Cedric The Entertainer: Live from the Ville - NETFLIX ORIGINAL
Raiders!: The Story of the Greatest Fan Film Ever Made (2015)
The White Helmets (2016) - NETFLIX ORIGINAL
Available September 17
3 Days to Kill (2014)
Luther: Season 4
Penny Dreadful: Season 3
Available September 19
Call the Midwife: Series 5
Gotham: Season 2
Available September 20
Colliding Dreams (2016)
New Girl: Season 5
Zootopia (2016)
Available September 22
Bones: Season 11
Easy: Season 1 - NETFLIX ORIGINAL
Wallander: Series 4
Available September 23
Audrie & Daisy (2016) - NETFLIX ORIGINAL
Iliza Shlesinger: Confirmed Kills - NETFLIX ORIGINAL
Last Man Standing: Season 5
Longmire: Season 5 - NETFLIX ORIGINAL
VeggieTales in the House: Season 4 - NETFLIX ORIGINAL
Available September 24
Portlandia: Season 6
River (2016)
Available September 25
Family Guy: Season 14
Margaret Cho: PsyCHO (2015)
Available September 28
The Fosters: Season 4 (Part A)
The Imitation Game (2014)
Available September 30
Amanda Knox (2016) - NETFLIX ORIGINAL
Marvel's Luke Cage: Season 1 - NETFLIX ORIGINAL
Scream: Season 2