Heads up! We're working hard to be accurate – but these are unusual times, so please always check before heading out.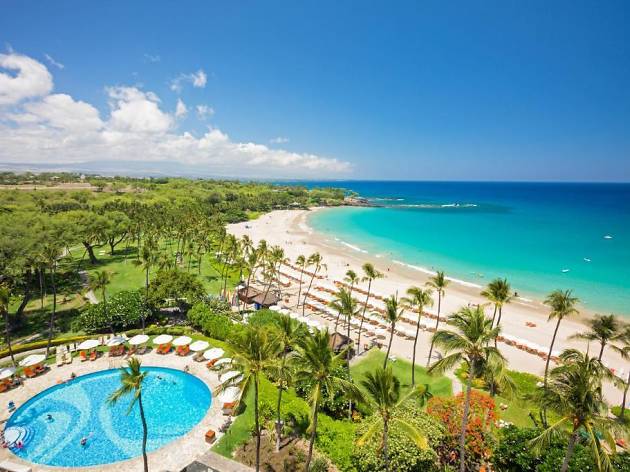 The 12 best hotels on the Big Island
Book one of the best hotels on the Big Island for suites with on-site waterfalls and palm tree-lined, sand-bottom pools.
The Big Island celebrates guests as 'ohana (family) and you can't help but be seduced by the warm hospitality found at its hotels, from welcoming flower leis (garlands) on check-in to fresh local juice and fruit served daily. There's a big emphasis on sense of place here too; whether you prefer luxurious resorts or laidback inns, hotel architecture and decor commonly incorporate tradition, culture, myth, and legend, showcasing hibiscus flowers, tributes to Pele the Fire Goddess, repurposed coconut shells, and natural bamboo accents.
Furniture often draws on local materials, including koa wood, recognized for its deep rich coloring and grain patterns. And outdoors, indigenous planting, lanais (verandas) and breezeways ensure guests are always linked to the natural world. Ready to plan your vacation? Follow our lead with our choice of the top 12 hotels on the Big Island.
Best Hotels on the Big Island
Booking.com
Many of the Big Island's beaches are rocky, thanks to the volcanic landscape. So if you plan to spend a lot of time on them, you may well want to opt for the Mauna Kea Beach Hotel, just for its uncommon soft white sandy beach set on Kauna'oa Bay. But there's lots more to recommend it. As the very first resort built on the island, the property is rich in Hawaiian culture and tradition, with hundreds of museum quality artifacts such as quilts, wooden carvings, and sculptures to be found in the on-site Mauna Kea Art Collection – among them a five-foot pink granite Buddha sculpted in 12-century India. On-site amenities include award-winning restaurants, a soothing spa, and oceanfront beach cabanas.
Booking.com
2. Waikoloa Beach Marriott Resort & Spa
One of the best sunsets you'll see on the Big Island is on Anaehoomalu Bay, home to the Waikoloa Beach Marriott. The property includes a sand-bottom pool surrounded by towering palm trees, a lush garden with local Kona coffee trees, and historic petroglyph rock art. An on-site ancient fish pond invites guests to explore lagoons filled with native puhi (eel), kumu (goatfish), and kaka (barracuda). On-site Hawaii Calls Restaurant & Lounge has a breakfast buffet, and evenings pair Polynesian entertainment with island cuisine at the Sunset Luau.
Booking.com
If you like the idea of being close to Kailua-Kona nightlife but crave a luxurious experience, book your vacation at Royal Kona Resort. This oceanfront property has incredible panoramic views of the Pacific, and you can split your time between the cliffhanging pool and the private saltwater lagoon. Royal Kona hosts an annual international Mai Tai bartender competition, but year-round you can sip oceanside at Don's Mai Tai Bar, where retro tiki decor sets the tone for a night of local aloha.
Booking.com
4. Hawaiian Oasis Bed & Breakfast Inn
More than 50 varieties of palm trees and Hawaiian flowers can be found in the lush tropical gardens of this high-end boutique inn offering authentic island decor and hospitality within easy range of Kona. Wake up to the sound of parrots, stroll through mango trees, or relax at the waterfall pool and tiki bar. You're welcome to explore the inn's music room to play ukulele and other regional instruments, and even prepare your own dinner in the guest kitchen using herbs grown on-site.
Booking.com
Flying into Hilo? Enjoy luxurious oceanfront accommodation with views of Mauna Kea in the background at Hilo Hawaiian Hotel. Contemporary decor and furnishings have subtle Polynesian accents. Most guest rooms feature a veranda so you can sip your morning coffee outdoors as the sun rises. Take a dip in the freshwater pool overlooking the waterfront, or go for a leisurely stroll along Hilo's Bayfront Park. Right next door to the hotel, explore pagodas and oriental ponds at Liliuokalani Park and Gardens.
Booking.com
6. The Inn at Kulaniapia Falls
Want to experience something truly unique during your Hawaii getaway? Settle into The Inn at Kulaniapia Falls for an inland island escape. Walk the inn's trail to a gorgeous on-site waterfall, stroll through bamboo gardens, or wander through a lush rainforest. You'll find all of this on the inn's grounds, where accommodation comes in the form of tranquil private rustic guesthouses. Plus you'll wake up to homemade macadamia nut waffles. Note there's no air conditioning at the eco-friendly property, but you'll definitely want to spend most of your time outdoors here.
Situated directly within Hawaii Volcanoes National Park, this is a dreamy destination for nature lovers and volcano fans, with immediate access to volcanic hiking trails and a short walk to the Thurston lava tubes (it's best to check availability if any volcanic activity is forecast or taking place). In terms of accommodation, you can choose from luxurious lodge suites or go semi-rustic with furnished camper cabins. On-site dining at The Rim is paired with views of the Halema'uma'u Crater and Kilauea caldera.
Booking.com
8. The Palms Cliff House Inn
Imagine a tranquil plantation within reach of Akaka Falls. Picture yourself relaxing on an oceanfront wraparound deck with palm trees swaying, the sound of waves at arm's length. You'll find such serenity at the Palms Cliff, a 3.5 acre estate surrounded by tropical gardens where every room has a private lanai to take in that guaranteed ocean view. Off the beaten path, the boutique B&B is located in Honomu, just north of Hilo on the Hamakua Coast.
9. Kohala Village Inn & Hub
For a funky, wallet-friendly vacation, head to the heart of Hawi town on the Kohala Coast for accommodations at Kohala Village Inn & Hub. It's a nice set-up with a great vibe; a handful of plantation-style guest rooms (some pet-friendly) featuring native koa wood furnishings are overseen by a community organization that also provides on-site cultural enrichment classes and arts workshops. On-site eaterie Hub Pub features veggies and other foods produced by local farmers.
It's not common to find free parking on the Big Island, so it's worth mentioning you'll find it at Hilo Hillside Hotel. The wallet-friendly property has no resort fees either, so you'll get plenty of bang for your budget bucks at this native Hawaiian family-owned venue. Sample local candies upon check-in and fill daytime cravings with bananas and papayas offered free at the front desk. Be sure to explore the massive koi pond, then take advantage of free on-site bicycles to venture further afield with rides around downtown Hilo.
Booking.com
11. Uncle Billy's Kona Bay Hotel
Budget-conscious travelers who want to stay in the heart of the action should enjoy Uncle Billy's Kona Bay Hotel. Located in the historical Kailua-Kona waterfront village, it's perfect for a casual island getaway, though still surrounded by shops, eateries, and nightlife, and within easy walking distance of the tiki bars and water sports on Kailua Bay. Staff are warm and filled with aloha hospitality, turning a basic cheap stay into one where you feel part of the 'ohana. Amenities include a free continental breakfast, plus there's a coin laundry, and no resort fees.
Booking.com
12. Oceanfront Legacy Vacation Rental
If waking up to the sunrise on Hamakua Coast sounds like a dream come true but beyond your budget, let us introduce you to the Oceanfront Legacy Vacation Rental, a northern peninsula retreat where you'll wake up to the Pacific Ocean in your front yard, with Mauna Kea hovering nearby. While the massive estate may lead you to believe it's a luxury property, it's actually more like renting a room, as you won't have daily service or fancy amenities. Standard rooms are budget-friendly and great for using as a launch site for exploring nature along the Hamakua Coast.