Many Bostonians and tourists might only know The Isabella Stewart Gardner Museum's lush courtyard as a peaceful spot to sit back, relax and snap a primo pic for the 'gram. But what both parties might not know is that the renowned art institution's living display regularly changes throughout the year, with different shows heavily rooted in tradition dating back to the days of Isabella Stewart Gardner herself.
Time Out spoke with Erika Rumbley, the director of horticulture at The Gardner Museum, about the various floral installations that stand at the center of the palace throughout the seasons. Specifically, she shared a series of little-known facts about The John Lowell Gardner Chrysanthemum Installation, which occupies the opulent, sun-soaked space this time of year.
"There are certain moments in the year that are set in stone," Rumbley says. "The mums are one of those moments."
"Mums have been installed in the courtyard since Isabella lived in the palace," she adds. "There's tradition around it, and we're going to carry that tradition forward."
Here are Rumbley's five fun facts about this flower, which can be seen in a variety of unique forms from now until November:
1. Mums have been a courtyard fixture since Isabella herself lived in the palace.
"We know that she loved mums. By the time that she was growing mums in Green Hill in Brookline, people had been selecting mums and growing cultivars in the United States for about a hundred years. In the popular imagination, mums were getting bigger. We know that in 1884, she and her father-in-law won a bunch of prizes at the Mass Horticultural Society's annual chrysanthemum show. Mums were a big enough thing that there was an annual chrysanthemum show, which is kind of charming. She was experimenting with the form, and there were painter friends of hers that were painting the mums that they were growing, so there was an infatuation with what the plant could do."
2. And one type of mum in the courtyard is a direct descendant of Isabella's own blooms.
"In the collection today, there's a variety called Gloria that we know was in the collection when Isabella lived in the palace. I find it touching to think about the genetic material from this plant, that there's been this straight line all the way through. Gloria is this round, buttery, soft—both in terms of form and color—mum that comes in pretty early, and it's been propagated either by division or cuttings every single year since Isabella was alive. This spring, like every other spring since Isabella lived in the palace, we cut back the Gloria, we divided the stock plants, we took our cuttings and we started our new plants. It feels special to be part of something that people have been physically caring for and tending to for that long."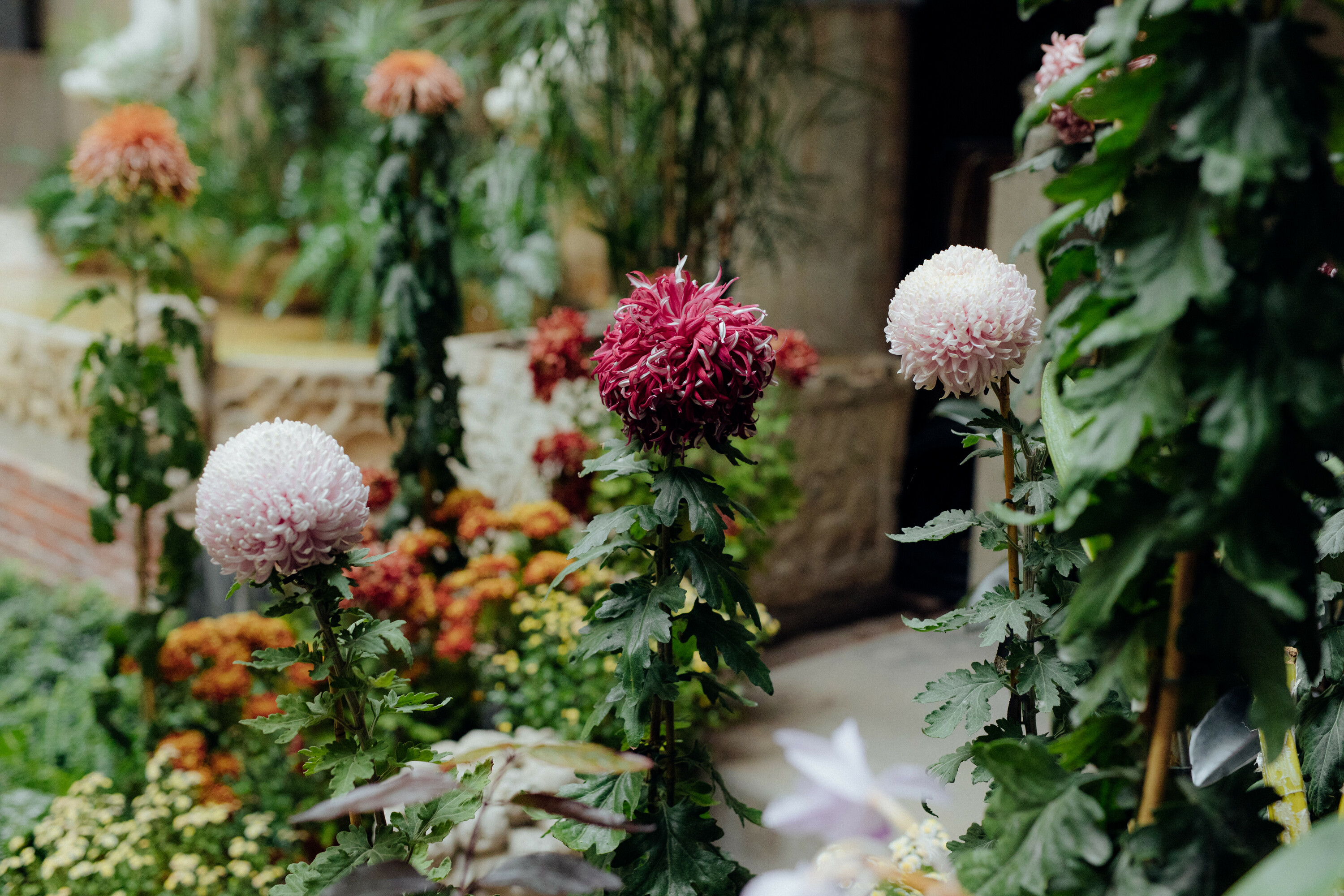 3. The single-stemmed heirloom mums you see are the product of months of pruning.
"We start from cuttings that are about three to four inches tall in May, and then they're successively potted into larger pots. The entirety of the growing season, every week, every time that the plant wants to send out lateral growth and grow into more of a bush form, we're pruning out all of that growth. Basically, we're forcing the plant to focus all of its energy into a single, large bloom. And throughout the course of the show, they just get more and more and more delicious. By the time that we get to the end of the show, they look like frosted cupcakes. There are petals that are like ringlets coming down, there are sprays that look like spiders—just a really incredible range of forms."
4. There are hundreds and hundreds of mums coming into the courtyard over the course of the show.
"We grow about 300 pots of the single-stems alone. Throughout the whole time that the John Lowell Gardner Installation is in court, there's this parade of different varieties coming in every week. Besides the single-stems, we grow mums in a lot of different forms, too, so there's about 300 other pots of mums that are being cared for and dead-headed and watered."
5. The rest of the courtyard's garden installation is planned about a year ahead of time.
"There's a lot of space to play, so we're always thinking around a year in advance about what plants we can add to a certain installation to turn up the color palette or make the show more visually interesting in terms of texture, or what we can grow at the right scale so we can accentuate the architecture or sculptures. We're always tweaking. I think that's the gardener's path."