If you've ever seen artist Mattaya Fitts' paintings around Boston, then you know that they can be larger than life—literally.
Fitts, who was born and raised right here in The Hub, has brought life and color to the walls of our city. Her vibrant, powerful and often female-centric murals can be found in places throughout town like Black Market in Nubian Square—a collaboration with fellow artist Chanel Thervil—and Sportsmen's Tennis and Enrichment Center in Dorchester, as well as other cities throughout the Bay State.
While everyone can all easily admire Fitts' work, thanks to her portfolio of local street art, we wanted to get to know her a little bit more. In conversation with the MassArt alum, she answered some of our biggest inquiries, touching upon everything from the importance of public art in Boston to the motivations behind her murals. Check out our Q&A with her below:
How does street art benefit Boston?
I think street art can really enrich whatever space it's in. It adds color, it creates dialogue, it fosters a sense of community and it can serve as a gathering place for people coming together… It can really promote social change or spark conversation about it.
Why did you gravitate towards murals as an art form?
One of the reasons I love doing murals is the accessibility factor. Growing up, I don't know if I ever felt that museums—art museums, in particular—were that accessible to me. I think that's now changing with the inclusion of way more contemporary black and brown artists in museums. But when I was in college, going to art institutions around the city, I didn't necessarily feel like I belonged there. There was beautiful art, but I didn't see how I could fit into that. With murals, you can just walk out the door to your house, and it's just there. It's something that you can appreciate all the time, and you don't have to pay to go see it. That factor can be limiting to folks. Not everyone can afford to go to a museum.
What are some of the biggest challenges that you face when working on a mural?
I would definitely say the weather. It's just so unpredictable. I've now painted in 30° weather and I've also painted in 90° weather, and neither of those are ideal. Sometimes, if you're using a certain type of paint, like aerosol paint or spray paint, the cans can start to act funny in both extreme heat and really cold weather. Also, if it's raining, then you just can't paint. If it's been raining all week, and you only have two weeks to finish something, it gets stressful because then, you're under a huge time crunch… Then, there are so many logistical things, like, "OK, are there bathrooms nearby? Are there places to eat? Are there places to take breaks? Am I out in the middle of nowhere? Am I close to people? Will there be heavy levels of engagement with people coming up to talk to me?"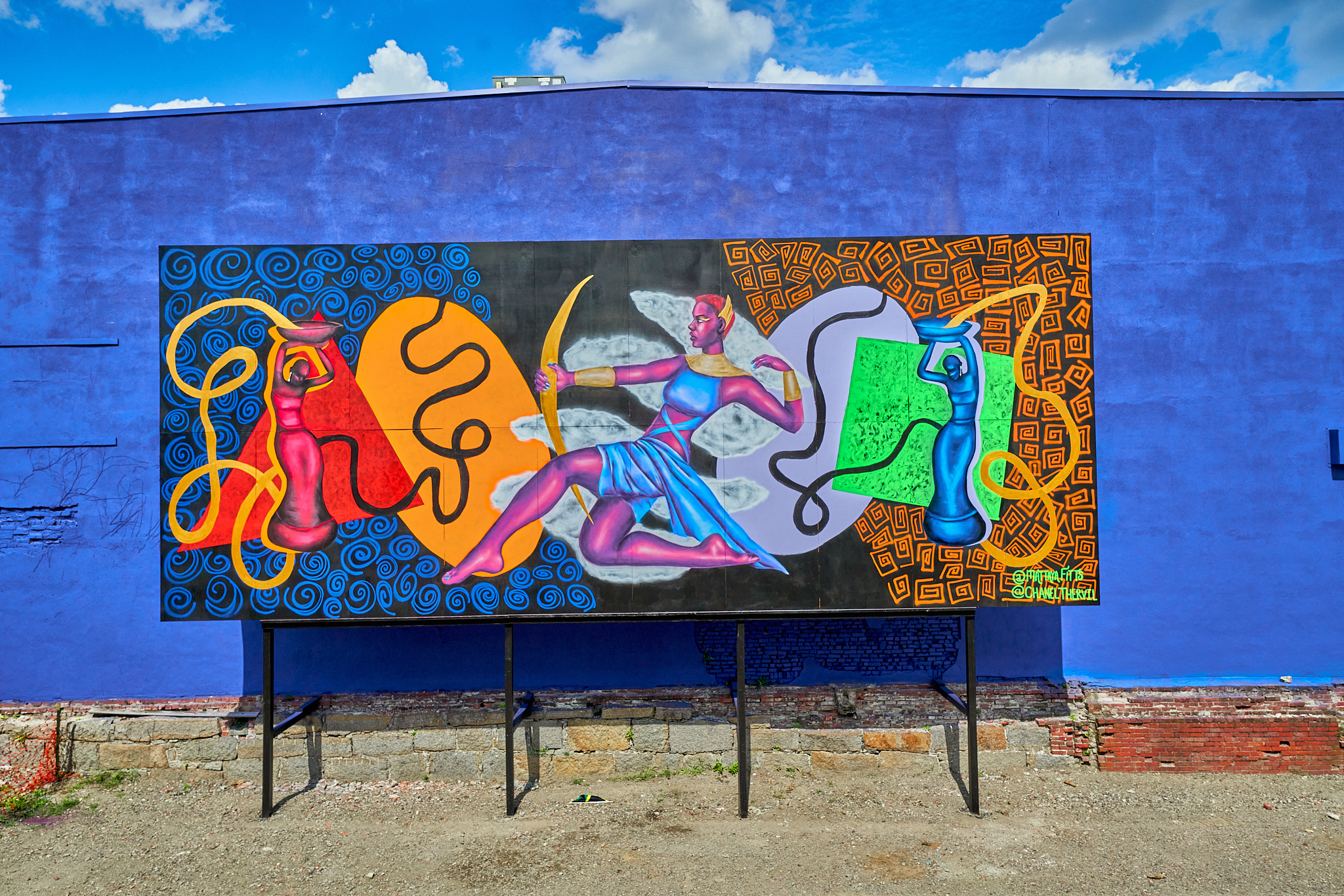 And do people ask you while you're working on murals?
It's kind of funny, but, "Oh, wow! Are you painting this?" Literally while I'm painting. Like, 'Yeah, I think so.' But a lot of times, people will be wondering what a piece is about, when it'll be finished, if I'm getting paid to do it. There are so many other questions that come up. There's also definitely a lot of encouragement. I love the encouragement that I get from folks… I feel like that encouragement really goes far when you're working for days and you're tired and over it.
What do you want people to walk away with when they see your art?
When people see my art, I want them to walk away with a sense of pride that this is in their neighborhood, that it's something they look forward to seeing. I ultimately want people to feel a sense of joy. For me, when I was growing up and I'd see murals, there was a sense of being able to actually jump into the mural, to access it in a way that's really special. To this day, when I see murals, it kind of takes my breath away sometimes.
How do you feel your art has evolved over the years?
It's definitely changed. When I was in art school, I wasn't showing my art to people outside of classes, where there were critiques. Some of the stuff I was creating was very out there, and there wasn't an audience for it. Now, I think I create with more intention because I know that folks are going to see it and I want them to be able to relate to it. I'm more conscious of folks' reactions and what people want to see.
Where do you see your art going in the future?
In the future, I see big things—literally big things—happening. I want to paint gigantic walls.