Just because caviar is supremely expensive doesn't mean it has to be stuffy—and a bunch of restaurants in Boston and beyond are here to prove it.
It's widely accepted that because caviar is such a precious commodity, there's only one right way to honor it: by spooning it ever so sparingly atop neutral vehicles, like blinis or water biscuits, so that it alone can shine. However, we're all about those daredevil eateries that are willing to throw the fish roe rulebook out the window, using this indulgent ingredient to elevate everyday dishes and somehow make it taste even better.
We're shedding a light on these local mavericks, whose kitchens are pushing this luxury item outside its boring, Mother of Pearl-clad comfort zone. So whether it's smothering a classic summer hotdog with the finest white sturgeon or topping a pizza with Osetra, here are a handful of places that are going crazy with caviar.
The Raw Bar at Island Creek Oyster Farm: If you're willing to travel outside the city for the sake of caviar—and you should—then make a day trip to The Raw Bar at Island Creek Oyster Farm in Duxbury. While this South Shore establishment is best known for its beautiful bivalves, the real gem is its caviar hot dogs. One order comes with three beef franks topped with 10 grams of caviar, perfect for splitting amongst friends on a sunny summer day. And while this offering may seem like an unusual marriage between lowbrow and extravagance, trust us: Once you try one of these bunned beauties, you'll swear off mustard and relish for life.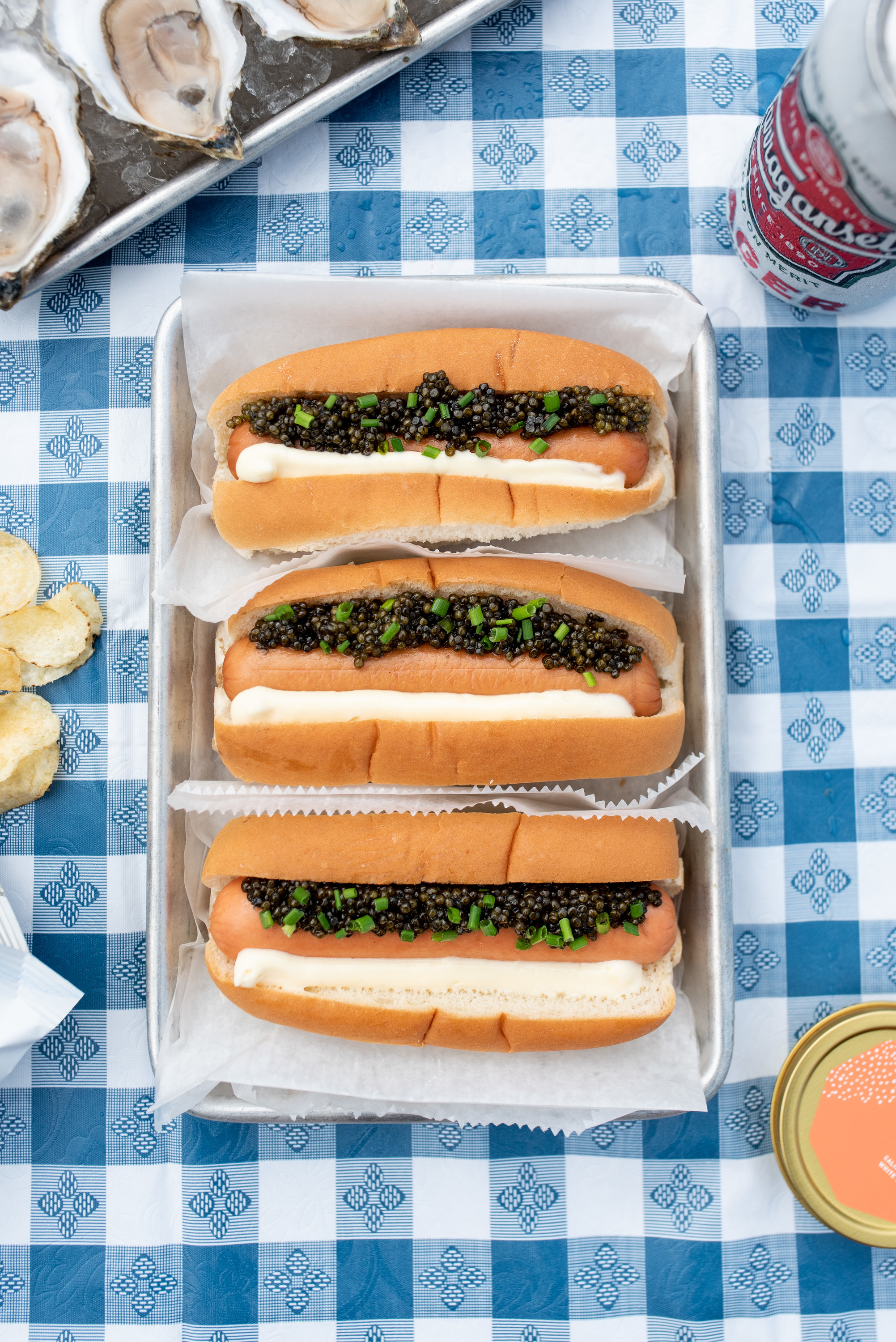 Saltie Girl: When Saltie Girl launched its SG Seafood Pizza arm last summer, we all knew it was onto something special. Operating out of its original Dartmouth Street kitchen, this eatery piles pies with the sea's finest ingredients—from chunks of sweet lobster to smoked salmon. However, the pièce de résistance is clearly its caviar pizza, which combines white sauce, red onions, chives and eggs. Guests get to take their pick of caviar (Siberian Supreme or Osetra Supreme) and decide how many grams of the good stuff they want sprinkled atop their Italian-inspired crusts. Wash down those slices with one the bar's craft Negroni and you'll be in pure, luxurious bliss.
Grand Tour: It's eggs on eggs at Grand Tour—and not in a meta way. The Newbury Street spot strives to bring a bit of Parisian chicness to the Back Bay and it accomplishes exactly that with its GT Caviar Omelette. While the combination of eggs and caviar is nothing novel, the sheer amount of opulent fish roe found in this dish makes it truly outstanding. Finished with crème fraîche and fines-herbes, this silky omelette contains an entire ounce of white sturgeon caviar. It's a big ticket menu item, but let's face it, we're worth the splurge.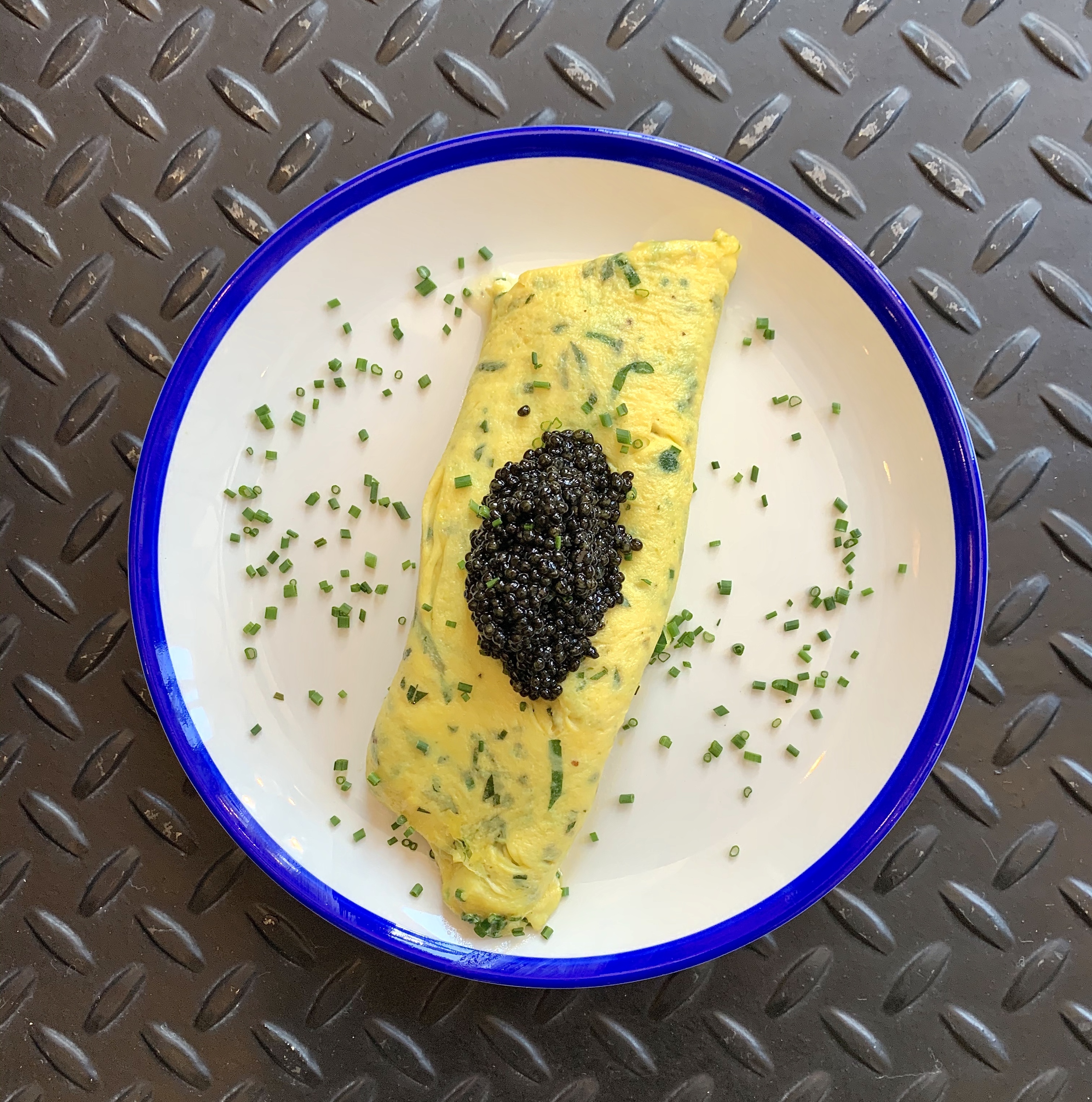 Oak + Rowan: You can keep your biscuits and gravy because we'd rather eat Oak + Rowan's biscuits and caviar every single time. This Fort Point starts by making its own, ridiculously flaky scratch biscuits—we're talking lamination for days—and then tops them with a dollop of homemade onion dip and six grams of Hackleback caviar. These buttery, salty bites may be offered as one of the restaurant's hearty snack options, but they honestly steal the whole meal.
Ivory Pearl: This Brookline spot is a self-proclaimed seafood emporium and it's not wrong. Ivory Pearl feeds folks an array of ocean offerings, including traditional caviar service. Guests can of course go this more classic route, but they can also go bold by grabbing an order of the bar's tater tots and caviar. These are obviously not your average tots; they're supersized, house-made masterpieces topped with brown butter apple, salt-cured egg yolk and a dollop of caviar. So if you like crispy pillows of potato that pack a briney punch, you'll be totally hooked.