Prince William and Kate have arrived in Boston. The Prince and Princess of Wales are in town for the Earthshot Prize, described as "a global challenge based on five Earthshots – ambitious goals for 2030 to fix our biggest environmental problems."
But before the main event at MGM Music Hall on Friday, the couple were greeted this afternoon at Logan International Airport by Governor Charlie Baker and his wife, Lauren.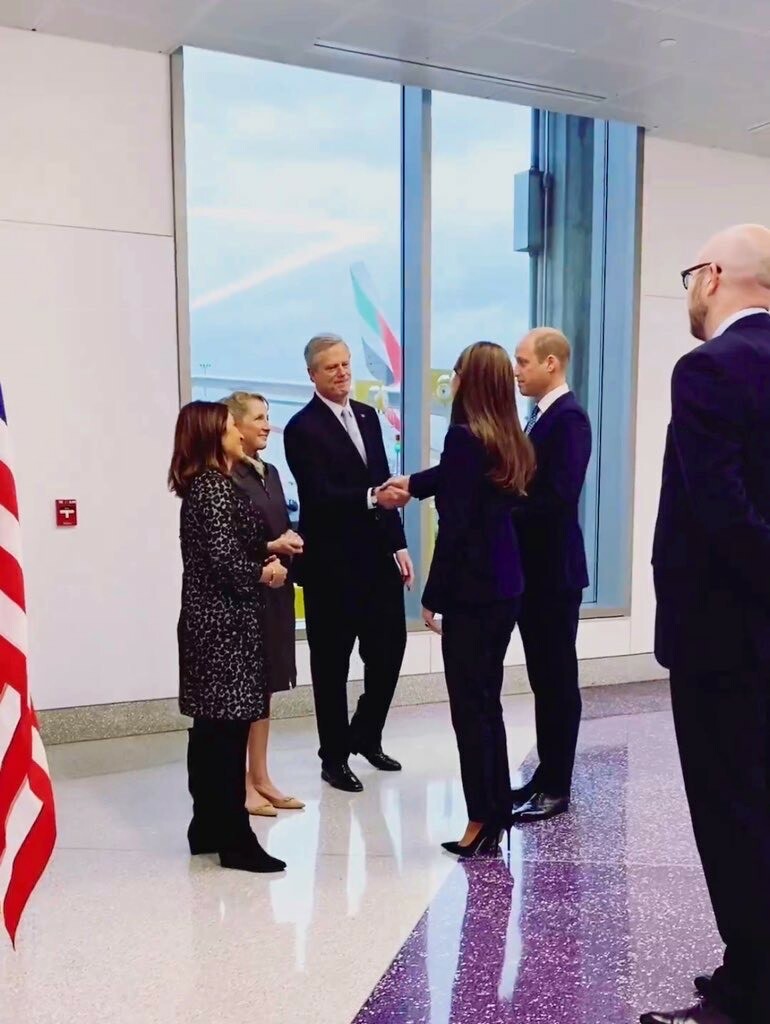 Cascading down the stairs of Logan's Terminal E in front of a group of photographers, Kate looked stunning in a full navy suit, navy turtleneck and stilettos, while William wore a navy suit and lighter blue tie.
"This is my wife, Lauren," Baker, could be heard telling the royals, while his wife could be heard saying "nice to meet you."
"The convo was the basic 'Welcome to Boston,' pretty much," a source told Time Out Boston.
Following their arrival at Logan, the couple was whisked off to their hotel in an SUV. They are expected to head to City Hall Plaza, where they'll meet Boston Mayor Michelle Wu.
In a statement on their Twitter page, William thanked the people of Massachusetts for their hospitality.
"Catherine and I are delighted to be back in the United States and are extremely grateful to Governor Baker and The First Lady of Massachusetts for their warm welcome into Boston. On this, our first overseas visit since the death of my grandmother, I would like to thank the people of Massachusetts and particularly of Boston for their many tributes paid to the late Queen. She remembered her 1976 bicentennial visit with great fondness. My grandmother was one of life's optimists. And so am I. That is why last year we launched The Earthshot Prize with the ambition to create a truly global platform to inspire hope and urgent optimism as we look to save the future of our planet. To the people of Boston, thank you. I'm so grateful to you for allowing us to host the second year of The Earthshot Prize in your great city. Catherine and I can't wait to meet many of you in the days ahead."