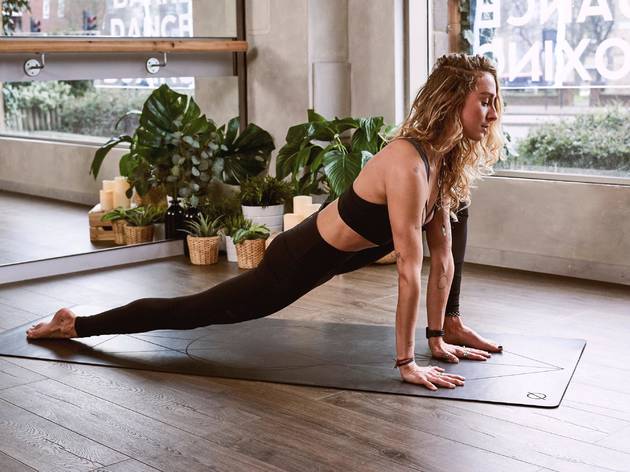 Get fit at home with these online workouts and fitness classes from Boston gyms and studios
Posted: Thursday April 2 2020, 2:04am
While we're all social distancing at home — maybe you're ordering takeout, delivery or curbside pickup, or consuming mind-melting amounts of Boston-themed content — it's easy to make excuses for skipping out on a workout, especially when we can lounge around and binge-watch our favorite shows. Fortunately, many Boston gyms and fitness studios are offering online alternatives to their typical workouts. From real-time classes via Zoom to downloadable instructional videos, keep up your fitness routine with these online fitness options. If nothing else, be sure to get outside and get some fresh air (while safely social distancing) at Boston parks and nearby hikes.
BKBX Allston is hosting daily virtual classes — cardio circuit, power burn and more — on Instagram Live. Classes are designed to make use of what you have at home for weights and other equipment.
Down Under School of Yoga has a library of free audio classes as well as live-streaming of its full schedule of classes via Zoom.
Lynx Fitness Club is hosting Work(OUT) From Home, a virtual training program. Sign up for free for 30 days to receive three workouts a week via the TrueCoach app.
EverybodyFights is hosting daily workouts — cardio, full-body and bags — on Instagram Live. Check out the website for a schedule then join in on Instagram.
SweatFixx, a rowing and sculpting studio, is now offering online workouts. You don't need a rowing machine or much equipment for these full-body workouts. Classes are $10 each or get access to the full library for 30 days for $39.
barre n9ne is offering virtual barre and pilates classes for adults AND kids, live via Zoom.
For a hip-hop home workout, check out TrillFit. The boutique fitness studio offers workout videos and live classes via Zoom.
Asana Charlestown is offering virtual classes to members via Zoom. Non-members can purchase a virtual class pass to participate.
Boston Body is hosting free pilates classes via Zoom plus a digital subscription series.
Upward Spiral Studio is hosting online conditioning, Gyrokinesis and Pilates group classes via Zoom.
Share the story