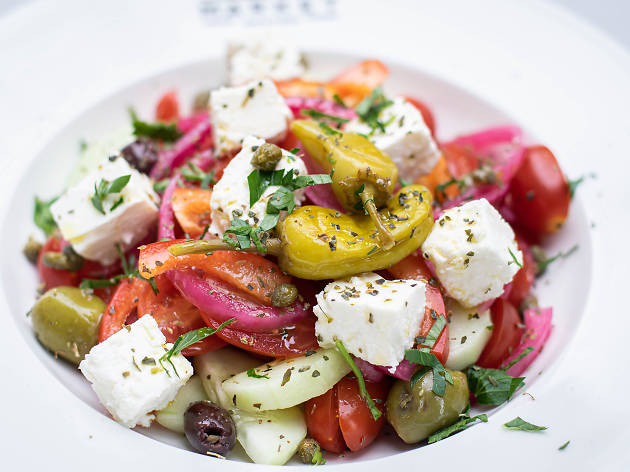 Meet Time Out Market's newest addition: Greek Street, from Jody Adams and her team
Posted: Monday December 2 2019, 1:07am
Now only a few months old, Time Out Market Boston has taken Boston's culinary scene by storm. And the news keeps getting tastier as Greek Street has been added to the best-of-the-city roster.
The team behind this brand new concept includes local culinary trailblazer Jody Adams—meaning yet another James Beard Award winner has joined Time Out Market's unrivaled collection of chefs and restaurateurs. Adams' partners in this endeavor are Eric Papachristos—who grew up in Greece and joined forces with Adams at the start of this decade—and hospitality and operations expert Jon Mendez.
"Great food no longer depends on a fine dining environment and white tablecloth formality," says Adams. "Greek Street will offer guests traditional Greek dishes full of simple and natural flavors, prepared with fresh and exceptional ingredients. I can't wait to offer our mouthwatering dishes at Time Out Market Boston alongside the city's most outstanding culinary talent."
Greek Street was inspired by the trio's travels through Greece, where they spent time learning about the country's rich history, discovering food from family-run vendors, and eating at locals' homes. It's this delicious, authentic simplicity that Adams and her team is bringing to Time Out Market with signature Greek Street creations such as grilled lamb chops, griddled spanakopita, and citrus-marinated swordfish souvlaki:
"Our exploration of this little country is something that has captivated us over the past four years," explains Adams, "and every time we visit, we uncover something new, something fun, and someone pushing the envelope on 'traditional' food."
Once you've had your fill of Greek Street's wondrous Hellenic eats, remember to check out the best sweet treats Time Out Market Boston has to offer. And if you want a surefire way to rack up some serious likes, check out our guide on the most 'Gram-worthy dishes sure to inspire food envy. For additional info and updates regarding Time Out Market Boston, keep your eyes peeled on our market hub as well as our Instagram feed.
All photographs courtesy Amanda Lewis
Share the story