At Time Out Boston, we cover the city's bar scene with as much scrutiny and passion as we do for the dining scene. That's because we know that a truly spectacular watering hole is fast becoming a rare and treasured thing. Keeping in line with Time Out Market's mission to bring the best of the city under one roof, Time Out Market Bar's beverage program highlights the people and places that make Boston a world-class city.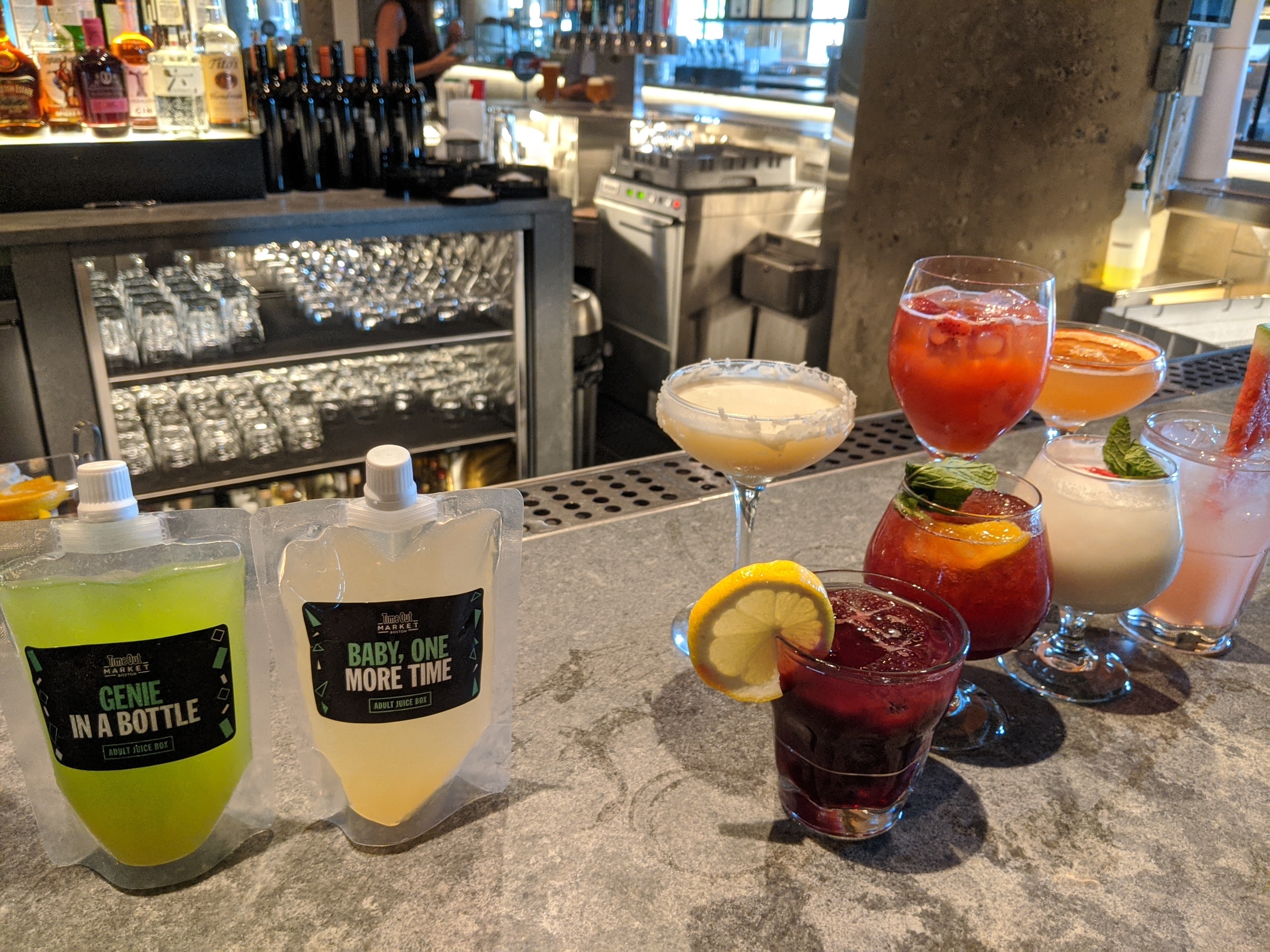 While taking inspiration from the menus and beverage programs of the Market's chefs, Time Out Market Bar serves up unique cocktails alongside a curated list of food-friendly wines and an all-star, all-local beer list. There are two bars conveniently located at opposite ends of the Market, and with its killer eats and ample space — both indoors and outdoors — to stretch out, Time Out Market is the best place for getting drinks with friends before or after a night out in the Fenway. And now you can reconnect with your youth by sipping on an 'adult juice box' filled with vodka and wine (Baby, One More Time) or coconut and pineapple rums (Genie in a Bottle).
Here's a look at the signature cocktail list:
My Own Worst Enemy: Bully Boy Vodka, St. Germain, Fresh Blackberry, Peach, Lemon, Agave, Mint
Baby, One More Time: Deep Eddy Peach Vodka, Sauvignon Blanc, Pinot Grigio, Cointreau, Fresh Citrus
Genie in a Bottle: Clement Coconut Rhum, Cruzan Pineapple Rum, Fresh Pineapple, Curacao
Livin' La Vida Loca: Auchentoshan American Oak Scotch, Coconut Cream, Fresh Pineapple, Lime
Return of the Mack: El Jimador Tequila, Luxardo Orange Liqueur, Fresh Watermelon, Lime
Baby Got Back: Barr Hill Gin, Blueberry, Honey, Fresh Lemon
No Diggity, No Doubt: Sagamore Rye Whiskey, Orgeat, Fresh Strawberry, Lime
It Was All A Dream: Absolut Ruby Red, Cointreau, Fresh Grapefruit, Lime
Give It Away: Thai Chili Infused Privateer Silver Rum, Velvet Falernum, Coconut Cream, Thai Basil, Lime
The local draught beer selection features fine brews from the following breweries: Banded Brewing (Biddeford, ME), Mass. Bay Brewing Co. (Boston), Cisco Brewers Nantucket), Cambridge Brewing Co. (Cambridge, MA), Hermit Thrush Brewing (Brattleboro, VT), Exhibit 'A' Brewing (Framingham, MA), Harpoon Brewery (Boston), Radiant Pig Craft Beers (Warwick, RI), White Lion Brewing (Springfield, MA), Mighty Squirrel Brewing Co. (Waltham, MA), Lord Hobo Brewing Co. (Woburn, MA), Fiddlehead Brewing Co. (Shelburne, MA), Jack's Abby (Framingham, MA), City Roots Dry Cider (Boston), Pony Shack Cidery (Boxboro, MA)
Non-alcoholic cocktails are trending right now; at Time Out Market Bar, you can enjoy a cocktail experience minus the booze with these drinks:
Gettin' Jiggy Wit It: Fresh Lemon, Pineapple, Apricot, House Brewed Iced Tea
Say My Name: Hibiscus Tea, Honey, Fresh Mint
Mr. Boombastic: Fresh Strawberry, Mint, Lime
Also on offer: Kombucha on draft, fresh from one of New England's best producers: Luluna blueberry ginger (Pawtucket, RI)
For additional info and updates regarding Time Out Market Boston, keep your eyes peeled on our Market hub as well as our Instagram feed. See you at the bar, cheers!