Oktoberfest—that glorious time of the year when you celebrate beer by downing stein after stein of this beautiful brewed libation. While the official festivities over in Munich, Germany, won't be happening again this fall, there are plenty of places throughout Boston who are picking up the slack and throwing their own Bavarian-inspired bashes. Whether you're looking to sip on seasonal craft beers or have a full-on German feast—here are the best local breweries and restaurants that will be hosting Oktoberfest events over the next month or so.
Bronwyn: Thu, Sep 16—Sat, Oct 30
Bronwyn channels Germany in a big way every single day of the year, so it's no surprise that this Somerville eatery will be even extra when it comes to Oktoberfest. From Thursday, September 16, through Saturday, October 30, this Union Square restaurant will channel serious Munich vibes, with steins brimming with German beer, menu specials showing off authentic Bavarian food and tons of other hoopla. Can we get a prost to that?
Trillium: Sat, Sep 18 & Sun, Sep 19
Trillium will have you headed unter dem Tisch with its two-day Oktoberfest bash on September 18 and 19. While the specific itineraries for each of Trillium's locations are still to come, the local brewery has already promised that there will be liters of Wiesnbier, plenty of bratwurst and pretzels, and some of that sweet oompah music. So mark those dates on your calendars and get ready to tap into this German tradition at its swath of taprooms.
Bow Market/Remnant Brewing: Sat, Sep 18 & Sun, Sep 19
Remnant Brewing and Bow Market will have Somerville celebrating this beloved beer holiday on September 18 and 19. In addition to the release of Remnant Brewing's annual Fest Lager, there will be oodles food specials—both traditional and modern—as well as the best that Bow Market's eateries have to offer. So whether you grab a spot within Remnant's taproom or a place in Bow Market's courtyard (which will also boast an outdoor beer station, BTW), you can get in that Oktoberfest state of mind.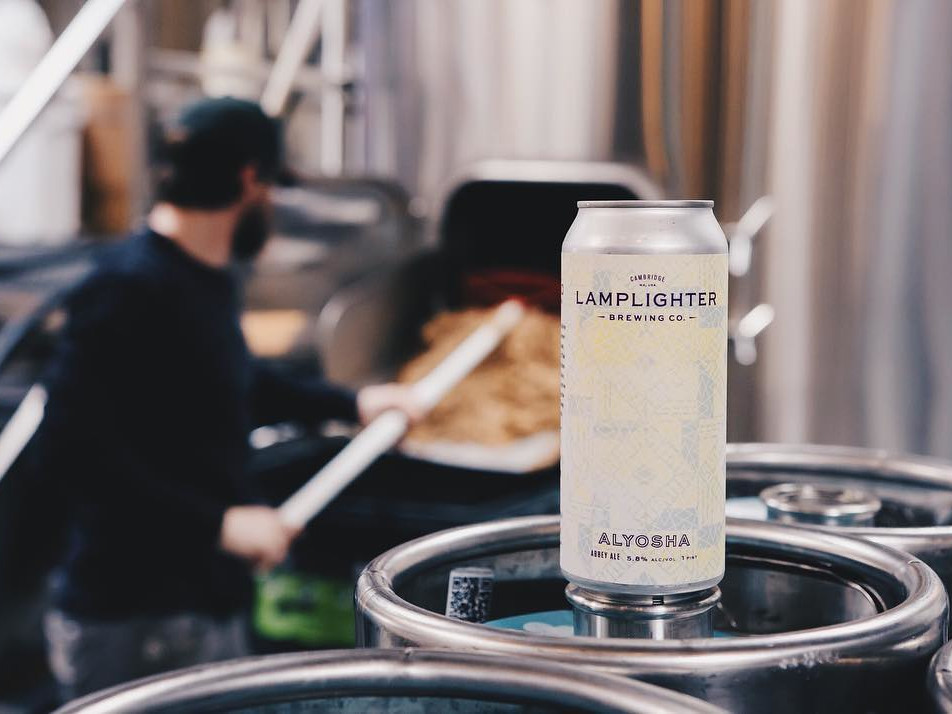 Lamplighter: Fri, Sep 24 & Sat, Sep 25
Let the gut times roll at Lamplighter, which will be hosting its annual Oktoberfest celebration on September 24 and 25. Alongside its full draft list, the Cambridge brewery will be pouring its own Oktoberfest Lager—both of which will be served in 16-oz steins that you get to keep after your day of drinking. These beers will perfectly complement a Bavarian-inspired menu from Brato, free pours will be awarded to the 10 best dressed customers each day—so be sure to bust out your finest lederhosen or dirndl for the event.
Night Shift: Sat, Sep 25 & Sun, Sep 26
Get a double-dose of Oktoberfest, as Night Shift Brewing hosts not one, but two beer-fueled bashes. The local brewery will first hold an Oktoberfest at its Everett taproom on September 25, followed by one at its downtown, waterfront location on Lovejoy Wharf on September 26. Both days will feature special Oktoberfest beer releases, live music, on-theme bites like pretzels and sausages, and free steins for the first 50 people who get there. The Everett event will also include stein-holding contests for both men and women (champion mug-clutching hopefuls must register to compete in advance).
Distraction Brewing Company: Sat, Sep 25 & Sun, Sep 26
Toast zum Wohl with Distraction Brewing Company, as it throws a two-day Oktoberfest with beer abound. Alongside its usual rotating selection of craft beers, the Roslindale brewery will be bringing out its special, Oktoberfest draft lager. And because everyone knows that a brew is always better with a brot and a bretzel, the spot will also be serving up sausages from Cambridge's Urban Hearth topped with homemade sauerkraut, as well as Eastern Standard pretzels that you can dip in either house-made beer cheese or mustard—both made with Distraction's own brews.
The Beehive: Wed, Sep 29
In honor of Oktoberfest, The Beehive is doing us one better and hosting an Oktoberfeast on September 29. The South End eatery—known for its live music and hip, boho vibes— will be transformed into a Bavarian paradise for the night, offering a menu of German-inspired dishes and drinks. Amongst the specials you can expect from Chef Ryan Skeen: Truffled mushroom spaetzle; apple cider glazed pork shank; choucroute with bratwurst, crispy pork belly, sauerkraut, potatoes and mustard; and everything pretzel balls with hot mustard and scallion cream cheese. The eating event, which will also include live polka and beer-drinking songs, will be going down from 5pm—12am, and reservations are highly encouraged.
Jack's Abby: Fri, Oct 1—Sun, Oct 3
Eins, zwei, drei, g'suffa… at Jack's Abby's Oktoberfest extravaganza. The Framingham brewery will be hosting some Deutsch-heavy merriment from Friday, October 1, through Sunday, October 3. Highlights include: a special menu of Bavarian food, live German music, stein-hoisting and keg-tossing competitions, and customary flower wreaths for women to wear on their heads. It will also offer a VIP experience, which will feature a tour of the brewery and tasting with one of its founders, a limited edition ceramic stein (filled with your first pour) for you to keep, a lederhosen t-shirt and more.
Harpoon: Fri, Oct 1 & Sat, Oct 2
Harpoon will be bringing that tented biergarten ambiance of Bavaria to the Seaport with its 31st annual Oktoberfest celebration on October 1 and 2. Besides serving the expected steady stream of beer, the Boston brewery will feature traditional fanfare—think live oompah music, stein-hoisting competitions and chicken dancing—as well as some more German-adjacent activities, like pretzel eating contests. In addition to the human-only partying that will be going down on both that Friday and Saturday, Harpoon will also be welcoming canine companions on Sunday, October 3, for its fur-friendly Dogtoberfest.
Baramor: Thu, Oct 21
We humans shouldn't have all of the Spaß—which is why Baramor will be opening up its dog-friendly patio for a "Barktoberfest." Make your way to the Newton eatery on October 21 for this charitable dog costume party with Jr's Paws for a Cause. From 6—8pm, Baramor will have menu items for pooches and their owners alike, a number of pop-up vendors who'll be pedaling pet products and, of course, specialty cocktails that will benefit the organization's non-profit fundraising efforts. There will be a costume contest, with the best dressed doggos receiving prizes… so now is the time to track down some four-legged lederhosen real quick.