The best Boston trivia nights
Test your knowledge, grab a drink, eat some food and have fun with friends when at the best Boston trivia nights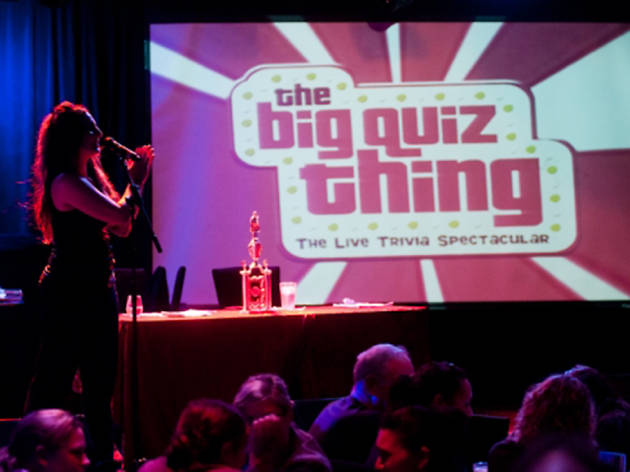 When the temperatures drop and you've had enough of visiting the best Boston attractions, grab some friends and test your collective knowledge at the best Boston trivia nights. Sure, they might not get as rowdy as the best sports bars in Boston or as loud as the best karaoke bars in Boston, but we promise you you'll have the time of your life. Enjoy some drinks and food and start answering some questions—you might even win a prize!
Best Boston trivia nights
Mon 8-10pm
Stump Trivia and wings? Bella Luna does it right. Every Monday night, the convivial JP bar hosts a chill trivia night that's especially welcoming to singles looking for a team. Even better: The venue's wings of desire (choice of buffalo, barbecue or sweet chili sauce) are half-off for the duration of the evening. The night's top three teams win Bella Luna gift cards.
Mon 8-10pm
Want to play trivia where George Washington and Paul Revere once did? They likely didn't drop in for weekly quiz sessions but they did once drink at this historic watering hole, first opened in 1780. On Mondays, Chucktown locals gather in the low-slung, wood-paneled space for low-key competition and maybe a little shepherd's pie. Just check the online calendar, because trivia night doesn't happen every week.
Mon and Tue 8pm
It's a twofer—on both Monday and Tuesday nights, the beer and tequila bar brings out the BU crowd for raucous quizzing. Why raucous? From the evening's drinks and all-you-can-eat ribs specials to the oversized platters of nachos and fries that play to college budgets, the venue will satisfy just about anyone.
Wed 8-10pm
Blarney Stone is one of those neighborhood bars that revels in its theme nights, from taco Tuesdays to buck-a-shuck Thursdays. So it should come as no surprise that Trivia Wednesdays are treasured affairs. This is a window into the real Dorchester: lots of locals in a generously sized space, chilling with beers, the Melville Ave burger and harder-than-expected questions. It's ThinkTank trivia, which means general interest geekery with the occasional theme night thrown in.
5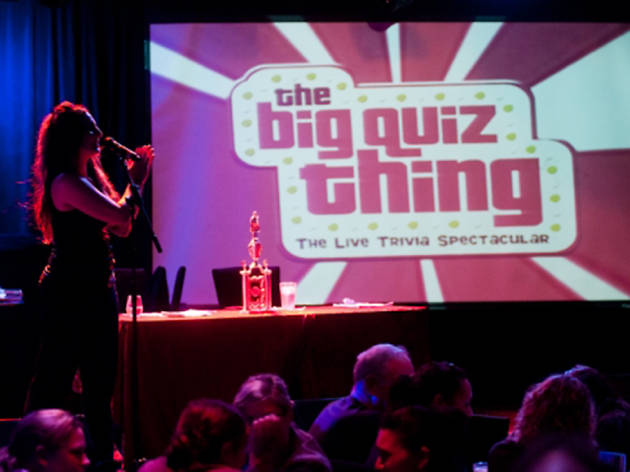 Photograph: Courtesy Oberon
The Big Quiz Thing at Oberon
And now, for something a bit different: Once in a blue moon, the traveling show known as the Big Quiz Thing comes to Boston (well, Cambridge) to raise the bar of the city's trivia game. It's a live trivia performance with Noah Tarnow and comedian Wes Hazard; think multimedia questions like video puzzles and audio clues. Even better: "Smart-Ass Points" go to those who offer hilariously wrong answers.
Wed 7:30pm
Get ready for a big, loud, boisterous two hours of Q&As at this Cambridge divestitution. Wednesday night's Geeks Who Drink trivia night draws a lot of teams, so the competition is for real. During Sunday's Patriot Trivia, run by CSN trivia, you'll have a shot at a cool five grand. Questions aren't just sports-related, so brush up on your particle physics.
Tue 8-10pm
Doyle's has been pubbing it up since 1882… and it is very obvious. Tuesday night is trivia night, which usually involves a local crowd peppered by a bunch of "outsiders" checking out the scene. In brief: solid food, cold beers and trivia. What else could you ask for?
Wed 8-10pm
Host Mark Daly dishes out a wide variety of questions every Wednesday. Plus: a monthly tournament where knowing how many NFL teams are named after birds can win you some very exciting sums (hint: the answer rhymes with "door").
Restaurants, Contemporary American
Tue 8-10pm

Comfortable seating goes a long way. The aptly named Living Room lures in regulars with oversized couches and chairs, as well as delicious beers and martinis. Little wonder, then, that trivia night is so popular here. Come early (before 7pm) and bring your whole team to secure a spot. Not only do the top three teams earn prizes but photos of the winners will actually be posted on the bar's website. May we also suggest the victors treat themselves to the s'mores in a jar dessert? That toasted marshmallow ice cream is just too good.
Sun 8-10pm

It's where the politicians drink, which means you just might see a legislator playing trivia, too (okay, probably a legislative aid). It's also the rare weekend trivia night, which allows for a little more tippling (plus, the wine pours are more than generous). This isn't Stump style, but rather Questionary trivia, which means Family Feud-style questioning and a more cacophonous scene—an interesting way to kick off your week.
Wed 8pm

An institution and often celebrated trivia spot, this archetypal Irish pub in Inman hosts trivia nights on Wednesdays. Settle in for a perfectly poured Guinness and work your way through a gamut of questions. And hey, if you wildly flame out and guess that the capital of North Dakota is Pierre (it's Bismarck, Pierre is South Dakota), worry not! Last place gets shots from the bar.
In 2016, it's not enough to just be a bowling alley. Kings Boston is basically the grownup version of the video arcade: on top of 16 lanes, the venue boasts three bars, pool tables, skee-ball, shuffleboard, air hockey, karaoke and a trivia night, Mondays in the Lounge. The scene might be a little cheesy, but it's also unabashedly fun—the antidote to too many hipster trivia nights.
Thu 8pm

Dive bar trivia is actually a rarity around these parts, especially since the Tam closed, which is why trivia night at Newtowne is so treasured. The 45-year-old Porter Square institution, known for its pizza and pitcher deals, hosts a super-popular team trivia on Thursdays. But beware the cheater: because seating is limited, you might find your competitors hovering over your table and peeking at your written answers.