Heads up! We're working hard to be accurate – but these are unusual times, so please always check before heading out.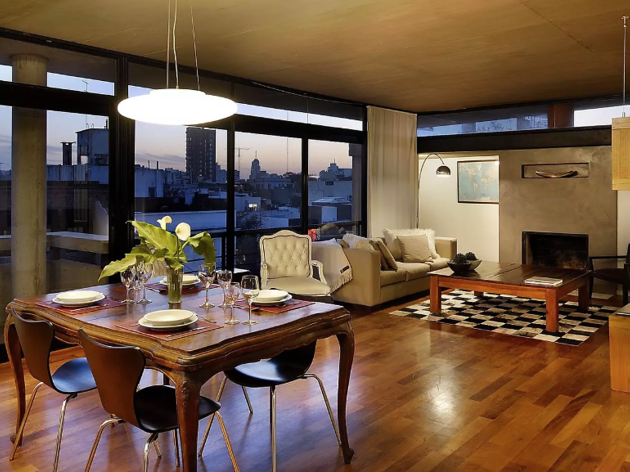 13 Best Airbnb Venues in Buenos Aires
From elegant penthouses to historic chateaus, here's our pick of the best Airbnb venues in Buenos Aires
A dream destination for sun-seekers, history-lovers and culture-vultures alike, the city of Buenos Aires is an exciting blend of European style and South-American glamour. With beautiful architecture, world-class restaurants, vibrant streets and plenty of amazing things to do, it's easy to get swept away in the cosmopolitan magic.
And when browsing images isn't enough to satisfy your Argentina-based wanderlust, it's time to plan a trip. Luckily, there's a whole host of hotels and affordable Airbnbs all over the capital, to help make that holiday happen (and to make it affordable, too). So pack your bags, people: here's some of the best Airbnb venues in Buenos Aires.
Photograph / Courtesy Airbnb
A renovated house with private balcony
This stunning remodelled home is located in Palermo Soho, near to the fashionable Aguirre Street outlets. As for evening entertainment, the house is a quick jaunt away from some of the best bars and restaurants - and let's not forget the clubs either, where you can drink Campari and tango all night long. Buena Onda, indeed.
Photograph / Courtesy Airbnb
A peaceful double level flat
After an Airbnb for an impromptu, cosy couples getaway? Well, here lies proof that good things come in small packages. Based in the luxurious neighbourhood of Recoleta, take a romantic stroll amongst the beautifully botanic streets and when you're done, head back to your balcony with a glass of red. Oh and get acquainted with the jacuzzi bath, too.
Photograph / Courtesy Airbnb
A historic three story chateau
As far as rentals go, this contemporary pad is pretty luxurious. It's got two bedrooms, a dipping pool and some super trendy exposed brickwork. Better yet, it's located on a quiet street in central San Telmo, so you can enjoy the daytime city buzz and still get some shut-eye come nightfall.
Photograph / Courtesy Airbnb
A sophisticated 20th century apartment
Let's be real: this restored townhouse is muy hermoso. With high ceilings, ornate lighting and plush soft furnishings, it's a slice of Argentinian luxury, dahrling. Want some more good news? Since there's enough space for six people to stay, the bill can be split pretty nicely. Group trip, anyone?
Photograph / Courtesy Airbnb
A Parisian style flat in Palermo
With all the bourgeois grandeur of a Parisian palace (chandeliers, plush furnishings and stained glass galore) this Airbnb doesn't disappoint. When you can finally peel yourself away from this stylish pad, take a stroll along the winding lanes of Palermo and wander into the verdant botanical gardens where the view is as sweet as the smell. Fancy petting something furry? The garden is home to domestic cats too.
Photograph / Courtesy Airbnb
A bright apartment with sun terrace
This bright and breezy apartment is situated in downtown Buenos Aires, just a few blocks away from the affluent Recoleta. With cosy furniture, clever storage that maximises space and a large private balcony for dining alfresco, this space showcases budget Airbnbs at their best.
Photograph Courtesy / Airbnb
It may not be the most upmarket place, but this cool loft space is certainly unique. With a spacious living area and beds for five guests, it's a fab spot for a group of friends to chill after a day of schlepping around the city sights. Plus, there's a grill out on the balcony, so you can cook up a grate (sorry) smoky barbeque feast.
Photograph / Courtesy Airbnb
A stylish apartment in Palermo
Nestled within eclectic Palermo, this Instagram-worthy apartment looks like a feature in a designer interiors mag. The furniture is contemporary, the accessories are trendy and you can stay here for a (very) reasonable price per night. Winner.
Photograph / Courtesy Airbnb
A serene home floating on a river
Because who doesn't fantasize about waking up to tranquil views and fresh sea air? Aptly named Paraíso flotante (floating paradise), this dreamy home even has a hot tub, so you can warm up on nippier days and while away your time watching the sunset glisten on the river. Heaven.
Photograph / Courtesy Airbnb
An understated private room with terrace
If you're after a place to relax post a stressful working week, then opt for this subdued apartment, where the muted hues can help you finally catch some z's. Unsure where to visit in Buenos Aires? No biggie. Here you'll have access to area advice from an on-site local. The one downside? At some point, you'll have to pack up and head home. Sigh.
Photograph / Courtesy Airbnb
An arty apartment in San Telmo
You might not be able to sketch anything other than a stick man, but it's still pretty tough not to catch some kind of creativity at this bohemian apartment. There's quirky furniture, vibrant prints and thanks to the private balcony, the stylish interior is flooded with sunshine all day long. When you fancy stepping outside, you'll soon encounter San Telmo's premier attractions, from the Sunday Feria to Argentina's National History Museum - pretty fitting really, seeing as San Telmo is the oldest barrio in the city.
Photograph / Courtesy Airbnb
A chilled home with a street view balcony
Set within a French style building, this peaceful home is polished, simple and comfortable. With general amenities and a fantastic location in the heart of Buenos Aires, you'll be off exploring the city in no time. Plus, when you return from your daily excursions, the building has a porter and night security - so you can drop any worries you had about staying somewhere new.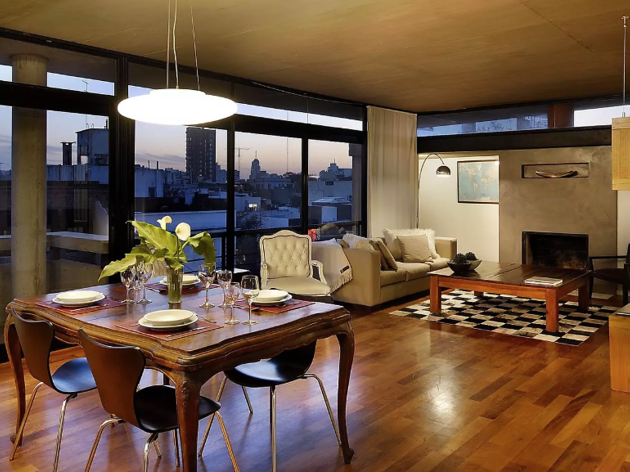 Photograph / Courtesy Airbnb
An elegant penthouse with sky high views
There's a simple reason that penthouses are lusted after: the view. But while the metropolitan skyline is breathtaking, the interior of this place is incredibly lavish too. With checkered flooring, wooden furniture and a healthy scattering of sophisticated accessories, it's a far cry from the budget holiday B&Bs of yore.