Halsted's Bar & Grill (CLOSED)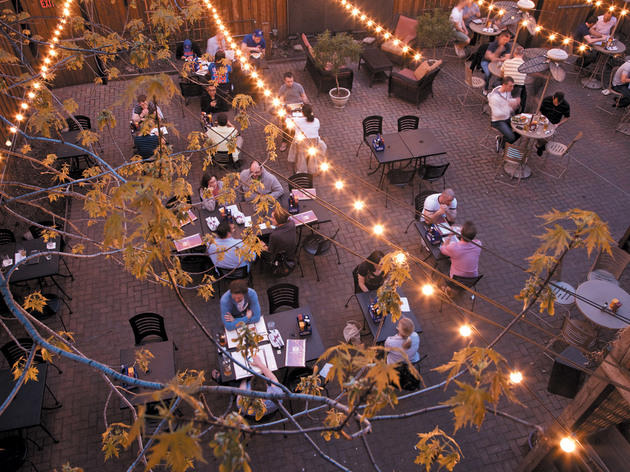 X/O had something. Specifically, it had creative small plates, a dim, alluring interior, and a long wine list broken up into whimsical flights. It was a welcome addition to Boystown—a place worth returning to again and again.
And yet, returning again and again was apparently something not many people did. Maybe if we had, that wine list wouldn't have morphed into an uninspired offering of six whites and six reds; maybe the small plates wouldn't have been replaced by an overweight menu of generic standards. And maybe Halsted's Bar & Grill would still be just a bad (and thankfully unrealized) idea.
But the story of Halsted's is a common, unfortunate tale of the restaurant industry—restaurant does not do well, restaurant reconcepts to "give the people what they want"—and these tales rarely have a happy ending. Somehow, catering to the masses always seems to lead back to hamburgers and fried food.
Not that there's anything wrong with burgers. Just the "Korean BBQ Bacon Cheese Burger," an item that sounds like it has promise but that arrives soaked in an overly sweet barbecue sauce (the beef, for the record, hardly resembles Korean barbecue). Nothing wrong with fried food, either—in fact, the cauliflower fritters, with their uncommon creaminess, may be the one item that people here make multiple visits for. But most of this menu is perfect mediocrity. The "Club Halsted" chicken sandwich, a plump chicken breast topped with Gruyère and smoked ham, is good, but only as far as grilled chicken sandwiches go. The chicken in the chicken and waffles was fried nicely, the crisp crust giving way to hot, juicy meat, but it was terribly underseasoned, and the waffle was dense and heavy. The chimichurri fries came with a paprika mayo that had a nice bite to it—but upon closer inspection, the chimichurri on the fries seemed to not be chimichurri at all, but simply pesto. Comparing it with the spread on the grilled shrimp–basil–pesto pizza (an unattractive, soggy excuse for a pie), the two seemed identical. So, not only was the food insulting diner's taste buds (the fish tacos were as bland as the flour tortillas they were served on), the chef was insulting our intelligence, too.
Yet, as much as the restaurant is to blame for the execution, it's the customers that are to blame for the menu. On multiple visits we found the fabulous beer garden in back (pictured above during the height of Pride) filled to capacity, with burgers and bottles of wine being carried out with such frequency we wondered if we were the only ones who were paying. If the goal of Halsted's Bar & Grill was to provide the neighborhood with what it wanted, it seems to be working. We can only hope that if the people start asking for better food, the owners will be just as willing to listen.
Venue name:
Halsted's Bar & Grill (CLOSED)
Contact:
Address:
3441 N Halsted St
Chicago


Cross street:
between Newport and Cornelia Aves
Opening hours:
Mon–Thu 5–11pm; Fri 5pm–midnight; Sat 11am–midnight; Sun 11am–11pm
Transport:
El stop:Red to Addison. Bus:8,77,152.
Price:
Average cocktail: $6
Do you own this business?
Rating Breakdown
5 star:

0

4 star:

0

3 star:

0

2 star:

0

1 star:

1
I could not agree more with this review. I actually live on Halsted just down the street from the restaurant with the same name and we tried this place twice; once during the week with my fiancé and his niece when no alcohol was ordered so we were all more then coherent enough to make a good sound judgment in determining the difference between good food and bad. The second time was actually during Pride as well, except we were sitting at one of the tables set up and sectioned off at street-side during the Event and though we did 'partake' with our meal during the festivities on that day, I still remember the food to be as boring as it was when we ate inside.
In addition but not surprising is that there were empty tables around us even though the parade of Pride Events was all around us. Oh sure the restaurant was packed as it usually is, but seeing how this was in the middle of the day during Pride, the special event seating should have been full as well, it was not. The food was exactly as you described on both visits, mediocre, 'pub food' that is trying desperately to look current and chic but failing miserably in the process. The dining room and bar is beyond 'tired' looking and desperately needs a facelift *and* a new chef, even if it means closing the place down for months. So *why* does Halsted's remain so popular?
I suppose you could ask the same question about other mediocre 'pub-bars' in the area including "Dry Hop" on Broadway, yet another pub-bar that stays packed while serving the same boring, tired, burgers, fries and nachos. Halsted's, Dry-Hop, Chicago Diner and similar establishments in Chicago are the 'See And Be Seen' place's to be, especially for 20 and 30 somethings. It's amazing how those that fall into that age group seem eager to sacrifice quality food ands service, just for the excitement and 'thill' of eating and drinking where everyone else in town wants to be. And, if those places offer al fresco dining and/or tables with open windows overlooking the streets? They could just as well serve plates of canned Ragu, heated up in a microwave with a fancy name on the menu, which in some establishments is probably not far from the truth.
Once the people that visit these places finally 'mature', said establishments will either change or close their doors.