Homaro Cantu, the mastermind behind the science-focused dishes at Moto and Berrista Coffee, died yesterday at 38. He wasn't just a chef—he was also president of the Trotter Project, a nonprofit organization that provides culinary education and mentorships, and was at work on Crooked Fork, a new brewery. In the kitchen, he was a culinary innovator and used scientific techniques to present dishes in a new way, but his food was more than just molecular gastronomy—he wanted to solve problems like world hunger through miracle berries and edible paper, and used things like lasers in his cuisine. Here are three dishes that tell his story.
Edible Paper: Cantu used a printer to print images, like sushi, onto edible paper, and then flavored them to taste like the image. He also printed menus onto edible paper, which would then be broken up into soup. It wasn't just a cool thing visually—his idea behind edible paper was that it could be used to provide nutrients to people who were starving.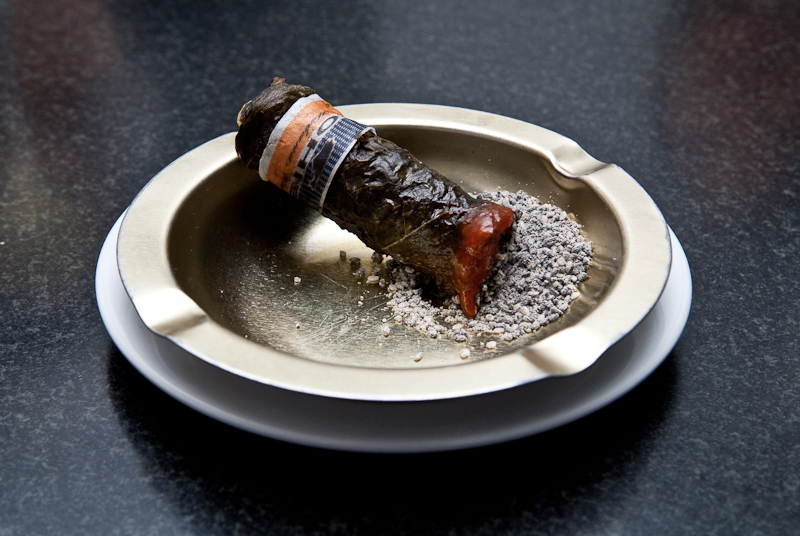 Photograph: Jessica Leung/flickr
Cuban Cigar Sandwich: One of Cantu's most recognizable dishes is a Cuban sandwich fashioned into a Cuban cigar. The sandwich is rolled up into collard greens and wrapped with an edible paper wrapper. The "ash" consists of the spices normally found in the pork and it's served in an ashtray. He made the dish for a TED Talk as well as on Future Food, a show he did with former Moto chef Ben Roche.
Miracle Berries: One of the foods most associated with Cantu is miracle berries, fruit that will make sour things taste sweet, which he used at the now-shuttered iNG. He also wrote The Miracle Berry Diet Cookbook and in December, he opened Berrista, an Old Irving Park café that serves the berries, which could help people cut down their sugar consumption. At Berrista, miracle berries are available in four forms, and most of the food items are made without sugar.