Day two of Pitchfork Music Festival turned up the heat, both literally (temperatures topped 80 degrees, and it felt even hotter) and figuratively, as some of the event's most anticipated acts took the stage. Tickets sold out early in the day and the increased number of bodies on the grounds became very noticeable as the afternoon progressed, with attendees jockeying for space in the field. When we weren't wading through the masses, five things captured our attention on Saturday at Pitchfork Music Festival.
RECOMMENDED: See more photos from Pitchfork Music Festival
1. George Clinton giving up the funk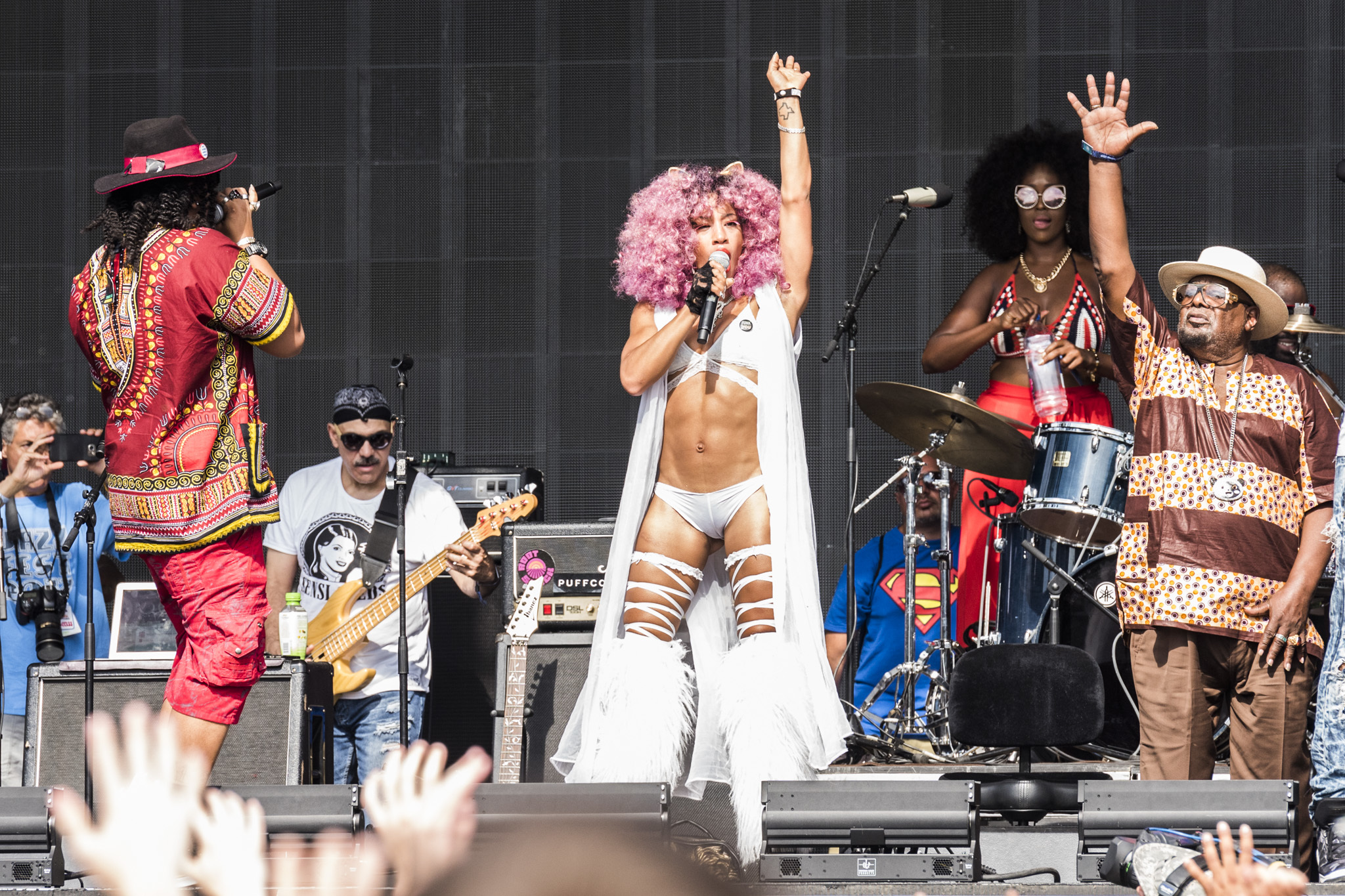 "You're probably looking for some guy with rainbow-colored hair, and today you're getting none of that," a member of George Clinton's band pointed out midway through his set, making note of the funk legend's rather clean-cut look. Beginning with a cover of Lil Jon's "Get Low" and transitioning into multiple medleys that stretched well past the 20-minute mark, Clinton didn't need a wacky hairdo to get the party started—not with a horn section, back-up singers, hype men and contortionists surrounding him onstage. By the time the group made its way through "Give Up the Funk," the latest incarnation of Parliament-Funkadelic had put its spin on hip-hop, funk, soul and everything in between. Age clearly hasn't taken a toll on Clinton's ability to get weird and rile up a crowd.—Zach Long
---
2. More ways to enter the fest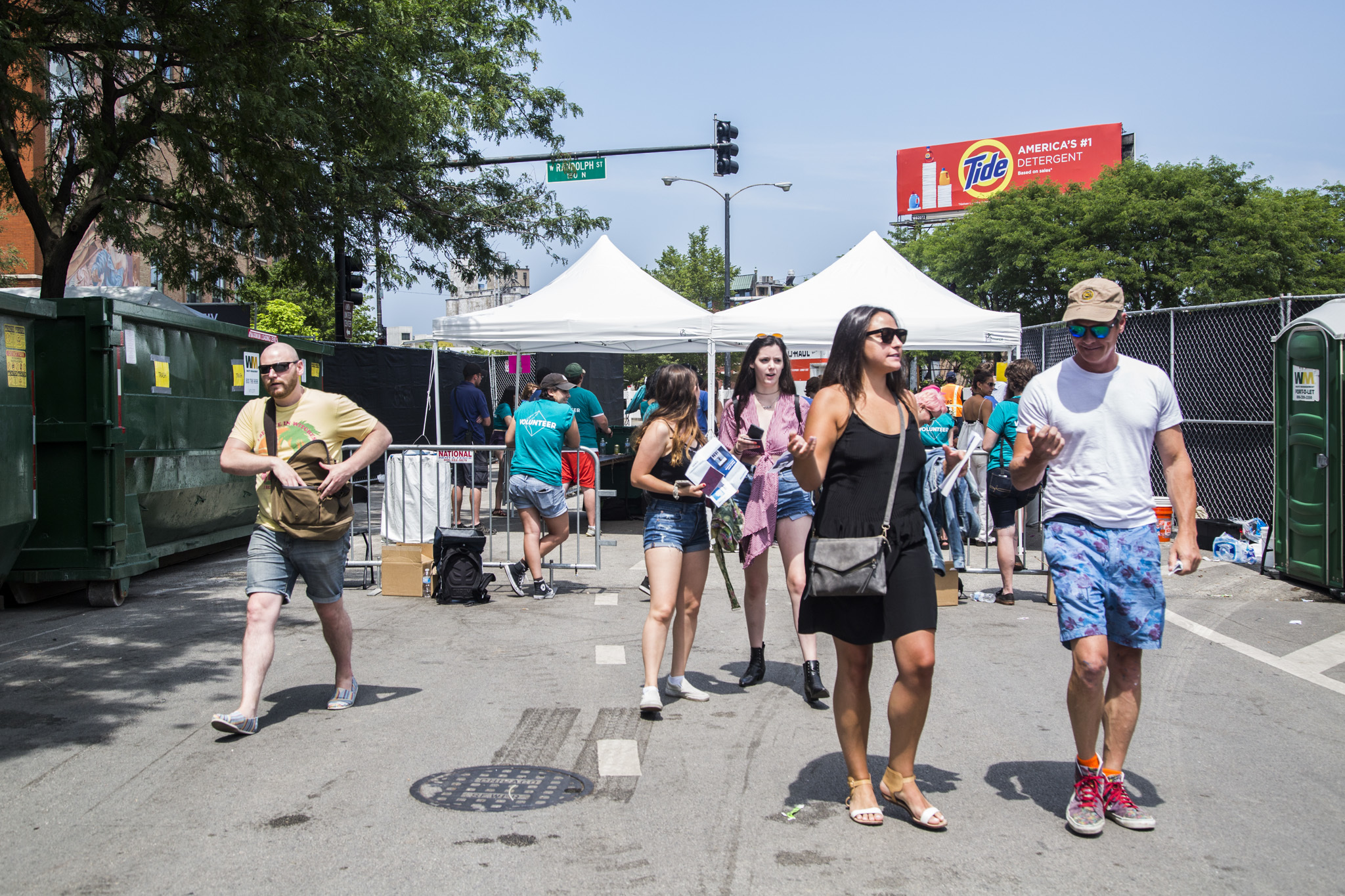 On Friday, Twitter was buzzing with complaints from disgruntled Pitchfork attendees who spent more time waiting in a line that wrapped around Union Park than grooving to Danny Brown in the middle of a field. Today, organizers attempted to remedy the situation by opening a second entrance on the northeast side of the park (at the corner of Ogden Avenue and Randolph Street), leading directly to the Flatstock poster fair. Many fest-goers didn't get the memo, flocking to the fest's main entrance—we didn't notice any lines forming at the newly opened gate, just a steady stream of attendees breezing through security. If you want to skip the lines tomorrow (at least the ones for entry), take note.—ZL
---
3. Mitski's unapologetic emotional honesty
The Blue Stage is the only stage at Pitchfork enclosed by trees, giving it a more intimate feel than the Green or Red Stages. Some performers need the containment the stage offers, but Mitski is not one of those artists. She's totally rock and roll, which means that the bassist-singer-songwriter's loud, unapologetic set felt larger than life on the Blue Stage. The brash sound was balanced by her emotional honesty on stage, both while singing and just in between songs. Mitski's vocals are stunning to hear live—they're rich, bold, and gutsy as hell. But between each "'90s Hole if Courtney Love drank less" song was Mitski's quiet, measured voice, genuinely thanking the audience for listening. Maybe I'm a pushover, but this vulnerability made her set one of today's strongest.—Grace Perry
---
4. The energetic antics of Francis and the Lights
Francis and the Lights have been writing and producing for a decade, but they've received a new surge of popularity following their recent collaborations with Chance the Rapper. The possibility of Chicago's favorite rapper hopping on stage might be what generated the fairly packed crowd at the Blue Stage. While Chance didn't show up, I'm pleased that Francis and the Lights had the opportunity to hold down their own show without being out-shined.

Singer Francis Farewell Starlite has a remarkable stage presence, and his physicality made the electronic set impossibly fun. He danced through the entire performance, energizing the crowd and inspiring them to do the same. He even climbed up the stage scaffolding at one point, like it was a jungle gym. That boundless energy, combined with Francis' impressive vocal timbre (Side note: I realized mid-set, he sounds a bit like Phil Collins. "May I Have This Dance" would totally fit in on the Tarzan soundtrack), made for a dynamic late-afternoon set.—GP
---
5. The triumphant return of A Tribe Called Quest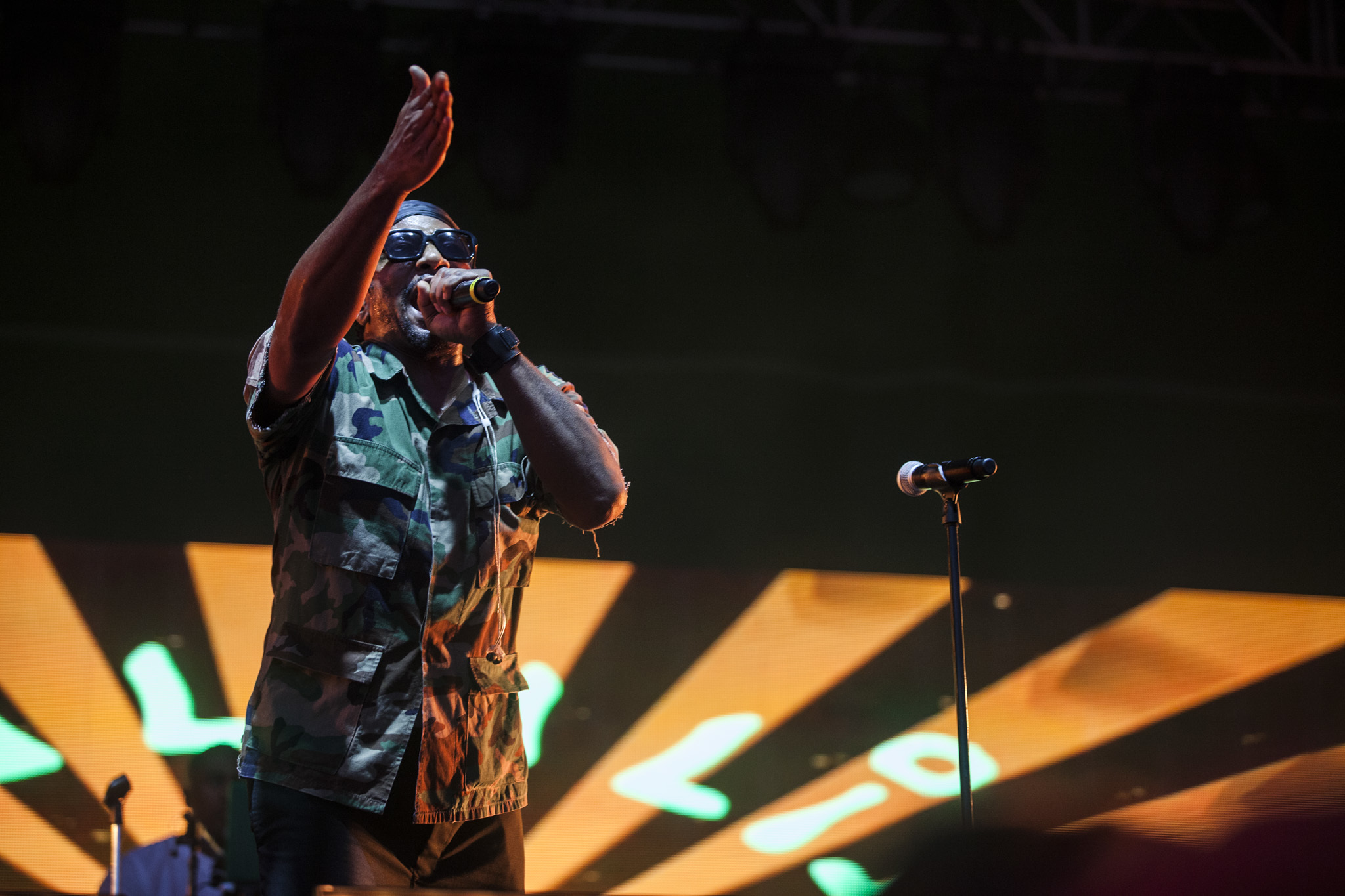 It might have been the first night of the group's North American tour (and it's first real concert since the death of Phife Dawg), but A Tribe Called Quest sounded as vital and invigorated as ever. Q-Tip, Jarobi White and Consequence tore through a career-spanning set with just a DJ (founding member Ali Shaheed Muhammad) backing them up, turning in tracks from the group's breakout album The Low End Theory through its recent comeback LP, We Got It from Here. Phife's presence was marked by a fourth microphone on stage, his disembodied verses and a few personal tributes from the rest of the group. While there were plenty of sentimental moments, Tribe stayed true to its socially conscientious roots, closing the evening with a rendition of "We the People" that had what seemed like one of Pitchfork's largest crowds to date shouting along in affirmation.—ZL

Want more? Sign up here to stay in the know.