Lulu
As a rule, when Alban Berg's Lulu comes to town, you go. Staged only once before at Lyric Opera, in 1987, the demanding work's aberrant spirit...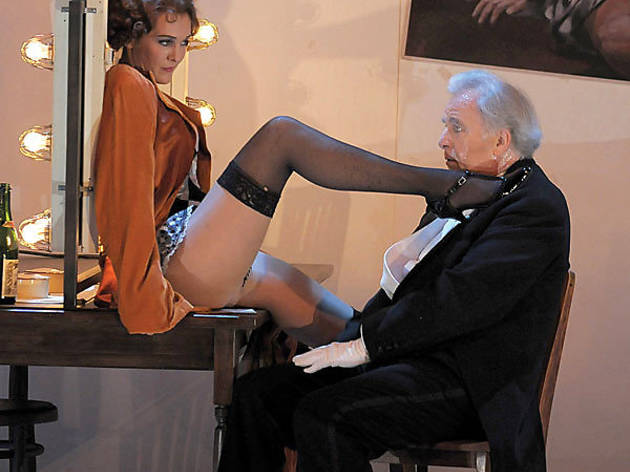 As a rule, when Alban Berg's Lulu comes to town, you go. Staged only once before at Lyric Opera, in 1987, the demanding work's aberrant spirit fascinates us 70 years on. Lulu, the antiheroine whose raison d'être is to seduce and unwittingly destroy those around her, spreads more leg per measure than any character on record. The lascivious clan of men and women who fall for her slowly meet their demise, all draped in Berg's rebellious but achingly gorgeous 12-tone score.
One of Lulu's few DVD offerings is a 1996 effort from the Glyndebourne Festival (Kultur Video). With minimalist brick walls and a blue-jeaned ensemble, its spare direction feels like a Eurotrash student production. Fortunately, Lyric set designer Kevin Knight and director Paul Curran have given this cult masterpiece the rich detail it deserves. In Act I, Lulu's ill-fated artist-spouse (Scott Ramsay) has 27 portraits of her hanging in their flat, emphasizing the extremes of his savage obsession. In Act II, video designer John Boesche shoots the opera's expository film-within with the same kind of nightmarish Expressionist style that influenced Berg while writing the opera. And the production's unsung hero might be lighting wizard David Jacques, whose brilliant illuminations produce as vivid a show as we've seen at the Civic Opera House this year.
Not surprisingly, Lulu requires a crew of experienced specialists, and two artists from that decade-old DVD reappear in Lyric's new production: conductor Andrew Davis and Wolfgang Schöne as Dr. Schön, who rescues Lulu from her wayward childhood. Davis leads Berg's difficult, almost-Wagnerian score with seemingly effortless ease. The superb German soprano Marlis Petersen renders Lulu both a floozy and a tragic innocent, compounding the complexity of this pathetic yet sympathetic woman. It's hard to imagine the cunning little vixen played more convincingly—no wonder Peterson is already the Lulu of choice throughout Europe. As Alwa, Schön's son, tenor William Burden matches Petersen's virtuosic displays note for note.
Lyric has also assembled a superb supporting cast. Jill Grove plays Lulu's unassuming lesbian pursuer, and Schöne's double role as a genuinely frightening Jack the Ripper chills like a November night in Whitechapel during the icy Act III killing spree. Thomas Hammons's impoverished Schigolch is ruggedly assured, anchored by his booming baritone.
Yet the opera reveals blemishes that perhaps no stellar treatment can conceal. There are dull droughts in Act II as numerous admirers fawn over Lulu; Curran futilely does his best to keep the stage busy with farcical action as Lulu's worshippers scatter and hide from Dr. Schön. Even Berg's libretto—adapted from playwright Frank Wedekind's fin de siècle commentaries on sexual desire and class—flirts with tedium over the course of four hours (an expended opening-night audience applauded guardedly). Still, even by today's standards, Lulu jolts us with its narrative experiments and twisted debaucheries. In Lyric's masterful hands, the opera's shock value lives on.
Lulu finishes its stay at Lyric on Saturday 22, Tuesday 25 and November 30.