Spektral Quartet at Chopin Theatre | Classical preview
Progressive Chicago chamber troupe Spektral Quartet enters the "Theatre of War."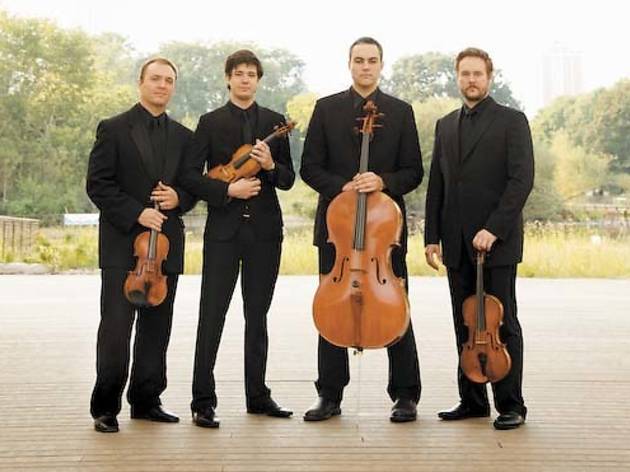 "We're not making a political protest in reaction to the NATO conference," Russell Rolen says. "There'll be plenty of those." The 34-year-old cellist of the Spektral Quartet is talking about the group's ambitious new program, "Theatre of War," which launches two days after the NATO Summit. The gig at Wicker Park's Chopin Theatre aims to reduce feelings of alienation between stateside citizens and soldiers and civilians abroad. "The political figures coming to Chicago will be speaking in global terms and thinking about issues in an abstract way," Rolen says, taking a sip of ale. He's perched on a bar stool next to his bandmate and violinist, J. Austin Wulliman. "We were drawn to pieces that deal directly with the individual."
Settled in at Bucktown beer haven Quenchers, the guys explain how working George Crumb's landmark Vietnam-era piece Black Angels into Spektral's repertoire led to the group's biggest project in its two years.
"There are aspects inherent to the piece that made us imagine a more theatrical event," Wulliman says. "The players are required to move around the stage. And there's numerology-based chanting."
Since its formation in 2010, Spektral Quartet, which also features violinist Aurelien Fort Pederzoli and TOC contributor Doyle Armbrust on viola, has forged a reputation for fiercely on-point performances as well as some of the city's most imaginative chamber programming. Spektral has used actors to re-create correspondence between Beethoven and Bartók. Wulliman and Armbrust have debated the influence of Beethoven's deafness on his work between pieces. In "Chambers," a commissioned piece from Marcos Balter, the quartet projected and read an e-mail exchange with the composer that increased in panic as a deadline approached.
In "Theatre of War," Spektral will screen three short films shot in Iraq and Afghanistan by photographer Richard Mosse, which were sourced by the quartet while scouring YouTube. "His films are really arresting for someone like me, who doesn't have a lot of context," says Wulliman, 29. "The reality of war isn't very present in my life, and these films knocked my pants off. Being in a dark room gives people time to consume information. You're not staring at a computer screen, tempted to click on the link to check the Bulls score."
"By the nature of living in modern, middle-class society and not having to be connected to war on a day-to-day basis, it's easy not to think about it that much," Rolen says. "I imagine it's like this for a lot of people."
Spektral is a democratic and collaborative outfit. The more classically minded Pederzoli leads in traditional works, while new-music expert Wulliman steers contemporary works. The foursome's performance of Black Angels is followed by a stage adaptation of Virginia Konchan's short story "Blackbird," two poems by the recently deceased Nobel Prize–winning poet Wislawa Szymborska and a physically intense composition by Drew Baker titled "Stress Position," which requires eighth blackbird pianist Lisa Kaplan to stretch uncomfortably across the keys for 18 minutes.
"It's easy to get mired in the details of your craft when you want everything to sound perfect," Rolen says. "This is a reminder that we can do something bigger than that."
Spektral Quartet presents "Theatre of War" at Chopin Theatre Wednesday 23 and Thursday 24. All proceeds will be donated to local non-profit the Vet Art Project.