Just for Laughs 2013: John Hodgman, Doug Benson, David Cross and Kyle Kinane review
Kyle Kinane and Cameron Esposito outshine big names like David Cross and Doug Benson at [Redacted], the Just For Laughs top-secret charity show.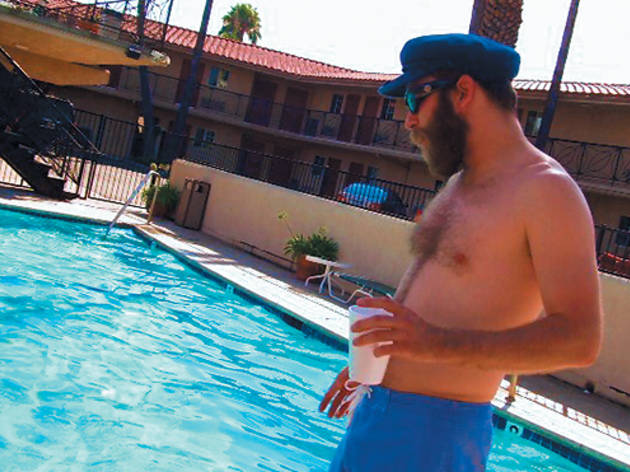 "Wow… Holy shit… Curveball," Todd Barry said in his dry delivery when he took the stage at Constellation on Wednesday night. "Which guy on the Just For Laughs website will be next?"
Indeed, the lineup of comics at Just for Laugh's top-secret [Redacted] showcase was a veritable who's who—of who's in town for the TBS festival. Perhaps the overhyped storms and flight cancellations led to the gently underwhelming evening. Barry, David Cross, Doug Benson, John Hodgman, Brian Posehn and, er, Superchunk offered condensed sets that varied from wingin' it while utterly baked (Benson) to erudite, deeply honed conceptual routines (Hodgman). If you jones for funnymen with beards, hair loss, potbellies and cargo shorts, this was your shit. But it was two former Chicagoans (now living in L.A., dammit), Cameron Esposito and Kyle Kinane, who kicked off the show and killed it.
Esposito, who has just been living in California for a matter of months, charmed with tales of goo-goo-eyed run-ins with Anne Hathaway and Christina Hendricks. "I grew up constantly wearing a coon-skin cap. I still kind of do," the tomboy said of her sexuality and side-mullet, before recounting time on a party committee, when she tried in vain to get her coworkers to play Whack-A-Mole. "It's pronounced guacamole," a woman corrected her. She spun that into a lesson on acceptance. It was deft work. But her biggest laugh came when she wondered if men have balls above their dicks, as she just doesn't know or give a shit. That elicited the brash, rasping laughter of a chain-smoking Santa Claus behind me.
I turned in my seat on the dais to see a bald, bearded head peeking from behind a curtain. It belonged to Kinane, who jumped on stage next to deliver a dense, self-deprecating set that covered buying Hawaiian shirts and blenders alone, god-bless-you-ing a cat and discovering the eerie filth that accumulates on our pillows. He slayed.
It was impossible for Posehn to follow with his predictable arsenal of dick, poo-poo and piss jokes. The best thing about his routine was an anecdote about eating dinner at Schwa earlier that night, when a friend compared a dish to "angel's cum," a set-up that former Mr. Show co-star Cross ran with.
"You know when you're having a nice dinner with a friend?" Cross opened. "And you make a seemingly innocent comment, just between friends…" He proceeded to one-up Posehn in a riff on the impossibility of angel ejaculate, which led, naturally for Cross, into Sandy Hook humor. "How many children have to die?!" he asked in mock rage. "1614." His bit on a Seamless.com ad campaign that uses fingerbanging to sell the food delivery service soared thanks to a poor, seemingly unfingerfucked soul in the audience who had never learned what "getting to third base" meant.
Barry followed with an uncanny ability to turn flat jokes into slayers. For example: After a tale of an overproud taxi driver, who boasted of his abilities, the punchline was, "Yeah. You are taking me down 2nd Ave. Like I asked." Mild laughter. Pause. "Do you guys not have a 2nd Ave. in Chicago? Was that too much to process?" He genius is in not landing jokes. Also, he can drum, as he proved in an odd, brief set with half of Superchunk, ripping through snotty punk covers and "Slack Motherfucker." Huh.
Benson followed, stagily sipping his cocktail, eyes ratcheted shut from weed, bullshitting his way through scatterbrained examination of Taken 2. Never been a fan of "Wooo! Pot!" comics. Hey, it gave me a chance to follow the multiple overtimes in the 'Hawks win.
Hodgman, closing the smorgasbord, was in sharp contrast. Wearing a navy skirt suit, at first bearing resemblance to Hillary Clinton, the professorial Daily Show correspondent fell to the stage and awoke as Ayn Rand, delivering his entire set as the objectivist novelist and philosopher, reimagining her latter days as a columnist for Parade Magazine and a lover of Solid Gold, Fresca, the Village People ("The Indian is the weakest, clearly") and Phil Donahue. He's a writer's comic, and it was a blast to see him break from his typical character. He had the room necessary to pull it off. It takes a crowd that reflects these comics—with mustaches, thick glasses, music-collecting knowledge—weened on The Onion and McSweeney's to parse all the nods to Atlas Shrugged and '80s television. God, I'd pay twice as much to see him try to pull that off at Zanies in Rosemont. It'd be more amazingly Kaufmanesque, a spot of genius for the few who got it. Sometimes a comic is too smart for the room. There is also such a thing as a room being too smart for the comics.