Where to celebrate St. Patrick's Day in Chicago
Celebrate St. Patrick's Day in Chicago with the annual dyeing of the river, parades, events and trips to the pub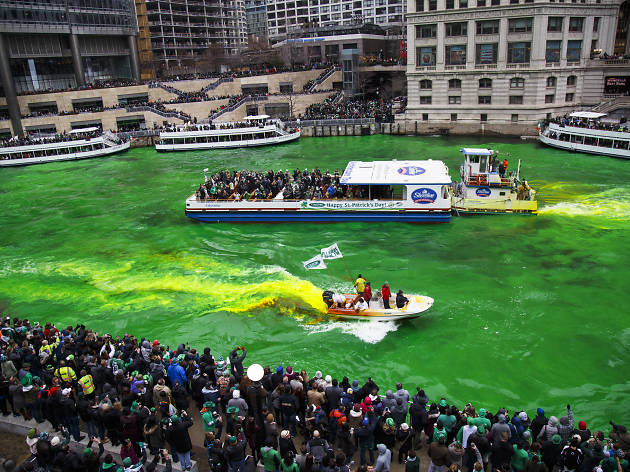 UPDATE: The Chicago St. Patrick's Day parades and river-dyeing ceremony have been cancelled due to coronavirus. Other events on this list may be affected by these cancellations—if you're unsure, please call ahead to confirm.
St. Patrick's Day is a proper institution in Chicago. In fact, it's such an institution that the shamrock-themed festivities stretch into multiple weekends, spawning clover-studded pop-up bars, corned beef specials and plenty of beer (both green-hued and otherwise). Want to get in on the action? Whether you prefer to join the crowds at the banks of our temporarily green river for the massive St. Patrick's Day Parade or simply nurse a pint of Guinness in a cozy pub, there's something for every reveler across the city. Maybe best of all, it's a harbinger of soon-to-come springtime: If the river's green, that means the city soon will be, too. So get together your best green outfit, soak up the luck of the Irish and check out our roundup of the best places to celebrate St. Patrick's Day in Chicago.
When is St. Patrick's Day?
St. Patrick's Day is always on March 17, which falls on a Tuesday.
What is St. Patrick's Day?
St. Patrick's Day occurs annually on March 17, the date marked by the death of Saint Patrick, Ireland's most celebrated patron saint. The festivities surrounding this date specifically commemorate Saint Patrick and the subsequent arrival of Christianity in Ireland.
Where is the Chicago St. Patrick's Day Parade?
Chicago's downtown parade occurs on Saturday, March 14 this year, beginning with the dyeing of the Chicago River at 9am. The parade itself steps off at noon at the corner of Balbo Avenue and Columbus Drive, then travels north on Columbus Drive. The South Side Irish Parade occurs the next day (Sunday, March 15), stepping off from 103rd Street and Western Avenue at noon.