Against high-top tables
TOC's food editor on eating below chest level.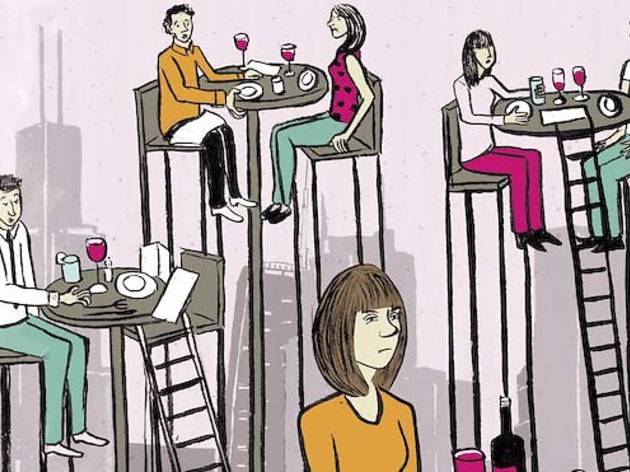 "Do you want to sit at a high-top?" the hostess asked. She was already leading me to one. I waved my hands, shook my head: Please, lady. Don't do me like this. Give me a real seat. Eventually, she did.
At least she asked. In these dining times, few do. High-top tables used to be something we had power over: We chose to eat at them, because we wanted dinner and drinks, emphasis on the drinks. Or, more likely, we chose them as a default, because we hadn't made a reservation and the dining room was full. Now, reservations don't matter. Make one a month in advance and you still may be led to a table that rises as high as your chest.
And so our feet dangle as if we're in high chairs. We struggle to fit plates onto a table that was built only for drinks. Our bags on the floor may as well be a mile below; to fetch our wallets, we have to climb off our ridiculous pedastools and kneel down to the floor. There, we become intimate with companions' hanging feet.
And why? For what? Because "it's a little more casual, a little more social," says Chris Dexter, a partner at [node:15160196 link=Nellcôte;], where high-tops make up about half the tables. "When you're sitting down at a dining-height table, at a banquette or in a chair, if somebody walks up to your table and you're trying to have a conversation [with that person], it's very difficult," he says. "Whereas at a high-top table, if someone walks up, you're naturally at the same height, which lends itself to conversation."
Truth. But when did eating at a restaurant come to double as an open invitation to random conversations? And aren't we also then at the height level of the random couples waiting for tables around us—the ones giving us the death stare because the faster we eat, the quicker they sit? And what about the six-deep gang of guys drinking [enter douchey drink here] who have no intention of sitting, but of dancing and spilling their vodka on our shirts? Now we have to hang with these guys?
"I can almost draw a line in the sand, age-wise, for people who respond that way," Dexter tells me.
Ouch.
The age he quotes as the dividing line is 40. But I'm not buying it. I almost always eat with people younger than that, and among these folks, high-tops are always met with groans. (I should note here that I'm nowhere near 40 either. Nowhere!) Yes, they're casual, and yet you can't relax. They encourage awkwardness and discourage lingering. And food just doesn't look as good on them. These things were not built for eating.
"It just depends on the person," says Mark Steuer, chef and partner at [node:14735057 link=the Bedford;], where dining at high-tops has been part of the restaurant's culture since it opened (though the policy of placing parties with reservations at them, which the restaurant/bar opened with, graciously has been revoked). "If they're looking for a little more serious, quiet meal, then the dining room's the way to go."
So will Steuer have any high-tops at his forthcoming restaurant, the Carriage House?
No, because the Carriage House "is going to be more food-focused," he says.
In other words, it's not going to be a bar. I just jumped off this high chair to rest my case.