In defense of chicken
Forget duck testicles—if you have balls, you'll order the chicken.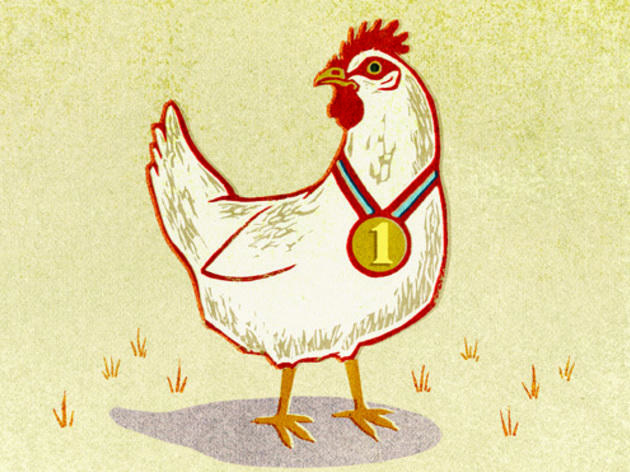 A couple of weeks ago, I sat at a table at Telegraph with two other food writers. As we scanned the menu, each of us started calling out dishes we wanted to try.
"I want the pickled pork loin," said one.
"Yeah, and the fried beef tongue," said the other.
I laughed, believing my companions were performing a bit of stand-up, parodying us food writers as the idiots who only go for the esoteric items on a menu. But they were not kidding, and now it was my turn to say what I wanted to eat. I became nervous, and shy, and so I muttered my meek suggestion: "I just want the chicken."
I don't know when food society decided chicken was for the weak, but I have just one question: What the hell is wrong with us? Chicken is not bland, and chicken is not boring, and people who order chicken (am I sounding defensive yet?) are neither bland nor boring. This was borne out later during that Telegraph meal, when the beef tongue arrived dry and unappealing. The chicken, meanwhile, fragrant with baking spices and flavored with pomegranate, was the standout. You needed extra napkins to eat this thing; the rice below the chicken was soaked in juice.
The truth is chicken has been the best part of many meals I've eaten lately. At Paris Club, the coq au vin is nothing at all like coq au vin, but it's a knockout nonetheless, a juicy, crispy-skinned sous-vide chicken breast atop braised dark meat. At Girl & the Goat, "Walter's chicken" is paired with one of its classic companions, hot sauce (here a yuzu harissa), and grilled nan. At places like Nightwood and the Publican, the chickens are simply slapped on a grill where they char and take on inebriating flavors of smoke.
It's been said chicken breast has given chicken a bad name. Sous vide took care of that years ago, so: argument settled. It's also been suggested that factory-farmed chickens have ruined the meat. That's true. But there's enough pastured chicken to go around, and that's all these restaurants are using anyway. So what are we talking about again?
Oh, yeah—the stigma of ordering chicken in restaurants full of pork face and duck testicles. To those who are exclusively ordering these dishes, I suggest duck's are not the testicles you need more of. Take no pride in falling in line behind the trendsters queueing up for the cow brains. There is no valiancy in ordering offal. If you want to stray from the pack, be brave enough to utter the words chicken breast. You may get some looks from the food writers at your table, but you know what? Those guys are turkeys.