Nine bars for Bulls watching
Where to cheer on Derrick Rose and company this year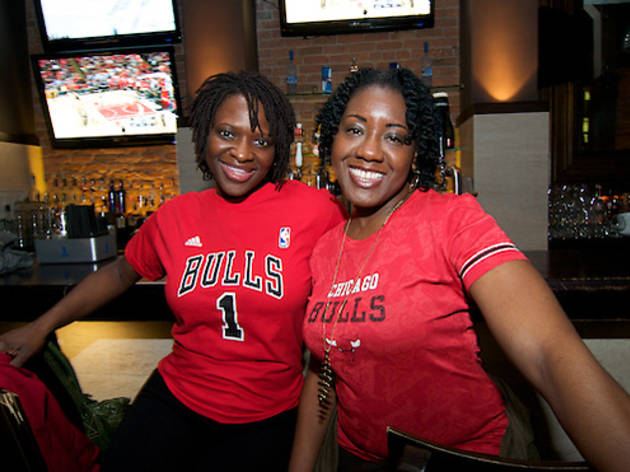 A (Derrick) rose by any other name should hope to be MVP no matter how well or poorly the Chicago Bulls acquit themselves in the 2011 playoffs. On the heels of Rose's simply phenomenal season (2,000 points, 300 rebounds, 600 assists—need anyone say more?), the Bulls have made it to the playoffs. The chances of most people getting their hands on a ticket are about slim-to-none. Fortunately, that's where the bars come in, and we've just happened to compile some of the best.
260 Sports Bar
This recently opened Bridgeport sports bar's 150-inch projection TV may symbolize the worst of consumer culture, but when it comes to the playoffs, tell your inner Marxist to can it: The Bulls are running it down the court, and you're too busy munching on classic pub fare and sipping on $3 martinis to care. Also worth noting: free parking across the street, and 20 50-inch plasma screens. 260 W 26th St, third floor, 312-706-8100.
Small Bar
Don't let the fixies outside and patchy beards indoors fool you. Small Bar on Division is a great way to get your sport fix without Wrigleyville bros being all up in your biz. Small Bar greatly acquitted itself for World Cup matchups, and there's no doubt that watching the Bulls in a casual atmosphere will be equally as pleasurable. Just make sure you don't mind a little soccer to go with your basketball. 2049 W Division St, 773-772-2727.
Piece
No one could be blamed for thinking this Wicker Park eatery was all basketballed-out after March Madness. Of course, that doesn't make them any less wrong. Piece has 11 42-inch plasma TVs spanning the entirety of the bar, so fans can gnosh on New Haven–style pizza and keep track of the game. Should the Bulls lose, the diehards can drown their sorrows in a variety of delectable house brews. 1927 W North Ave, 773-772-4422.
Plymouth
Overlooking the Harold Washington Library in the South Loop, fans can watch the 2011 incarnation of the Bulls while contemplating past Bulls teams—that's both Michael Jordan and Scottie Pippen in the restaurant's murals—at Plymouth Bar and Grill. A mix of traders and students can argue about jump shots while sharing towers of Spaten, Newcastle and Blue Moon. 327 S Plymouth Ct.
WestEnd
Last-minute sports fans storming the United Center for scalpers should consider this West Loop bar as a low-cost Plan B. Near the Bulls' playground, WestEnd's extra-wide bar stools and dim lighting make for an inviting environment. And, unlike the seats you would've gotten from the dubious second-hand market, you can actually see the game here. 1326 W Madison St, 312-981-7100.
Tilted Kilt
Feminist sports fans may find themselves in a philosophical boondoggle should they patronize this Loop establishment, oft described as "a Celtic version of Hooters." Sure, waitresses are scantily clad. That said, appetizers and burgers are solid, and ESPN screens light up every sight line. You can contemplate the wonders of the male gaze in so many ways. 17 N Wabash Ave, 312-269-5580.
Logan Bar & Grill
With ceilings higher than the typical neighborhood resident, the Logan Bar & Grill can provide a sports-minded, yet aesthetically challenging, respite from fixies and patchy facial hair. Locally made art adorns the walls, so the vibe isn't so sports-oriented. But the TVs a-plenty allow patrons to watch the game in a relaxing environment. Try the sweet potato fries with hummus. 2230 N California.
Mullen's Bar and Grill
Way far on the North Side lies this booth-heavy, score-obsessed sports bar. Most locals in this Rogers Park bar are focused more on post-game softball and throwing darts, but there's plenty of room for basketball, considering Mullen's has eight TVs. Plenty of room for everyone. 7301 N Western Ave, 773-465-2113.
Bull and Bear
If you're a sports fan and use $100 bills to light your stogies, then Bull and Bear is likely the place for you. Dom and Cristal are both on the menu, as are truffle fries with lemon aioli. While it's positively delicious, it's also expensive. But a Bulls victory just may be cause for celebration. (Tableside beer taps, anyone?). 431 N Wells St, 312-527-5973.