The essential outdoor drinking guide
Get lit at our favorite open-air spots, including rowdy beer gardens, sexy patios and everything in between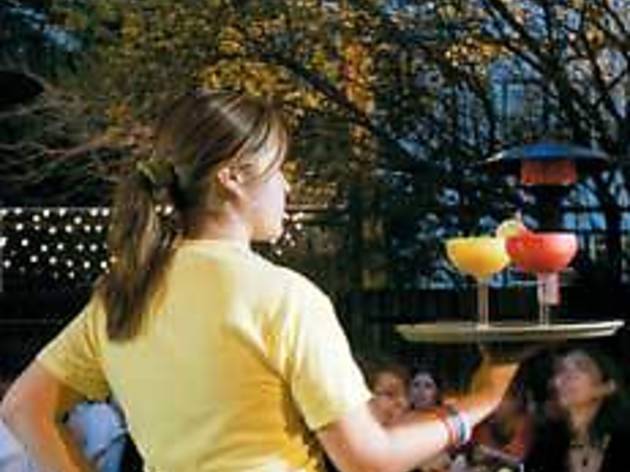 Webster's Wine Bar
1480 W Webster St between Clybourn Ave and Dominick St (773-868-0608)
There are no dollar cans of MGD and no speakers trembling under the blaring voice of John Mellencamp here. Sit back on the sidewalk patio, drink your rose, nosh on gourmet pizza and wax on about that book you're "someday" going to write.
Cru
888 N Wabash Ave between Chestnut and Delaware Sts (312-337-4078)
This is probably the only spot in Chicago where you have a good chance of seeing a woman wrapped in fur in the middle of summer. The parade of the fabulously rich in the heart of Gold Coast's Viagra triangle is infinitely more fun than reality, especially after a couple flutes of bubbly.
Pop's for Champagne/Star Bar

2934 N Sheffield Ave at Oakdale Ave (773-472-1000)
Not that you couldn't guess by the name, but this place is known year-round for its selection of champagne, so it's no surprise that its warm-weather space is perfectly suited for sipping under the stars. Lush with flower boxes, hanging plants and topiaries, the patio is a great place to start a summer Saturday night.
404 Wine Bar
2856 N Southport Ave between Wolframand George Sts (773-404-5886)
You've heard of beer gardens, but a wine garden? Comfortable and classy, with a menu of upscale pizzas, global wine flights and cheese plates to match, this spot is a favorite among young professionals discussing their new condo purchases and their favorite lines from Sideways.
BEST VIEW
Castaway's
1603 N Lake Shore Dr at North Ave (773-281-1200)
When volleyballers and their audience get thirsty, they crowd this love boat for pina coladas and ice cream. It's hard to decide which is better: the unrestricted view of the golden beach and sparkling lake, or the sea of tight, toned and tanned flesh on board.
Motel
600 W Chicago Ave at Larrabee St (312-822-2900)
What kind of lodging house would Motel be without some sort of poolside action? Never mind that the "pool" in this instance is the Chicago River—the real view is the scene of beautiful people crowding the patio and checking out the crowd on Japonais's patio next door.
Slow Down, Life's Too Short
1177 N Elston Ave between Cortez and Division Sts (773-384-1040)
If you've ever envied the life of a fisherman, try this stalwart. You won't get the lapping ocean waves, but this bar (which is an actual dock on the river) has multiple options for taking in the city skyline, including a rooftop patio, a deck and even a few scattered chairs by the waterside. And there's plenty of drunk pirates partying like they haven't seen dry land in years.
Pegasus Restaurant & Taverna
130 S Halsted St between Monroe and Adams Sts (312-226-4666)
True, you might run into a few tourists (after all, it is Greektown), but sometimes it takes a sweeping city skyline, fresh air and live bouzouki music on a dramatic rooftop patio to remind you why you love this place. Pick from a couple dozen Greek small plates to match with your Mythos beer and you have a night to crave all next winter.
BEST (OKAY, ONLY) BOCCE BALL BAR
Cody's
1658 W Barry Ave between Ashland Ave and Paulina St (773-528-4050)
This place really feels like someone's backyard, with a bocce ball court, real English darts (not the plastic ones) and a gas grill that everyone can use as long as they bring their own food. The bar is dog-friendly, inside and out, and always offers $2 bottles of Schlitz, Pabst, Old Style and Huber. The slogan says it all: "No peeing, no crapping, no barking, lie down—and that goes for the dogs, too."
BEST BEER GARDEN KEG PARTY
Sheffield's
3258 N Sheffield Ave between Belmont Ave and School St (773-281-4989)
This huge beer garden turns into a laid-back college reunion on weekend nights, with baseball-capped dudes and spaghetti-strapped chicks flanking the outdoor bar for $2 "Bad Beers of the Month" (Old Milwaukee and Stroh's, recently). There's also a grill, but it's charcoal, so bring coals with your grub.
Charlie's Ale House
1224 W Webster Ave between Racine and Magnolia Aves (773-871-1440)
The ivy-covered walls are reminiscent of Wrigley Field, but alas, so is the clientele at this cutesy Lincoln Park spot. The beer garden, which can accommodate up to 200 people, also draws students from nearby DePaul University. A retractable tent roof is nice for days when a surprise shower rolls in.
Southport City Saloon
2548 N Southport Ave between Lill and Wrightwood Aves (773-975-6110)
Tucked in back off of the main dining room of the restaurant, the outdoor space handles overflow diners and then turns into a beer garden at around 9:30pm, complete with its own cabana-style bar. On Mondays it serves $5 margaritas, and on Thursdays, Corona bottles go for $3.50. There's one TV outside, but more are rolled out for big games.
Melvin B's Truck Stop
1114 N State St between Cedar and Elm Sts (312-751-9897)
This former whorehouse lives for summer, with the beer garden making up almost the entire establishment. The postwork crowd is completely shit-faced by 10pm, so when the college-age jeans-and-short-skirt crowd hits this spot, it's a cacophony of bad jokes and even worse pick-up lines. Cancun in Chicago.
Will's Northwoods Inn
3030 N Racine Ave at Nelson St (773-528-4400)
Escape to the great outdoors Wisconsin-style with your Leinenkugel, Point or Sprecher to shoot the breeze under the watchful eye of the larger-than-life moose that stands sentry. Friends meet at picnic tables, tunes float out from the jukebox (Phish and fowl with "Free Bird" represented) and the occasional neighborhood Labrador mingles with the regulars.
Thirsty McCarthy's
1301 W Schubert Ave between Lakewood and Wayne Aves (773-472-7738)Terraced landscaping, ivy-accented walls and two mature trees growing up through the patio floor are enough to make the former Schubert Inn's patio a destination. Add to that 85 beers from around the world and you've got yourself a party. The bar serves food, but its old-school beer garden license means you don't have to order grub just to sit outside.
BEST TROPICAL ESCAPE WORTH THE DRIVE
Hala Kahiki
2834 River Rd, River Grove (708-456-3222)
The Love Boat, Hawaii Five-O and Gilligan's Island all rolled into one, this is the retro tiki bar of your dreams. The outdoor garden is the closest we've found to paradise, with trees, bushes, water fountains, giant tiki heads, electric palm trees and the most potent frou-frou drinks around. If you're skeptical when you see the line outside, believe us when we say it's worth the wait.
BEST SPOT TO TAKE COVER
John Barleycorn
658 W Belden Ave between Geneva Terr and Orchard St (773-348-8899)Teeming with kids wearing college sweatshirts and backward ball caps, the beer garden features a waterfall on one wall, seating for 100, votive candles on the tables and a removable awning that shields partyers from the elements. Thank God for the table service, which saves you a maddening trip through the masses for another round.
Nick's Beergarden
1516 N Milwaukee Ave between Honore St and Damen Ave (773-252-1155)Rain has never kept Nick's from getting crowded, and this is probably why. In case of a sudden downpour, dedicated drinkers step into the covered portion of the garden, where they can get wasted without getting wet.
Village Tap
2055 W Roscoe Ave between Seeley and Hoyne Aves (773-883-0817)
Cold? The beer garden here has heat lamps and a fireplace. Raining? The managers will unroll the overhead awning. The food is solid, the microbrews are plentiful and the neighborhood families scoot out by 9pm or so, leaving the garden to an eclectic crowd that favors Goose Island over martinis and keeps its table talk just as low-key.
SUSHISAMBA Rio
504 N Wells St between Illinois St and Grand Ave (312-595-2300)
This place has one of the slickest rooftop patios we've laid eyes on—a 40-foot bar, sharp sound system, plush sofas and stools, and angular metal beams spreading swaths of fabric overhead to protect scenesters from inclement weather. The surrounding city buildings are as urban as it gets, and the crowd is a mix of Chicago tastemakers and those who want a bite.
Goose Island
1800 N Clybourn Ave at Willow St (312-915-0071)
So far, the only fault we can find with Goose Island is that neither of its brewpubs have outdoor seating. Luckily we're so obsessed with its beer that the "patio" at the Clybourn location—a narrow, sun-filled room with huge, open windows—is good enough.
BEST OUTDOOR DIVES
Happy Village
1059 N Wolcott Ave between Augusta Blvd and Thomas St (773-486-1512)
If a 40-year-old, low-key neighborhood joint with cheap beer, a menu of pizza and White Castle sliders, and a sweet owner named Cherlyn sounds just about perfect to you, add an awesome back patio with a goldfish pond and picnic tables and you might just have found your home away from home.
Cal's
400 S Wells St at Van Buren St (312-922-6392)
Your view from the sidewalk chairs is as bleak as the inside of this tiny dive favorite, but that's part of the charm. The El rumbles overhead, barely drowning out sloppy local bands, while bike messengers pedal up to join career drunks throwing back $2 Old Styles. It's the best, grittiest spot in the Loop.
Weed's Tavern
1555 N Dayton St and Weed St
Dozens of bras hang from the ceiling inside, but the rustic, fenced-in beer garden has a vibe all its own, with its covered gazebo and its funky yellow lightbulbs hanging overhead. If you're new to the bar, and owner Sergio Mayora notices you, be prepared for a free shot of tequila.
Bucks Saloon
3439 N Halsted St between Roscoe St and Cornelia Ave (773-525-1125)
There aren't many outdoor options in Boystown, so if the chic upper deck at Sidetrack isn't your thing, try this more peaceful patio. Weave through the front of the joint (with, yes, dead animal heads on the wall) to emerge on the back porch, where, except for the bar, it feels just like you're hanging out at an older gay guy's backyard barbecue with beer guzzlers in frayed jean-shorts.
BEST OUTDOOR SPOT TO HEAR MUSIC
Black Beetle
2532 W Chicago Ave at Maplewood Ave (773-384-0701)
DJs here know their crowd. Doses of hip-hop come in indie, underground and funky, while rock ranges from '70s stoner to modern garage. All can be heard from the sidewalk tables, where drinking pints of Goose Island's 312 blurs the boring view of a wood palette lot.
Pontiac Cafe
1531 N Damen Ave between Wicker Park and Pierce Aves (773-252-7767)It's impossible to be in the Wicker Park triangle and not hear the din from this converted gas station's patio. Aside from the insanely popular Friday night live band karaoke, DJs and bands fill the air with music, while an anything-goes crowd gawks at passersby, custom bicycles and shiny motorcycles.
Phyllis' Musical Inn
1800 W Division St at Wood St (773-486-9862)
One of Wicker Park's first spots for live music refuses to go the way of cover bands by booking local acts that play original rock. They're not always great, but the garden patio is. A scrappy mix of chairs and tables, a basketball hoop and groups of friends shooting the shit over cheap drinks makes for a classic summer night.
Hideout
1354 W Wabansia Ave between Willow and Ada Sts (773-227-4433)
A ramshackle, roadside house of country-rock in an industrial stretch of town wouldn't be complete without a few characters hanging out on the porch come summertime. Longtime local acts like Kelly Hogan and Devil in a Woodpile play inside, but the music can still be heard over the cracking of PBR cans out front.
BEST PATIO BAR FOOD
Jury's
4337 N Lincoln Ave between Pensacola and Montrose Aves (773-935-2255)
For one of the best tavern burgers in town (try the blue cheese, medium-rare) and a classy beer garden, this is the spot. Umbrella-topped tables get filled with young families from the neighborhood early, and later with couples and groups of friends. A wooden privacy fence, ivy-covered brick and a superbly stocked bar complete the package.
The Handlebar

2311 W North Ave between Oakley and Claremont Aves (773-384-9546)
The multiple bike racks out back are packed with every kind of two-wheeler imaginable come summertime at this biker bar (in the bicycle sense). Eco-minded folks chat over tasty vegan fare (the 'shroom caps and barbecue sandwich are great), check out each other's rides and sample from the ample list of diverse drafts.
Resi's Bierstube
2034 W Irving Park Rd between Seeley and Hoyne Aves (773-472-1749)
If you're craving a frothy stein of Franziskaner weiss with some great Deutsch fare to soak it up, head here. The beer garden could use a little better seating (green plastic tables, weathered benches), but the massive trees and German beer lanterns give it a cozy vibe.
Twisted Spoke
501 N Ogden Ave at Grand Ave (312-666-1500)
You wouldn't expect a burger called a "double fatty" (that'd be a whole pound of beef) to be made from organic ingredients, but then again you probably wouldn't expect a biker bar to carry more than 100 whiskeys, would ya? Give in to your gluttony while wasting the night away on the rooftop patio.
BEST SIDEWALK CAFE TO GLIMPSE THE NEXT JEFF BUCKLEY
Bad Dog Tavern
4535 N Lincoln Ave between Sunnyside and Wilson Aves (773-334-4040)
The bamboo on the walls and cozy rattan chairs make this a great place to throw back a couple of beers with better-than-average bar food. Get there early to nab a prime table on the main drag, where you'll spot Jim Croce wanna-bes leaving guitar lessons at the Old Town School of Folk Music across the street; the seats in back overlook the SUVs in the parking lot.
BEST (OKAY, ONLY) BEANBAG TOSS BAR
Cork & Kerry
10614 S Western Ave between 106th and 107th Sts (773-445-2675)
You can hang with the Beverly crowd at this South Side institution. The fenced-in, wooden deck has a homey, antique decor (i.e., wagon wheels and hanging plants), along with two bars that serve $1 domestic drafts during Sox and Cubs home games and beanbag-toss tournaments.
BEST MARGARITAS
Adobo Grill
2005 W Division St between Damen and Hoyne Aves (773-252-9990)
The kids walking by on Division would drink PBR, but with more than 80 tequilas on the list, the margaritas here are hard to resist. The mothership is the Maria Felix, a $50 concoction made with Herradura Seleccion Suprema and Grand Marnier aged 150 years. But add on a smoky shot of mezcal for another 75 cents, and the house concoction will do the trick.
Matchbox
770 N Milwaukee Ave between Carpenter St and Ogden Ave (312-666-9292)
If the thought of being crammed in this tiny boxcar of a bar makes you nervous, relax. The patio practically doubles the capacity of the place, and it's the perfect spot to throw back one of its margaritas, made with fresh lemon and lime juice, top-shelf liquors and powdered sugar, all poured with a heavy hand.El Cid 2
2645 N Kedzie Ave between Milwaukee and Diversey Aves (773-395-0505)
Don't be swayed by the small sidewalk patio; the real goods are in back. The sprawling retreat from the gritty city has plenty of trees, strings of Christmas lights, a strangely charming outhouse and, most important, its own bar that serves up the most delicious fresh mango margaritas in town.
El Tapatio Cafe
3400 N Ashland Ave at Roscoe St (773-327-5475)
Yeah, the only scenery here is a long urban stretch of Ashland Avenue. But a few pitchers of this restaurant's buzz-worthy margaritas with some friends, and the view gets prettier and prettier.
Twisted Lizard
1964 N Sheffield Ave between Clybourn and Armitage Aves (773-929-1414)
We're not sure how it does it, but this place transports us to Mexico with its awesomely potent margaritas and its chill patio. Fruit fans can get frozen strawberry or cranberry, but we like the classic lime, which this restaurant claims has nothing out of the ordinary but "lizard magic."
BEST SPOTS FOR DRINKING WITH YOUR POOCH
Elephant and Castle
160 E Huron St between Michigan Ave and St. Clair St (312-440-1180)
The new, second outpost of this English pub has added 40 outdoor seats along the sidewalk so you can have your pint and pub grub in the fresh air. Your pup can lap up some fresh water while you try to decide which single-malt Scotch you want to splurge on.
Fizz Bar and Grill

3220 N Lincoln Ave between Belmont Ave and Melrose St (773-348-6088)
Dog-friendly Tuesdays welcome you and your best friend to this Lakeview beer garden (enter through the outside gate). Outdoor TVs let you watch the Cubs games together, but you don't have to share your $3 pint of Sierra Nevada with your pup; he'll get his own drink from the water bowls.
O'Donovan's
2100 W Irving Park Rd between Hoyne and Hamilton Aves (773-478-2100)
Dogs are welcome at the sidewalk cafe, but not the beer garden, of this North Center favorite. (Access to the beer garden requires walking inside by food prep areas, which violates city health code.) But the ample sidewalk seating and the great beer selection make this compromise a welcome one.
Ten Cat Tavern
3931 N Ashland Ave between Byron St and Irving Park Rd (773-935-5377)
Contrary to the name, it's a dog's life come summer at this revered pool hall. More than 40 seats in a beer garden that feels like your own backyard makes this the perfect place to veg out with your furry friends on a summer night.
MOST OBVIOUS BEER GARDEN THAT HAD TO MAKE THIS LIST
Moody's Pub
5910 N Broadway between Rosedale and Thorndale Aves (773-275-2696)
Giant oak trees, three water fountains, a completely unpretentious crowd, an almost endless supply of spots to take a load off and arguably the best burgers in town. It's the quintessential summer beer garden, and if you haven't been, you have no business calling yourself a Chicagoan.
BEST OPEN-AIR SCOPING SCENE
Zella
1983 N Clybourn Ave at Racine Ave (773-549-2910)
Singles looking for a classy spot love getting spiffed up in their slinkiest summer gear for a night on this deck, a huge area with plenty of green, both foliage and in wallets. Pink martinis are de rigueur for the ladies, while the guys go for cocktails and the occasional Jager shot to work up the nerve to chat up the hotties.
Sidetrack
3349 N Halsted St at Roscoe St (773-477-9189)
This swank video bar attracts its share of queers with attitude, but you can rise above it all on the sunny upper deck—a much better spot to admire the tank-top–clad guys than the dark main bar below. Up top is also the one place to escape the endless stream of pop videos, show tunes and comedy clips. Sometimes, life without TV is a good thing.
Goodbar
2512 N Halsted St between Lincoln and Lill Aves (773-296-9700)
One look at the "aqua lounge" rooftop garden here and it seems like the people at Goodbar took the term watering hole literally. The turquoise paint treatment is meant to give the effect of shimmering blue water to the hoards of barely dressed boys and girls who crowd the place to whet their whistles.
Mickey's
2450 N Clark St at Arlington Pl (773-435-0007)
A virtual magnet for Lincoln Parkers in the summer, this sprawling front patio is smack on Clark Street, making for prime people-watching. Plasma screen TVs have been added to broadcast baseball games, which, as any South Sider could have guessed, will only show Cubs matches. When in yuppieville...
Northside Cafe
1635 N Damen Ave between North and Wabansia Aves (773-384-3555)
Part garden patio, part sidewalk cafe, the outdoor space at this stalwart is a visual reminder of Wicker Park's shifting population. Artsy musician types and new parents rub elbows early, but once the sun sets, it's prime territory for picking up virtually any kind of local. The surprisingly tasty pub grub is served late, and regardless of the Golden Tee and sports-tuned TVs, the meathead quotient remains low.