Full steam ahead
Chicago is home to a plethora of spas geared toward men. But does that include guys like us?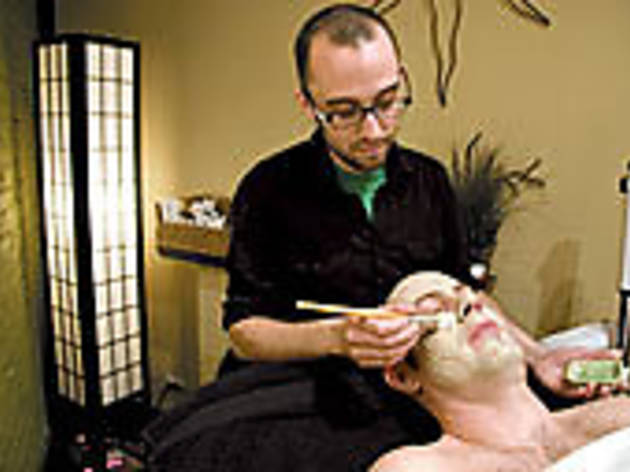 Men's spas are popping up in Chicago like blackheads on a preexfoliated face. But how much of a gay vibe do these places have, and how much of that is just metrosexual? I went undercover (or should I say under the covers?) to find out.
My first stop was Halo [for men](1655 N Damen Ave, 773-342-4256) in Bucktown. When I arrived for my foot treatment (don't say pedicure at a dude spa), "You Spin Me Round" by Dead or Alive was blasting. That seemed gayish, but that vibe pretty much halted there. The waiting area is like a guy's fantasy rec room stocked with DVDs like Rocky and Entourage Season One, assorted snacks such as Slims Jims and Twix candy bars and überhetero rags like Maxim. There were copies of Us Weekly, but that doesn't suggest gay so much as it does eighth grade. The treatment room was the size of a shoebox (clearly the salon is devoted to cuts), but it was comfortable and my technician (the entire staff was female) was wonderful. She lovingly pumiced the dead skin off the balls of my feet and ended the session by dipping my dogs in paraffin wax—a nice finale. Disappointingly, the gay vibe here is minimal. I guess these days Bucktown is mostly yuppies with puppies.
The gay buzz at Sir Spa (5151 N Clark St, 773-271-7000) is louder than a hornets' nest, so it was with much anticipation that I lined up an athlete's massage and hand treatment. I was not disappointed. The facilities are supermodern, with punch-key lockers, soft robes, complimentary beverages, a eucalyptus steam room and heavenly rain showers. There was plenty of gay activity here on a Sunday afternoon, but it was cruisey in a chatty, cultivated way (ahem, no risqué business in the steam room). My massage rocked; I told the therapist to basically beat the shit out of me, and he did. By the end my glutes were so relaxed I thought I was going to poo myself on the table. The hand treatment, which took place in the Grooming Club Room on the second floor, was akin to receiving a new set of palms and fingers, and I felt pretty ashamed hours later when I caught myself picking my nose.
I had a feeling that on a gay scale of one to ten, Chicago Male(3418 N Halsted St, 773-281-6005) was going to be a 12. My intuition was right on the money. While awaiting my facial I pretended to read from the selection of gay mags while keeping my eyes on the guy candy. My appointment was with Matt, the salon's full-time skin-care specialist. Matt's a real pro and he's elevated the art of the facial to something much higher. Although the facilities are small, when you're in the treatment room, he takes you somewhere else. He says about 30 percent of his clients are straight and describes them as businessmen, grooms, enlightened neighborhoodies and the occasional closet case. Matt also does full-body waxing, which includes just about any part not covered by a fig leaf. But I can't imagine getting naked in front of this cutie—I'd get a stiffy for sure!
My final stop was the much ballyhooed Division Street Russian and Turkish Baths(1914 W Division St, 773-384-9671). The main draw of this simple place is the Russian banya or "the oven," a hot room fueled by granite rocks heated by gas jets. I was nervous at first: My towel was about the size of a cocktail napkin and when I sat down it was across from a hirsute fellow with an unusually large mons pubis. The room was bustling with men, mostly immigrants and a few hipsters. Some sat covered in towels; most were nude. When I relaxed enough to let my own pejunkle hang out, no one batted an eye. I even mustered up enough courage to follow tradition and douse myself with a bucket of cold water, which felt amazing. Afterward, I showered off then repeated the pattern a couple more times, which apparently is the norm. A final rinse under the rain shower was a happy ending to my afternoon, so I chose to pass on a dip in the cold pool or a scrubdown in the steam room from one of the staff technicians. Since the gay vibe here is virtually nil, I suspect most boys will get their steam from a certain Boystown bathhouse. The endings there are the happiest of all.