Top sledding hills
Button up the coats and bring the brood to these sledding hills in Chicago and the suburbs this winter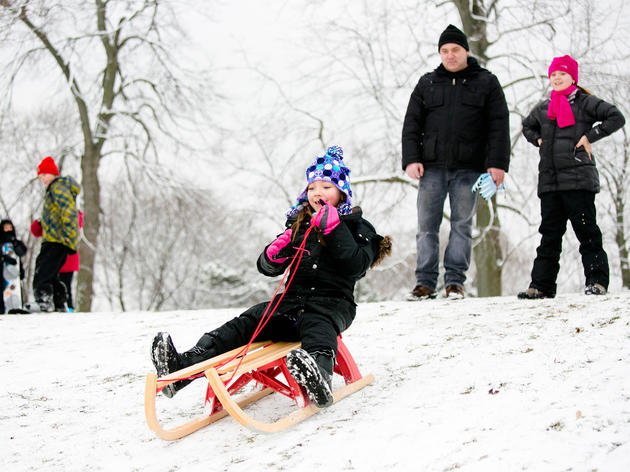 Best sledding hills
Don't grease up your sleds Clark Griswold–style, or you may find yourself in the Chicago River, which lies adjacent to the park.
Read more
Arndt Park
The lighted hill provides hours of fun, but if your kids crave more, there's an ice skating rink here, too.
Caldwell Woods
Soggy mittens and frosty temps can't stop the fun at this Northwest Side hill—there's a fire pit at the adjacent indoor warming center.
With a lakefront view, this four-sided hill has a steep angle your daredevil tweens aren't going to want to pass up. Just be sure to use the bathroom before you leave home, because there aren't any nearby.
Read more
Henry C. Palmisano Nature Park
This garbage dump turned sledding hill, dubbed Mount Bridgeport by locals, prides itself on the magnificent southern view of Chicago's skyline. Afterward, hop down the street to Jackalope Coffee to warm up over hot chocolate.
Like a zen oasis at the nexus of the Irving and Albany Park neighborhoods, this darling green space begets some smooth, none-too-fierce hill action on the Northwest Side.
Read more
With a skyline backdrop and a frozen pond a snowball's toss away, the sloping hills of Humboldt Park make for a particularly picturesque place to ready your sleds.
Read more
The main hill here was so intense the Park District had to restrict sledding to prevent injuries. But the side hill is still very much open and it packs a wallop of thrills.
Read more
The bowl-shaped valley at this suburban park means plenty of landing space to cruise.
Read more
Show more