Baby Teeth at Lincoln Hall | Interview and concert preview
The local trio shares tour stories ahead of its swan song.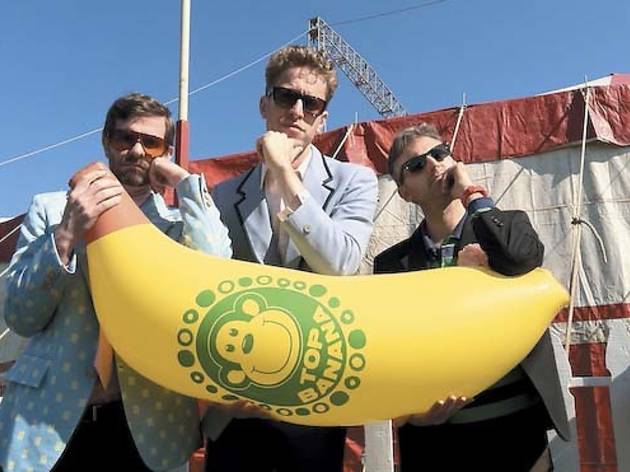 Three years ago I spent an evening at a karaoke bar with the guys in Baby Teeth. It was easily one of the most fun and entertaining interviews I've conducted. Ugly Kid Joe and Phantom of the Opera were butchered. Spectacularly. That quirky sense of humor has been essential to the trio's defiantly smooth synth-pop. Now, a decade beyond its inception, Baby Teeth is calling it quits as bassist-singer Jim Cooper heads to L.A., which brings us to the Last Schmaltz—the group's outsized and gloriously hammy good-bye. Following in the Band's model, the local group will be joined onstage by members of its extended family including Bobby Conn and folks from the 1900s, Outer Minds, Detholz! and Judson Claiborne. Covers are promised, and if my experience at Louie's Pub was any indication, this is an event not to be missed. Before the band's final bow, the three Teeth (and superfan Conn) wrote us with some of their favorite tour stories.
Abraham Levitan (vocals, keyboards):
"Some of our favorite moments have been in Akron—lots of great shows at the Lime Spider, where we were usually overserved by the kind owner, Dan. After one of these shows, we pulled away from the club without having closed the back doors of our van. We turned the corner and drove up a steep hill. After realizing our mistake, picking up a merch box and stuffing it back in the van (this time closing the back doors), I suggested we just keep heading to the house where we'd be sleeping. Luckily, designated-driver Peter vetoed that and said we should circle back around. We pulled up in front of the club to find bright red parking cones in front of the club, to alert passing cars that there was a sea of instruments and large amps in the middle of the street. Glad we listened to Peter.
Just a fun fact about the band: Whenever the three of us are at a restaurant together, I always get served several minutes after Jim and Peter. No explanation for it."
Jim Cooper (bass, vocals):
"Yet another Lime Spider memory: After sound check, we ventured a few doors down to a pool bar, which sported Tony Montana–esque mirrors and neon. After shooting a game of pool, we were startled by the sound of a whirring motor and husky, thick shouts—a gentleman in a power chair wended his way drunkenly through the bar as hapless patrons sprang out of the way. As he made his circuitous beeline to the men's restroom door, I circled around the pool table to hold it open for him. He cursed me as he whirred past, referencing "the aliens" among some other unintelligible gobbledygook. As we stood around the pool table, our eyes widened as he began to sing mirthfully about the impending alien invasion, his voice echoing in the men's bathroom. At that point we decided to leave."
Peter Andreadis (drums, vocals):
"Back in the early days of the band, we used to wear all white. In Austin, Texas, we were playing a showcase at SXSW and moments before getting on stage I realized I'd left my white pants at the place we were renting. Not wanting to break with tradition, I played the set Risky Business–style with a white button-down shirt, no pants and white sneakers. Abraham, of course, announced my entrance to the stage, bringing appropriate attention to my outfit."
Bobby Conn:
"They were dressed in white: White pants, white shirts, creepy preppie white canvas belts and white loafers. It was in a decidedly non-rock venue in Evanston, I can't remember the name. The tall keyboard player was trying desperately not to be tall, but he was very tall, scissoring his legs frantically. The bassist had all the riffs, melodic but played with aggressive abandon. The drummer was a cool cat, playing straight in the pocket like Al Jackson Jr., no extra stuff. So they were a soul band, but the difference was, when they sang in three-part harmony their voices blended like magic. I really hadn't heard too many people pull that off live. And the songs were funny, bittersweet and thoughtful; a smart kid's wonder at how grown up heroes like Diaghilev must live. I loved them immediately and still do!"
Baby Teeth brings the Last Schmaltz to Lincoln Hall Friday 20.