Cinderella story
How did a teenage burger slinger hitch a ride in the Smashing Pumpkins?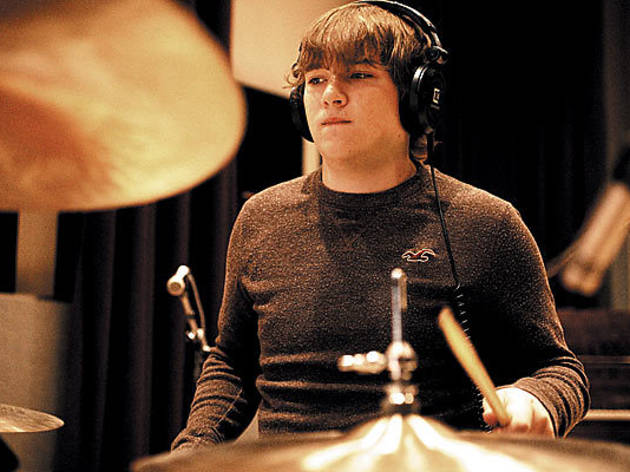 Mike Byrne, a ruddy-cheeked teen, left his job at McDonald's a few months ago. "It was a dead-end, crappy job," he says over the phone from his home in Beaverton, Oregon. "It made me realize I wasn't above anything." Since graduating from high school last year, the 19-year-old's been living with his parents, Chris and Eric. And Bearcubbin', Byrne's trio of friends noodling through noisy prog-rock, can book gigs only in basements and bars around the Pacific Northwest.
He has to pinch himself. The young drummer's living the fantasy life.
The former fast-food drone is now, somehow, in the Smashing Pumpkins, a platinum-selling rock band that's been on Earth longer than he has.
In March, while poking around the Internet, Byrne saw a blurb ("in either, like, Newsweek or Pitchfork") announcing an open call to replace Jimmy Chamberlin, the Pumpkins' twice-axed stickman. Byrne mailed in a cheaply shot video of himself winning a local Guitar Center drum-off. "I was trying to be realistic," says the precocious drummer who'd studied rudiments as well as Latin and jazz techniques since the eighth grade. "There's a ton of people sending in videos." Indeed, there were more than 1,000.
Three days before the audition, an e-mail arrived asking Byrne to come to Burbank, California. "I lost my mind for a second," Byrne says. On April 10, a jet whisked the anxious kid to LAX. He followed directions to a nondescript studio near the airport and dialed his contact. "The guy came out and yelled to come in some room," he says. "I just stood there for ten minutes looking like a complete dork." When we mention the video clips from the tryout that popped up, oddly, on David Lynch's website, the rookie rock star groans: "I sound like a tool. Good thing Lynch found a way to make me look horrible and emaciated."
There was no green room filled with pacing percussionists, but Byrne's escort mentioned that John Dolmayan, the monster behind the kit in Grammy-winning System of a Down, had just popped in. Then Byrne was standing before his idol, Billy Corgan. The two chatted for a bit before jamming through some odd-time signatures and a rough song Corgan had been fiddling with. "You're a fucking killer drummer," Corgan tells Byrne on the Lynch clip. The admitted "geek fan" knew most of the back catalog from playing along to records in his bedroom, but he was never asked to play Pumpkins chestnuts.
In fact, Byrne's yet to play any old material with Corgan. The new lineup has been busy working on an imminent 44-track opus, Teargarden by Kaleidyscope. Corgan put Byrne up in a Staybridge Suites hotel in a dull office district, north of Chicago in Northbrook. Confidentiality agreements prevent the newcomer from discussing specific studio locations, track details or song titles. But the jovial adolescent frankly discusses his budding relationship with his 42-year-old bandleader.
"He's a really, really easy guy to get along with," Byrne says. "From the day I got there he was totally open to my opinion"—except at lunchtime, when a lingering McDonald's addiction rubs up against Corgan, a vocal PETA supporter. "I get dirty looks when they're eating their crazy green macrobiotic shakes," Byrne says, laughing. "I'm sitting there with a Quarter Pounder, like, what?"
Not unlike a college football coach, Corgan helped put Chris and Eric Byrne at ease when recruiting their son. "My parents' major concern was that I was going to end up in some terrible situation," Byrne says—meaning sex, drugs and rock & roll. Since taking up the drums at age 12, Byrne's dedicated all his time to the instrument, much to his parents' chagrin. "There's a moment where you see my ability go up and my GPA go way, way down," Byrne says with a chuckle. "I had F+, F+, F+ in everything. This was an extremely lucky break."
Now all Byrne has to fear is wardrobe. "I'm fairly sure Billy's not going to outfit me in a black leather skirt," he says. "But I cannot say I'm not a touch worried."
The first four songs from Teargarden by Kaleidyscope are due to be released this month for free at smashingpumpkins.com.