Jack White | Interview
Swedish folk duo First Aid Kit plays reporter and interviews Jack White.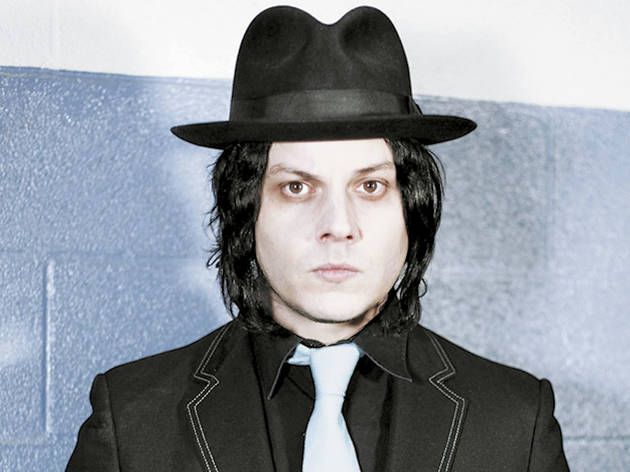 I ask Jack White if he can tell the difference between Johanna and Klara Söderberg, the sisters of the Swedish folk duo First Aid Kit, over the phone. "Oh, most definitely," he says from his office in Nashville. "Johanna has a little bit of a lilt in her voice." I don't hear it, but he's the legendary producer and rock idol of his generation, so I'm not arguing.
Johanna, 21, and Klara, 19, met the now-37-year-old White in 2010, when they were passing through Nashville. The women got a surprise invitation to drop by the Third Man Records studio, White's headquarters that sit in an industrial area. It was the Söderberg sisters' first time recording in a real studio. They describe it as looking like a can factory. White recorded the two singing an old Buffy Sainte-Marie song called "Universal Soldier." White remembers, "It was beautiful. I wanted to just sit there and listen to them rehearse it over and over again."
When they hear him say this, the two—huddled over a cell phone in a hotel in England—gush and freak out a little bit. Earlier this year, First Aid Kit opened for White on his European tour, promoting a new sophomore album, The Lion's Roar, on which their dad plays bass. White regrets not having had enough time to chat with them on the road, so he requested this teleconference.
TOC Jack, you're from a big family. Does the family vibe of First Aid Kit appeal to you?
JW Yeah. I surround myself with lots of people all the time. [On Christmas] at my house, there's 30 people running around. Psychologically, I tend to surround myself with a bunch of people. That might be why I have two bands on tour with me now that I'm quote-unquote solo.
TOC Yeah, why do you have two bands?
JW It came from working on the album. It was a production idea to shake things up. What if tomorrow I had only women play with me, and the day after that do the exact same songs with only men playing the songs? What would the energy in the room be like? Anything can shake up the room.… Even if there's a girl in the control room, with all guys playing, they'll play differently.
TOC You seem drawn to working with female musicians, even with this interview. Can you all try to elucidate the differences between how women approach making music and how men approach making music?
JW I think it's funny how the perception is still backdated. It's still considered a novelty if a girl goes onstage and has a guitar in her hands. It's considered nifty or it's a oh-isn't-that-sweet kind of ridiculous prejudice that should have went away 40, 50 years ago.… The only difference I can see is that it's easier to produce records or work along with females because a lot of the ego or whatever else—the hang-ups—that a guy has are not present and it's about getting down to art and music and the work at hand. Of all the records I produce for Third Man, the ones that are the hardest [to do] are the ones by white male hipsters in their twenties. It's like a minefield.
TOC Klara and Johanna, do you agree with that?
JS As women, we definitely get treated differently than if we were men. Especially when we started out, being 14 or 15, the way people looked at us was really annoying.
KS The fact that we were both young and women trying to do our own thing, a lot of people in the business, sound technicians, people like that, would look down on us or didn't think we knew what we were doing.
TOC Jack, a question for First Aid Kit?
JW Hmm, I don't know. What did they have for breakfast?
KS Ah. We had eggs and bacon—
JW Don't tell them any more than that!
TOC First Aid Kit, questions for Jack?
JS We have a list here! We're very prepared.
KS Okay, Jack, working with you was a dream come true for us. We were comparing it to winning a golden ticket to the Willy Wonka factory. We wanted to ask you if you had experiences like that in your life.
JW Oh, my goodness. Well, man. Well, Bob Dylan asked me to come down and play a song with him in Detroit, when I was living there. And I came down there and I thought we were going to play one of his songs, and he wanted to play one of my songs. And then he sang it. So that was one of the greatest honors that can be given [to] a songwriter.
KS Whoaaaa. Yeah! That's hard to imagine.
JS This early in our career we still have moments where we're just like, wow, this is, like, completely insane! But now we've also started to forget that feeling as it becomes part of our everyday life. Do you still have moments like that? Or does a music career have to become like everyday life?
JW I'm a bad person to ask about that. When people say "happiness" and "fun" involved in music, I have a very hard time finding where to experience those things. … I can't tell the difference between 100 people clapping and 100,000 people clapping. I can't tell the difference and I don't feel a different boost of anything. A smaller club show might put me in more awe than playing Lollapalooza, as I can actually see the whites of people's eyes and feel I am a little bit closer to them.
TOC Jack, what about when soccer crowds chant the riff from "Seven Nation Army"? You hear that at every game now. Does that make you step back and go, wow?
JW The first thought that came to my mind when I first heard a crowd doing that was there's this movie called Yankee Doodle Dandy with Jimmy Cagney in it and he's playing the songwriter George M. Cohan. There's a scene in the movie where they're having a parade at the end of World War I and soldiers are marching down the street and everyone is singing his song. And he's hearing it and he starts walking along with the soldiers and a soldier turns to him and says, "What's the matter, old man, don't you know this song?" And it's a beautiful moment because he doesn't tell the soldier, "Yeah, I wrote it." It's a beautiful moment to just be a part of the mob and absorb the idea that you don't own music. Once it's out in the ether, it becomes folk music. That's your goal as a musician, to make folk music.
KS We often read the reviews of our records and shows. Do you read your reviews?
JW As someone who goes out and makes albums and sells them in stores and goes on stage and performs in front of other people, you are definitely making an attempt to share with other people. It would be ridiculous to say you're sharing with other people and you could care less what their opinion is. I think a lot of people like to pretend that is the artistic ideal. But I don't think it's that easy or that any artist really lives like that. If someone walks up to me on the street and says, "I love your album," and then I read a review the next day and someone says my album is terrible, the negative voice is ten times as loud, but it's also ten times as inspiring.
First Aid Kit takes the PlayStation stage at noon Friday 3; Jack White closes Lolla at 8:15pm Sunday 5 on the Red Bull Soundstage.