Neutral Milk Hotel is making a comeback—get pumped, Chicago
Iconic indie-rock band Neutral Milk Hotel returns to the stage, after 15 years spent dodging the spotlight. And it's kind of a big deal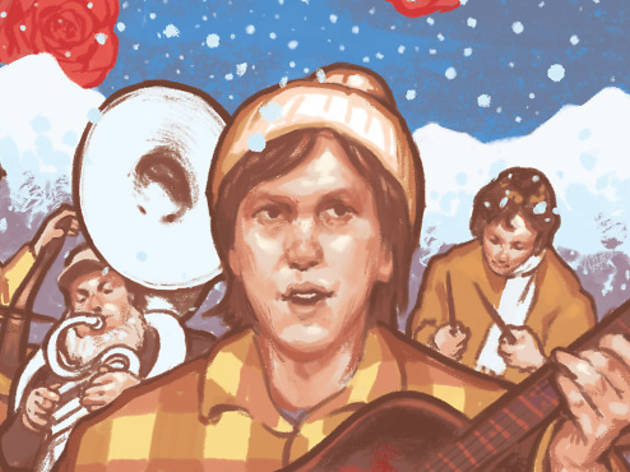 If you've been wondering why that music-obsessive friend of yours has been marking off the days until the new year, here it is: After 15 years of near–radio silence, cult legends Neutral Milk Hotel are on an international tour, original lineup intact (including iconoclastic frontman Jeff Mangum), that will bring them to Chicago for two nights in February. And this isn't just any comeback.

The four-man outfit was the standout of the late-'90s Elephant 6 Collective, a group of like-minded musicians centered in Athens, Georgia, who obsessed over 1960s greats like the Beach Boys and Syd Barrett. (Also among its ranks: Of Montreal and the Apples in Stereo.) In the Aeroplane Over the Sea, released in 1998 on the now-iconic Merge Records, was only NMH's second studio album—and Mangum's magnum opus. It took folky singer-songwriter material and dragged it through a psychedelic-punk carnival of instrumentation. Partially a concept album about Anne Frank, it's a deeply idiosyncratic collection of songs, bristling with bizarre, dreamlike lyrics relayed in Mangum's signature wail.

A year after the record's release, the band drifted apart. Its leader became a Salingeresque recluse, eschewing interviews and public appearances for years on end. But a funny thing happened while Mangum was hiding from the spotlight: Aeroplane ascended to legendary status—the subject of many a rhapsodic think piece (and music-nerd tattoo), and consistently showing up on critcs' best-of lists.

NMH's impact on music has been monumental. Artists as diverse as Arcade Fire, Danger Mouse, the Decemberists, Mikal Cronin and Girl Talk have cited the group as a key influence. Elements pioneered by the boys from Athens routinely appear in indie-rock and pop today—you can hear them in the stomping banjo riffs of Mumford & Sons and the Lumineers; in the cathartic, visceral songwriting of Okkervil River and Frightened Rabbit; and in the ragged marching-band aesthetic of Beirut and Gogol Bordello.

When Mangum returned to the stage solo in 2010, it only served to whet fans' appetites. In an era when festival-headlining reunions are a dime a dozen, this is a big one—and unexpected to boot. Here's hoping it's been worth the wait.
Neutral Milk Hotel plays Riviera Theatre February 6, 7.