Sharon Van Etten at Lincoln Hall | Interview and concert preview
Brooklyn songbird Sharon Van Etten opens up about her third album, Tramp.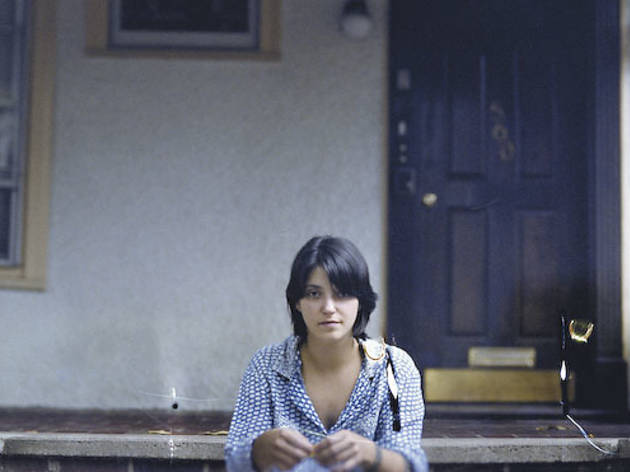 It's half past noon when we reach Sharon Van Etten on the phone in her Brooklyn apartment and she's still in her bathrobe, sipping coffee. Judging by her whisper, she's on her first cup. This is the first in a day full of interviews for the singer-songwriter, who readily admits she's still adapting to life as a full-time musician. "It's been a little overwhelming," she says. "I can't really get a hold of it yet."
It's not hard to see why. Just a couple of years ago she was opening the 2010 Pitchfork Music Festival on her own, armed with only a guitar and her voice. Now, she's in the midst of a press blitz, coming off a recent appearance on Late Night with Jimmy Fallon, backed by a full band for a run through "Serpents" off her Tramp, her third and most ambitious effort yet. Joining her onstage was guest guitarist Aaron Dessner of the National, who had a significant hand in recording the new album.
"Since the last record, Epic, I've been trying to keep the balance of touring and writing and having a life," Van Etten says, explaining that she'd been gigging in support of that album up until September. The 30-year-old was on the road so much that she went homeless for about two years, living out of a car and crashing on friends' couches. Tramp came together piecemeal, assembled with Dessner when the two's touring schedules permitted. This forced the New Jersey native to write not only in unusual intervals, but for her new bandmates. She tapped out one drum part on a MIDI keyboard while riding in the van. "I'm not really good at technical speak so I have to make noises and gestures, caveman style."
She may have difficulty articulating musical ideas, but when it comes to emotional terrain she's direct and analytical. The 12 songs on Tramp play like a confessional, unguarded and ultimately cathartic. "You're the reason why I'll move to the city or why I'll need to leave," goes the refrain of "Give Out." The quiver in her voice underscores the heartache. "Self-therapy" is how Van Etten describes it. "I start off writing for myself to try to understand what I'm going through," she explains, "and if I can take it to a place where it's general enough for people to understand and it's not just something specific to me, then I try to make it as positive as I can for a love song." Still, the first-person lyrics are invariably stark, like the black-and-white portrait for the album cover, to say nothing of the severe title, a tongue-in-cheek nod to her nomadic existence.
The sporadic album sessions mirrored her transient lifestyle during that period, recorded and mixed in three studios over the course of a year, though the heart of the album was born in Dessner's garage in Ditmas Park in Brooklyn. Van Etten lights up when describing the distinctive enclave. "It's this really amazing neighborhood where it's all Victorian houses and tree-lined streets and it's really quiet. You feel like you're getting out of the city, although you're still in Brooklyn."
Van Etten was so enamored that she finally got a place of her own there in October. "I spent so much time here, I felt like I was actually a neighbor." And at once it's startlingly clear that a basic creature comfort like brewing coffee in your own home is, for her, a hard-won triumph.
Sharon Van Etten plays Lincoln Hall Thursday 16 and Friday 17. Tramp is out now.