Kristen Ashley, the chef behind Cleo's Southern Cuisine in Bronzeville, cooks Creole and southern-style food that's been known to draw lines around the block. But don't ask her about her favorite item on the menu—she never tastes anything she makes.
"It's not because it doesn't look good," she explains, laughing. "I just eat like a 7-year-old: chicken tenders, mac and cheese, mashed potatoes and bread. And I like to joke that I'm allergic to salads."
Instead, the Bronzeville native relies upon intuition and research to craft her dishes, taking an almost scholarly approach to food and flavor pairings to cook heaping plates of jambalaya, Creole-fried catfish, collard greens with smoked turkey and other rib-sticking creations. But her best dishes, she says, come from in-the-moment decisions in the kitchen.
"Most of the time it's kind of like, oh, in theory, this should go together and this should go together—let's try it and see what happens," Ashley says. "And I haven't struck out yet, so I'm going to cross my fingers and hope it continues like that."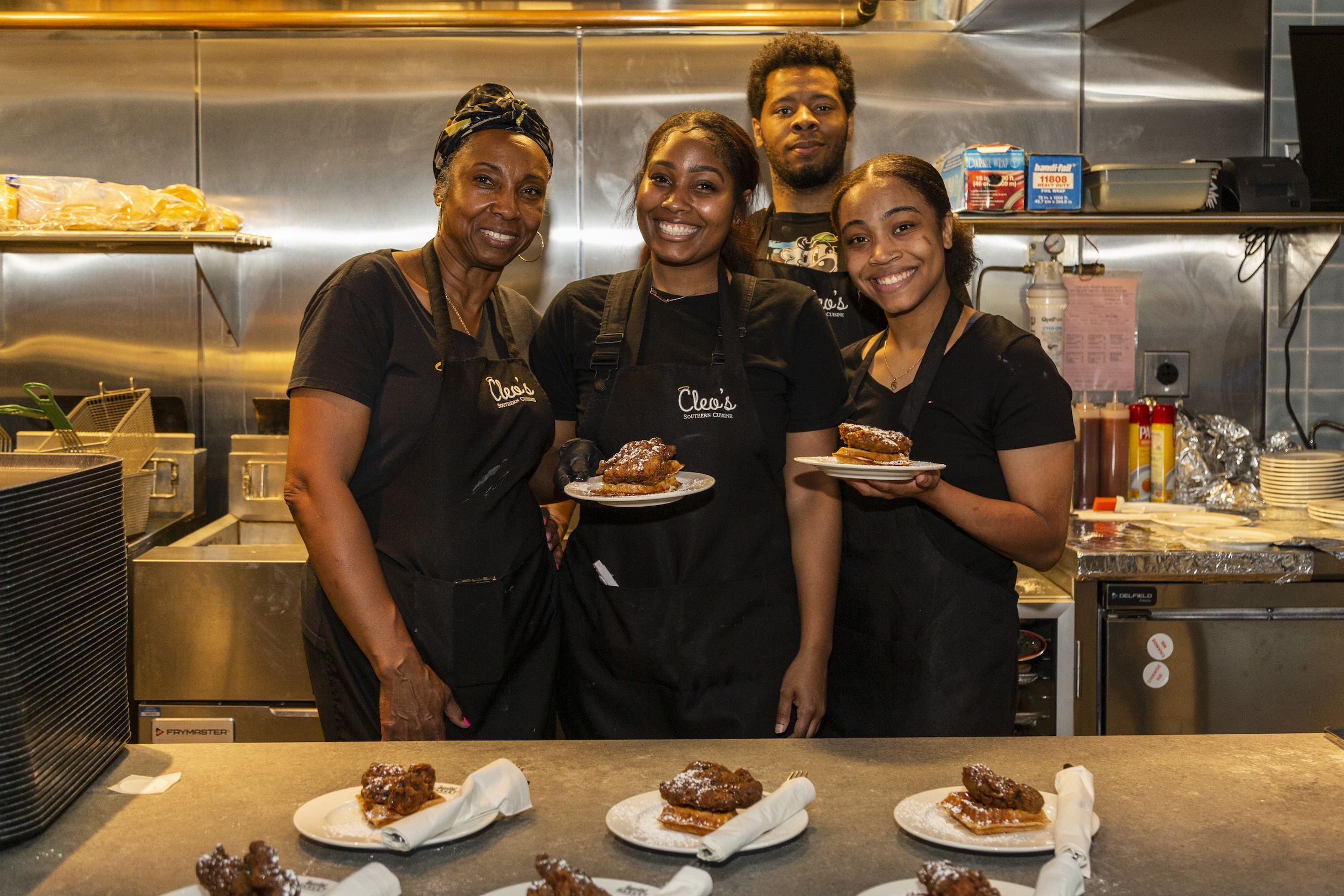 Cleo's success story is driven by a similar mixture of hard work and spontaneity. A college basketball player, Ashley worked as a sports journalist for several years before starting a catering business in 2014 at the suggestion of her friends, who fawned over her cooking. She'd picked up cooking in college, largely from watching her then-boyfriend's mother and grandmother prepare classic Creole dishes at their home in Louisiana. Her first catering event—a party for 250 people—came just a month after she started working the business with her aunt.
"We were so naive we didn't start shopping until Thursday night," she says. "Didn't start cooking until Friday night. We were up all night long."
But despite everything, the event was a huge success. Ashley continued catering for five years before opening Cleo's in May 2019, in a building on Cottage Grove four blocks from where she grew up. The grand opening got a huge boost from Jeremy Joyce of Black People Eats, who reached out to Ashley on Instagram to shoot a video of her chicken and waffles dish to share with his followers. The video alone was sufficient to sell viewers on showing up for the opening: "The line was down the street and around the corner," Ashley says. Of course, it helps that the chicken and waffles in question—loaded with crispy thighs, drizzled maple syrup and a sprinkling of powdered sugar—are good enough to keep people coming back.
Eventually, Ashley says she'd like to open Cleo's locations across Chicagoland and the rest of the country. Most recently, Cleo's expanded to Time Out Market Chicago, where Ashley is offering a condensed version of her brick-and-mortar restaurant's menu (including two variations of the much-loved chicken and waffles dish). In between running the Bronzeville and Time Out Market locations, Ashley also finds time to coach varsity girls basketball at Whitney Young High School, her alma mater.
It's a busy schedule, but Ashley says she's motivated by another culinary inspiration: Her late grandmother Cleo, whom the restaurant is named for, and whose name is tattooed on Ashley's wrist. The two were extremely close, and Cleo—who Ashley describes as jazzy, warm-hearted and always dressed up in a fur coat and hat—cooked many of the classic dishes that are now on the Cleo's menu.
"Everything that I do, she's moving through me," Ashley says. "I really wanted to do something to honor her, and for her name to ring in the city—and hopefully nationally, one day."
Stop by Cleo's Southern Cuisine in Bronzeville at 4248 S Cottage Grove from Friday through Sunday, or visit Time Out Market from Wednesday through Sunday.