Heads up! We're working hard to be accurate – but these are unusual times, so please always check before heading out.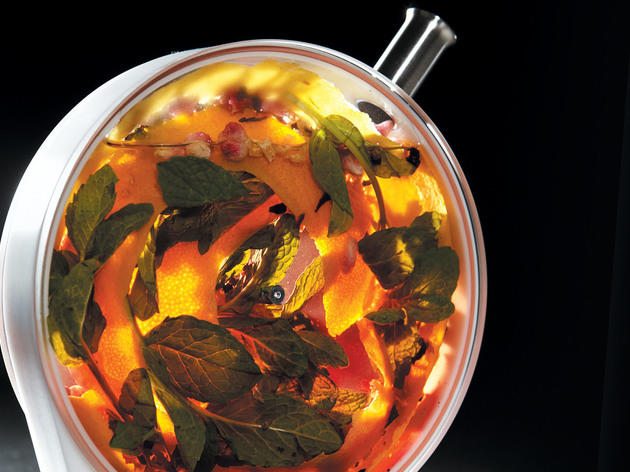 1/25
Photograph: Damien Thompson
Porthole at the AviaryMartin Kastner's now iconic two-sided glass serving infuser has become a permanent fixture on the menu at the West Loop cocktail den. Though the drink changes seasonally (it's always a combination of booze, tea and seasonal produce), it's hard not to give a little sigh of pleasure at a drink that sparkles like stained glass in the candlelight.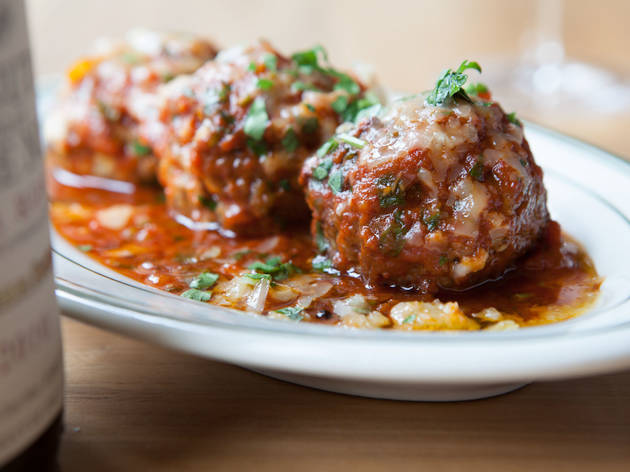 2/25
Photograph: Martha Williams
Meatballs at VeraThere's no better place to go for tapas and sherry than West Loop's Vera. Here, the meatballs are rich and homey, made with a rotating blend of pork and veal and made tender with breadcrumbs. The addition of a well-balanced tomato sauce and shavings of manchego cheese elevate them to a superb dish.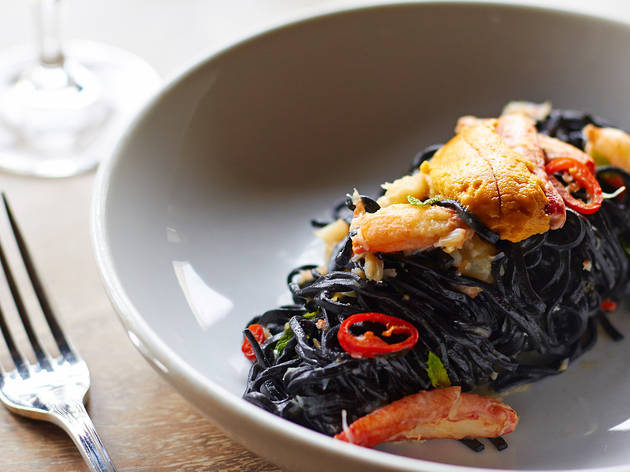 3/25
Photograph: Jason Little
Tagliolini nero at BalenaIt's hard to come up with the words for how we feel about this pasta dish without sounding like a cliché character in a romantic comedy. Sweet, salty crab meat, creamy sea urchin and spicy chili peppers top a flawlessly cooked tangle of jet-black squid ink pasta. It's pasta perfection.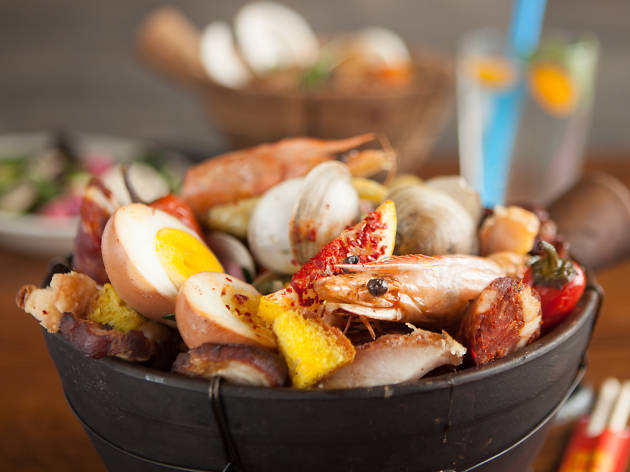 4/25
Photograph: Martha Williams
Fat rice at Fat RiceWith so many impeccable dishes at the Macanese restaurant, it's hard to choose a favorite, but the classic is the namesake arroz gordo (fat rice), a kitchen-sink dish of shellfish, sausage rice and other goodies heaped into a clay pot.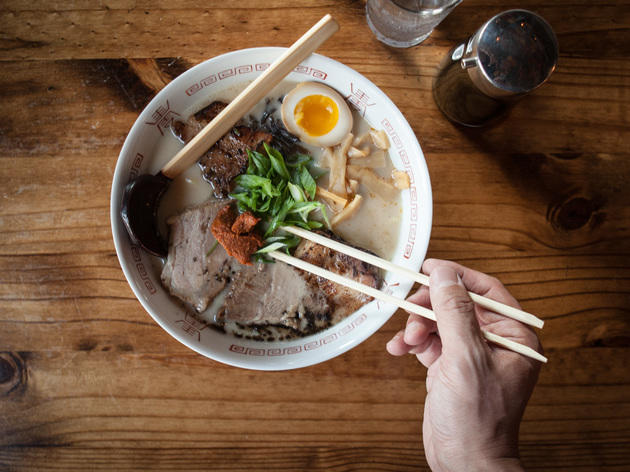 5/25
Photograph: Martha Williams
Tonkotsu ramen at WasabiThere's a reason this cozy BYOB Japanese restaurant on a less populated stretch of Milwaukee has crowds of people huddled around the door almost every weeknight. The tonkotsu broth is always boiling in a huge pot behind the bar, and the time and care taken to make it is more than evident. Add the umami bomb to your order for a kick of heat.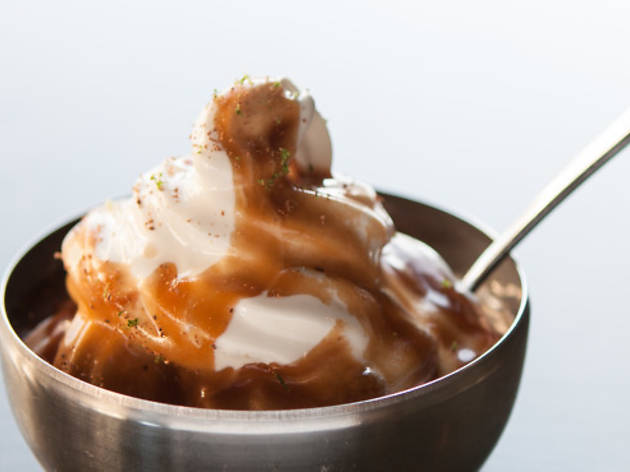 6/25
Vietnamese cinnamon caramel soft serve at Belly ShackSkip waiting in line with the summer crowds at Margie's and head a few blocks south to Bill Kim's Bucktown spot for ice cream. The deeply caramelized sauce is spooned over a dish of simple vanilla soft serve and finished with a generous dusting of cinnamon. The rich flavors and spice make it a favorite no matter the weather.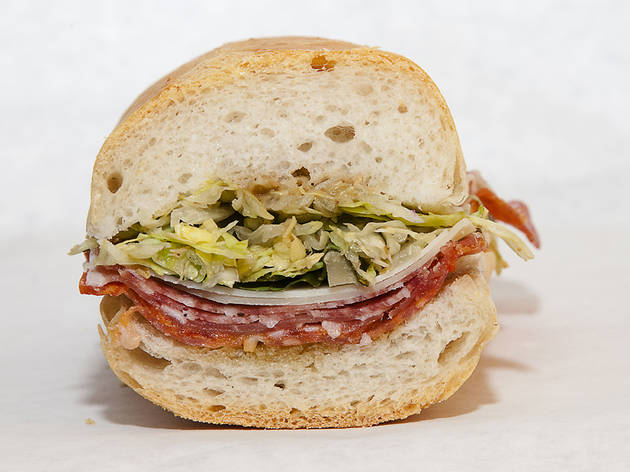 7/25
Mr. G at J.P. GrazianoAny time we find ourselves in the West Loop around lunchtime, we're stopping at J.P. Graziano for lunch, and specifically for the Mr. G, a sandwich layered with sopressata, salami, prosciutto, provolone, artichokes, basil and an assortment of condiments on D'Amato's Italian bread.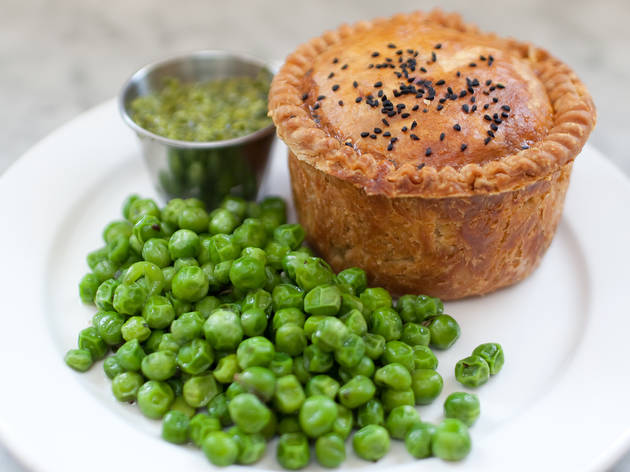 8/25
Photograph: Erica Gannett
Mushroom and kale pie at Pleasant House BakeryThis Bridgeport staple serves up classic British pub fare, from scotch eggs to classic chips. While all of the flaky single-serve meat pies are delicious, it's the surprising combination of mushroom and kale that stands out with a rich and earthy flavor.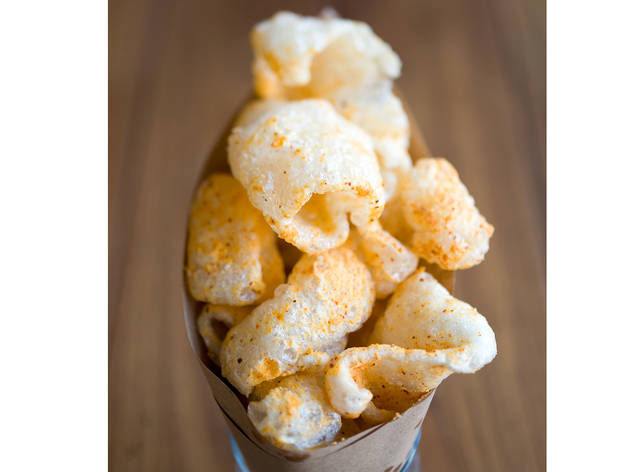 9/25
Photograph: Brendan Lester
Spicy pork rinds at the PublicanAn instant classic since the Publican opened, the pork rinds have been a welcome and memorable addition to any meal here. Though the flavorful dusting of powder might occasionally change, these crispy bits of pork are the perfect start to a meal, or a great snack to pair with a drink from one of the city's best beer menus.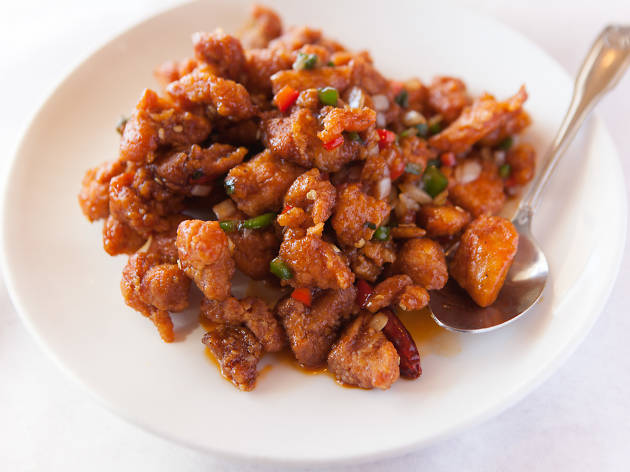 10/25
Photograph: Martha Williams
Tony's three chili chicken at Lao Sze ChuanTony Hu's namesake dish at Lao Sze Chuan consists of crisp little nuggets of dark meat chicken bedecked with Sichuan peppercorns and chilies. It's fiery, yes, but also a little sweet, and absolutely delicious.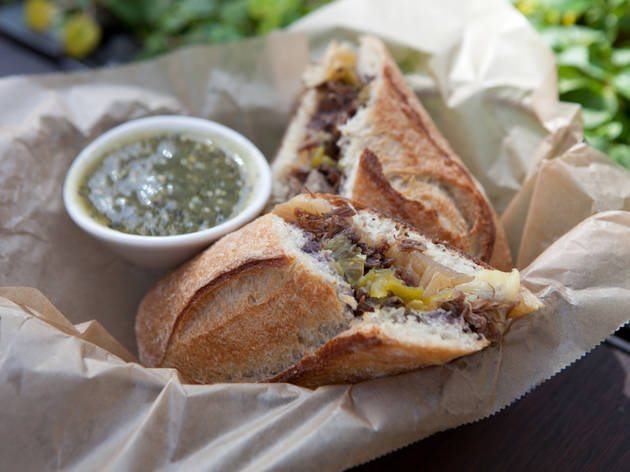 11/25
Photograph: Martha Williams
Pepito torta at Xoco and Tortas FronteraNext time you're at O'Hare, skip the giant bag of popcorn and grab a torta from Rick Bayless's Tortas Frontera as a souvenir. We love the pepito torta, made with rich, braised beef short ribs, sweet caramelized onions and spicy pickled jalapenos. And good news if you're flying out of Midway—the sandwich is also available at both Chicago Xoco locations in the city.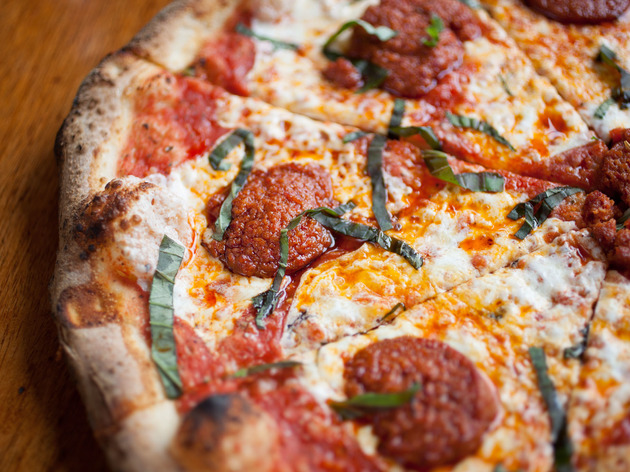 12/25
Photograph: Martha Williams
'Nduja pizza at CoalfireCoalfire proves that a pizza doesn't have to be deep-dish to be a Chicago classic. Here, the 'nduja pizza, made with spicy 'nduja, a spreadable sausage from Publican Quality Meats, is not to be missed, with a thin, crispy crust topped with tomato sauce and fresh mozzarella.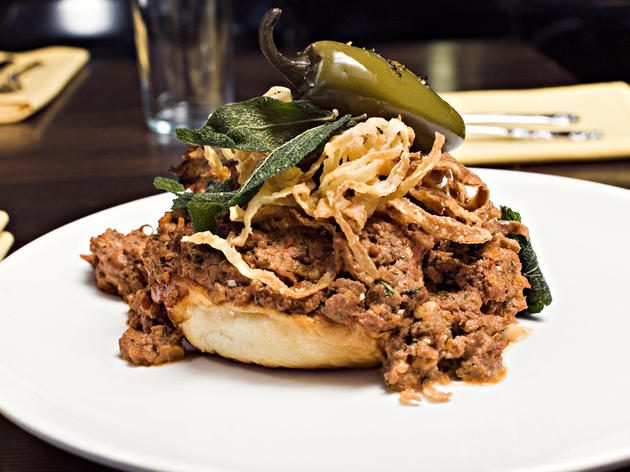 13/25
Photograph: Clayton Hauck
Wild boar sloppy joe at Longman & EagleA classic re-conception of this childhood favorite has been on the menu at Logan Square's Michelin-starred restaurant since it opened. Topped with jalapenos, the smoky-sweet braised boar meat is tender, a little bit spicy, and exactly what we wish sloppy joes tasted like when we were kids.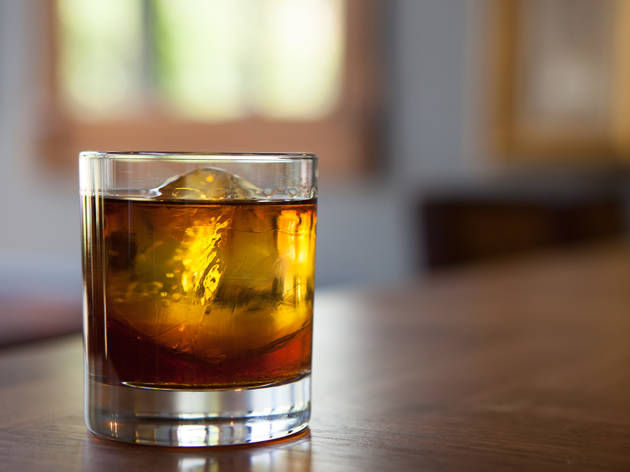 14/25
Photograph: Martha Williams
Old-fashioned at Billy SundayWhile the cocktail list at Billy Sunday is always full of wonderful new surprises, the classic and near-perfect old-fashioned remains a cornerstone of the menu. Made with Kentucky bourbon and a crystal-clear chiseled ice cube, this simple drink shines due to the use of amaro instead of traditional bitters.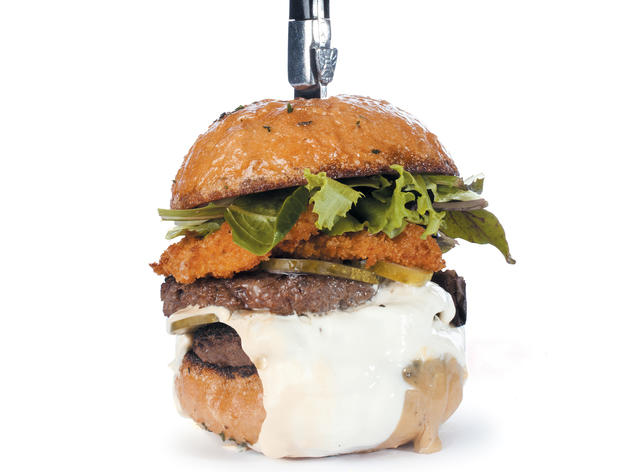 15/25
Photograph: Martha Williams
The Nightwood cheeseburger at NightwoodChef Jason Vincent may have left the kitchen, but under Shae Daher the giant cheeseburger lives on. There are two patties, cheddar, pickles, mustard, special sauce and an onion ring, which provides some crunch, and thin, perfectly salted fries that threaten to steal the show.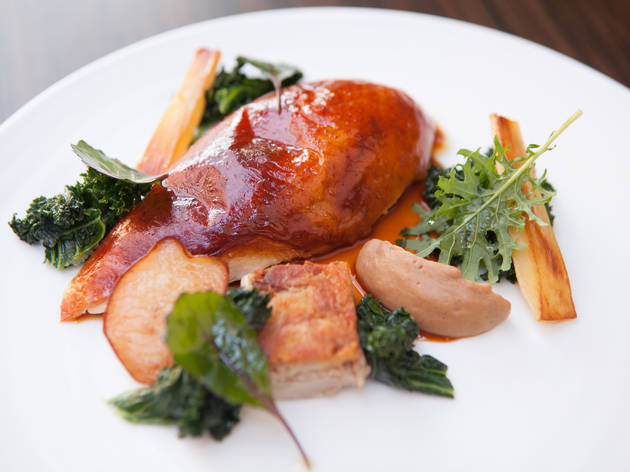 16/25
Photograph: Martha Williams
Roasted chicken at BokaAmong a menu packed with superlative dishes at the newly revamped Boka, it's hard to single out just one. With the standout roasted chicken, chef Lee Wolen works his chicken wizardry by presenting the bird in three ways, from confit to a juicy breast topped with creamy brioche stuffing.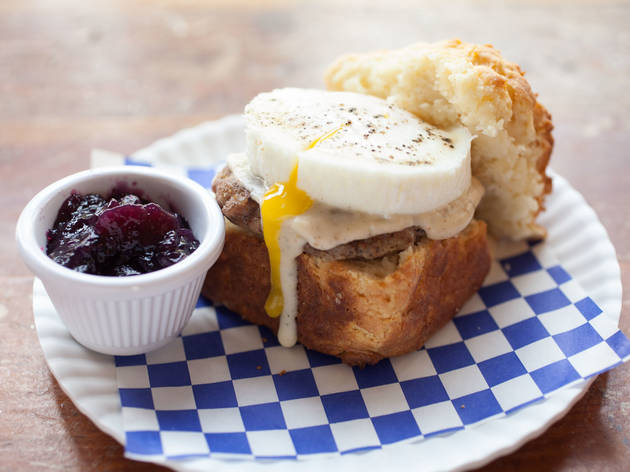 17/25
Photograph: Martha Williams
Biscuits at Bang Bang Pie ShopUnlike the pie flavors that change with the seasons, the fluffy biscuits at Bang Bang are a comforting, constant presence on the menu. The cake-like interior is the perfect blank canvas for either sweet or savory toppings, and you can't go wrong with one of the daily specials. Purists will be just as content with a smear of butter or jam.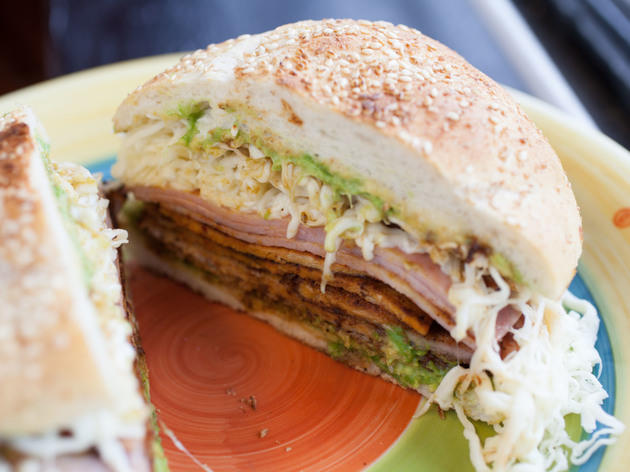 18/25
Photograph: Martha Williams
Atomica at Cemitas PueblaThe Humboldt Park original location may have closed, but there's a West Loop spot to get your fix of these unique Mexican sandwiches. Our favorite is the Atomica, made with spit-roasted shaved marinated pork chops and ham layered on sesame-seed bread with cheese, avocado and chipotle peppers.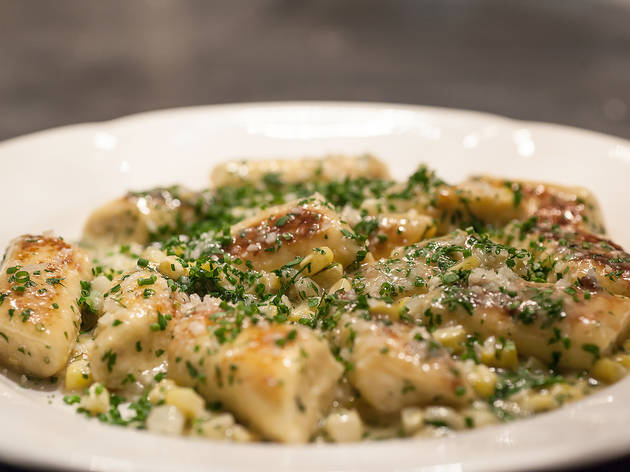 19/25
Photograph: Kari Skaflen
Ricotta gnocchi at Maude's Liquor BarIt's hard to not fall in love with the food served in the dark, glittering atmosphere at Maude's in the West Loop. While the accompaniments change seasonally (brown butter and sage in the fall, grilled and pickled ramps in the spring), the tender and impossibly light ricotta gnocchi always satisfies.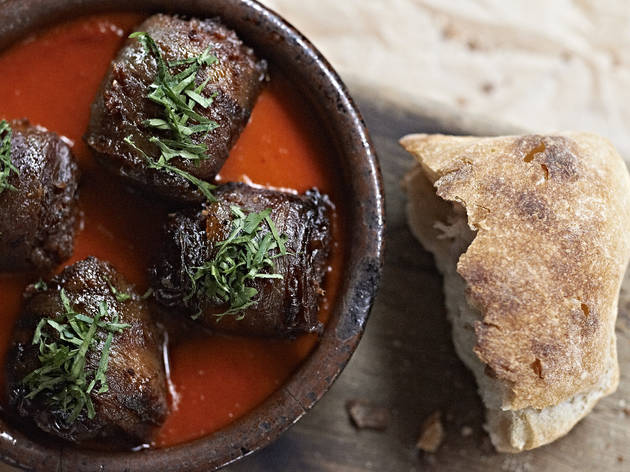 20/25
Photograph: Derek Richmond
Chorizo-stuffed medjool dates at Avec Avec has undergone several chef changes in the past couple of years, but the dates remain. Stuffed with chorizo, wrapped with bacon, and basking in a tomato and piquillo pepper sauce, the dates are the dish that insp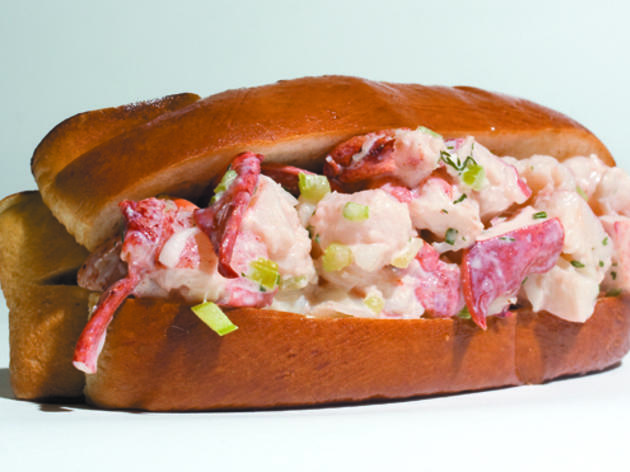 21/25
Photograph: Martha Williams
Maine lobster roll at GT Fish & OysterFrom oysters to clam chowder, there's no better place to get casual seafood downtown than GT Fish & Oyster. We're crazy about the Maine lobster roll, a crispy, butter-laden roll that surrounds a generous mound of mayonnaise-coated lobster.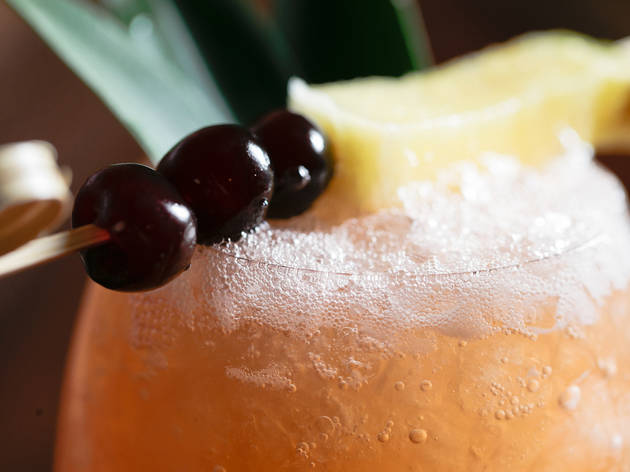 22/25
Three Dots and a Dash at Three Dots and a DashWhile it's almost impossible to pick a favorite drink on the menu, you can't go wrong with the namesake concoction. Made with (lots of) rum, citrus juices and Falernum, just one Three Dots and a Dash and you'll feel like you're swaying to steel drums on a tropical vacation.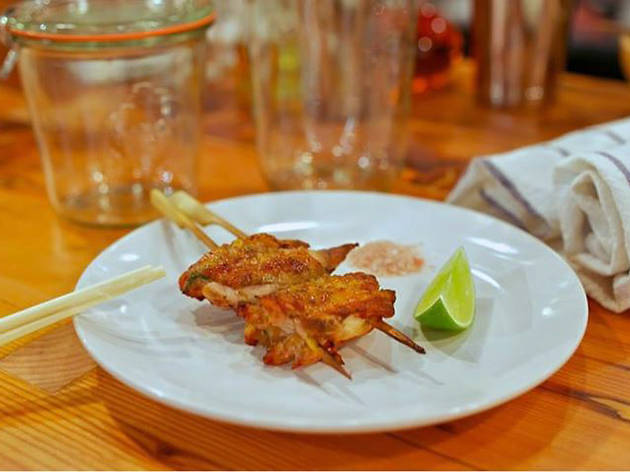 23/25
Chicken wings at YushoIf we could, we'd order the plump wings at Yusho by the bucket. Deboned and stuffed with even more chicken and herbs, they're grilled until the skin is crisp and glistening. With a side of umami-flavor packed bonito salt and a squeeze of lime, you'll be more than happy to lick your fingers clean.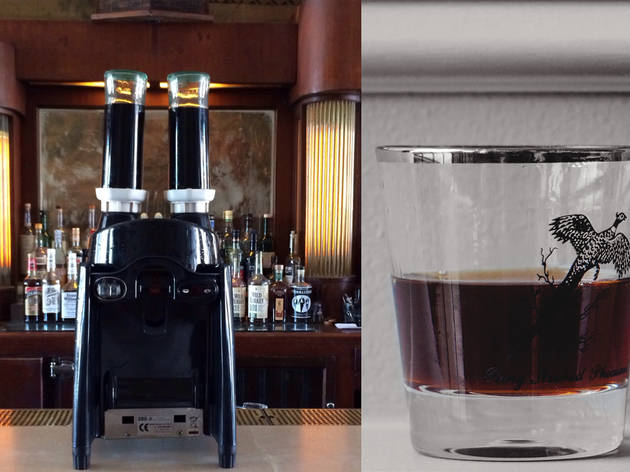 24/25
Amaro shot at Sportsman's ClubThis cozy Ukrainian Village spot cleverly revamped a Jäger machine to serve chilled shots of amaro. Grab a seat at the bar and order it either on its own or as part of the low life with a bottle of High Life. Sweet, herbaceous and slightly medicinal, it's like the best tasting boozy cough syrup.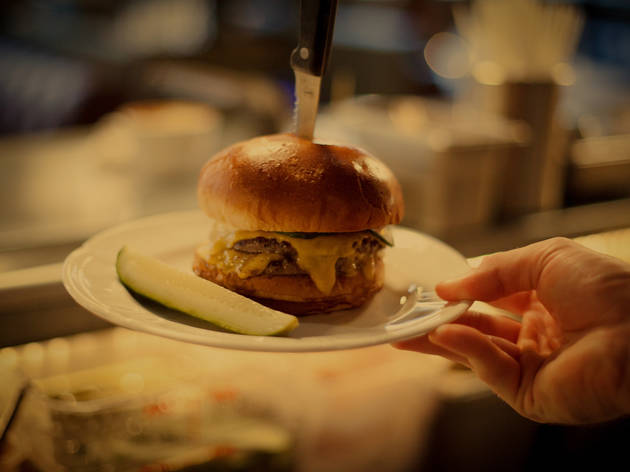 25/25
Photograph: Kari Skaflan
Cheeseburger at Au ChevalWhether you prefer diner-style or giant pub burgers, almost everyone agrees that the patties at Brendan Sodikoff's West Loop diner are pretty near perfect. Topped with American cheese and a smear of Dijon mayo, it's the slightly sweet meat and toasty buttered buns that elevate these burgers to the next level.
The 25 essential Chicago dishes and drinks you need to try
From a cult favorite cheeseburger to an addictive fried chicken dish, these are the 25 new classic dishes in Chicago
When we have friends visiting Chicago for the first time, we take them for deep dish pizza, Chicago-style hot dogs, soaked Italian beef sandwiches, smoked shrimp at Calumet Fisheries and jibarito sandwiches. These foods are the backbone of Chicago cuisine, and you should absolutely spend your first visit eating them.
But for your second visit? We've compiled 25 dishes and drinks we consider the new Chicago classics. Many have remained firmly on menus, season after season, and there are some newcomers that have already made an impact. These are the dishes and drinks we find ourselves craving, and the places we recommend to friends and family when they visit.
How many have you had? Use our checklist below to tally up the dishes and drinks you've tried and share the results.